There's no reason to be cold in your home or office when you can add the Lasko Ceramic Heater with Adjustable Thermostat to almost anywhere you go.
Eliminate chilly days and nights wherever you are with this small heater that features a ceramic heating element. The built-in fan features three quiet comfort settings so you don't bother those around you. Choose from high, low and fan-only heat settings. For your safety and convenience, the Lasko Ceramic Heater features automatic overheat protection.
Finding the right spot for your heater is never a problem because it fits almost anywhere. Put it on the floor by your feet or on your desk to warm your hands. The convenient carry handle makes moving the heater easy. Best of all, the unit is UL listed ensuring quality of craftsmanship. Fight the cold today with the Lasko Ceramic Heater with Adjustable Thermostat!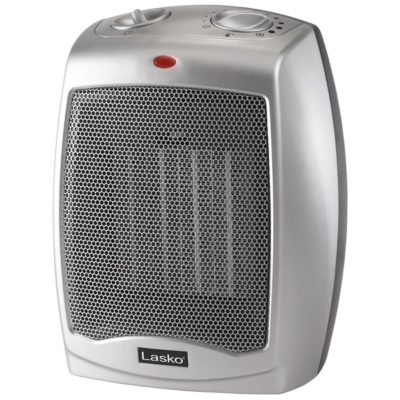 Effective Heating
With 1500 watts of comforting warmth, this small-but-mighty heater will take the chill out of your room. Use a portable heater to warm the room you're in and lower your whole-house thermostat. This can also reduce wear and tear on your main heating system.
Easy-to-Use Controls
Two convenient knobs located on the top of the heater allow you to set the adjustable thermostat to your desired temperature and select from 3 quiet settings; high heat, low heat, or fan only.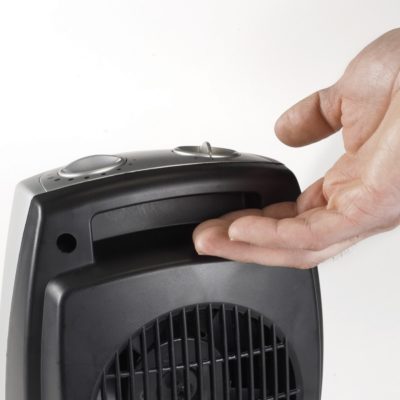 Convenient Carry Handle
A built-in carry handle allows you to easily move the space heater from one area to another. Just plug directly into an outlet and get cozy. Warmth where you need it!
Safety First
Packed with safety features this heater safely brings warmth to your home. Automatic overheat protection ensures the heater will automatically turn off if left on for too long. While the exterior of the heater stays cool to the touch.