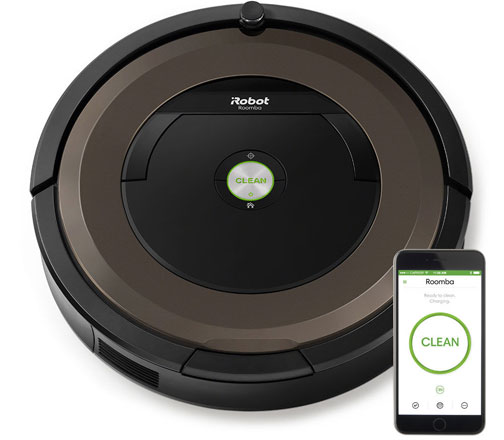 iRobot Roomba 890
Wi-Fi Connected Robot Vacuum
Powerful cleaning on both hard floors and carpets, down to corners and edges. Effortless handling of pet hair and debris, without getting tangled. And smart navigation under or around furniture, plus remote control and schedule from the companion app. The Roomba 890 robot vacuum takes your everyday cleaning to the next level.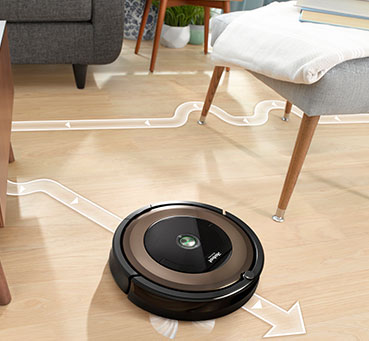 Smart
Intelligently navigates your home: Powered by a suite of intelligent sensors, the Roomba robot vacuum makes more than 60 decisions per second to adapt to your home and help thoroughly clean your floors.
Dirt, meet your match: The Roomba robot vacuum removes dirt from high traffic spots of your home using patented Dirt Detect Technology. Sensors recognize concentrated areas of dirt and prompt the robot to clean them more thoroughly.
Designed to clean under furniture: At just 3.6 inches tall, the Roomba robot vacuum is designed to clean under beds, sofas, toe kicks, and other hard-to-reach areas.
Won't fall down stairs: Cliff Detect sensors prevent the robot from falling down stairs or tumbling over drop-offs.
Simple
Connect to clean from anywhere: The iRobot HOME App lets you clean and schedule conveniently – anytime, anywhere. Now compatible on devices with Amazon Alexa and the Google Assistant.
Status Monitoring: Use the iRobot HOME App to see the status of cleaning jobs.
Cleans carpets and hard floors: The Auto-Adjust Cleaning Head adapts its height to keep the Multi-Surface Brushes in close contact with different floor surfaces, directly engaging with both hard floors and carpets
Cleans on a schedule: Your Roomba robot vacuum can be preset to vacuum up to seven times per week, meaning your home can stay clean every day.
Alerts you when the bin is full: The Full Bin indicator alerts you when it's time to empty the bin. You can also view Bin Full status in the iRobot HOME App.
Always ready to clean: The robot automatically returns to the Home Base charging station to recharge at the end of a cleaning cycle or when the battery is running low.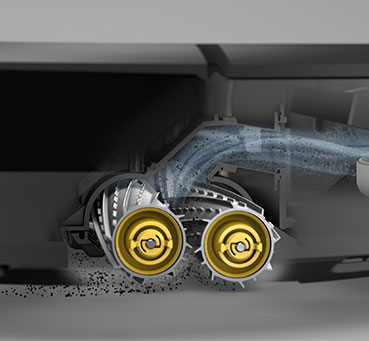 Clean
5x the air power*: Designed to get floors cleaner, the AeroForce 3-Stage Cleaning System uses tangle-free Multi-Surface Brushes and Power-Lifting Suction with 5X the air power* to pull in embedded dirt, debris, and pet hair from wherever it hides.
Win the battle against pet hair: Multi-Surface Brushes work together to pull in pet hair, dust, dirt, and large debris without getting tangled.
Sweeps corners and along walls: The Edge-Sweeping Brush is specially designed at a 27-degree angle to sweep debris away from edges and corners and into the path of the 3-Stage Cleaning System to be suctioned off your floors.
The High-Efficiency Filter is made from a special material that captures 99% of dust, mites, and allergens as small as 10 microns.
* Compared to Roomba 600 series AeroVac systems
Amazon device(s) sold separately. The Amazon Alexa skill is available in English in the United States.
Google Home device(s) sold separately. The Google Assistant and Roomba® vacuuming robot integration is available in English to customers in the United States.