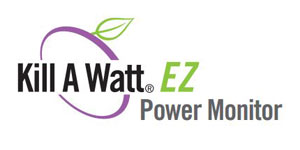 Slash Your Energy Usage
The P4460 Kill A Watt EZ is an easy-to-use consumer power meter allowing you to accurately measure power consumption of household appliances and to determine the actual cost of power consumed. The unit will also project, in real time, the cost of continued use of the appliance in time periods of Hour, Day, Week, Month, and Year. The P4460 features a precise circuit which provides very accurate results (within 0.2%). Voltage and current are measured using true RMS methods. Total consumed power is displayed in Kilowatt-hours (KWH). It is easy to use with a large display and simple 5-button interface. The unit is safe as it features ETL listing and over-current protection. It also sports built-in battery backup.
Features
Be Always Aware of the Power Cost of Your Appliances
Calculate your cumulative electrical expenses and forecast by the day, week, month, even an entire year. Also check the quality of your power by monitoring Voltage, Line Frequency, and Power Factor. Now you'll know if it is time for a new refrigerator or if that old air conditioner is still saving you money. With the amazing Kill A Watt EZ, you'll know "Watts" killing you.
Big Display with Big Font Size
The big display shows any readings (including digits and measure units) in big size. You will always see clearly. To cover various settings, the display shows eight critical units of measure.
User Friendly Button Design
The five buttons (MENU, UP, DOWN, RESET, and SET) are placed at an appropriate distance from each other. Issues such as pressing two buttons at the same time will be totally avoided. Made from high quality rubber, all the buttons are nice to your fingertips.
Easy to Operate
The Kill A Watt EZ is easy to operate. Get it up and running in just a few minutes. Just connect the Kill A Watt EZ unit to the outlet and the appliance to the unit.