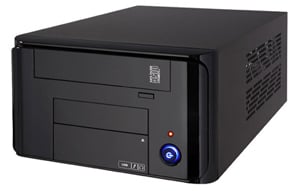 Apex's MI-008 case is a great choice for instances where you don't have a lot of space for a system. It would work well in kiosks or as a video wall controller. You could also use it to control information signs in a hotel or airport. Its small size would also make it a good choice for a HTPC.
The drive bay housing tilts up for easy installation. There are two external bays, one 5.25" and one 3.5". There is also a 3.5" hard drive bay. The front panel also has two audio jacks and two USB ports. Once everything is installed put the lid back on and you're good to go.
Stands Horizontally or Vertically
The APEX MI-008 can be laid horizontally on your desk or vertically on the floor to fit your working space.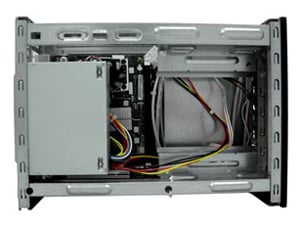 HTPC System with 3 Drive Bays
Featuring an external 5.25" drive bays and two 3.5" drive bays (one external and one internal), the APEX MI-008 provides sufficient expandability as an HTPC (Home Theatre PC) case.
Convenient Front I/O Panel
The APEX MI-008 features a convenient front I/O panel for easy access to two USB 2.0 and two audio ports.
Built-in 250W PSU
The APEX MI-008 is equipped with a 250W power supply unit to handle typical power consumption for most Mini-ITX systems.