USB-C: Not Just New—The Future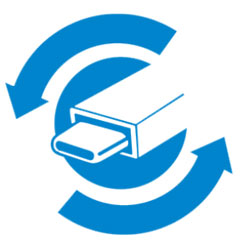 Next-Generation USB Type-C Computers
No up/down or left/right-only orientations means there's no wrong way to connect a USB-C cable.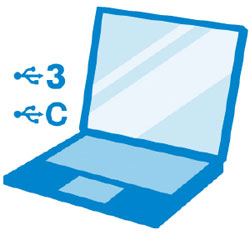 Any PC/Mac with USB 3.0
Connect to any existing computer using the included USB-C to USB adapter cable. Ship your project to a client without worrying about compatibility.
Fast Transfer Speeds
With a 5Gb/s interface, you can quickly transfer footage, browse large photo libraries without lag and perform backups fast.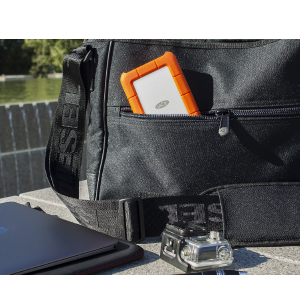 Space for Today and Tomorrow
Featuring one of the market's highest storage capacity for its size, the LaCie Rugged USB-C gives you enough space to store your digital present—and future. Massive capacity lets you use the LaCie Rugged as a shuttle drive to transport footage from set to post-production or to store a huge Lightroom library.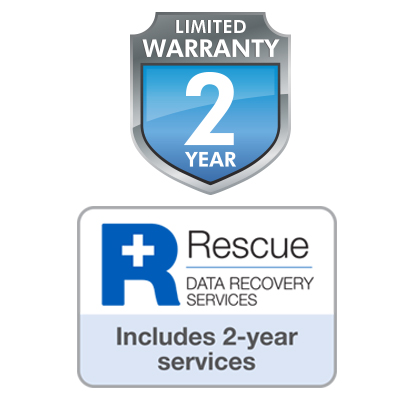 Tough Storage for When the Going Gets Rough
Featuring the market's highest storage, Creative pros have been depending on LaCie Rugged drives for over a decade because they are the most reliable way to transport and capture data in the field. With resistance to drops, crush, rain, and unauthorized access, the LaCie Rugged USB-C is tough enough for extreme conditions-from a sudden rainstorm to a crush of suitcases in an airplane cargo hold.
* In non-operating mode.
** Determined by a test that approximates a real-world scenario in which the hard drive remained functional, despite aesthetic damage, after the product was driven over by an approximately 1-ton car (1,000kg/2,205lbs).
Armor for Your Data:
Drop resistance: 4ft (1.2m)*
Crush resistance: 1-ton car**
Water resistance: rain
Unauthorized access resistance: encryption available
2-year limited warranty and Rescue Data Recovery Services
| | | | | | | |
| --- | --- | --- | --- | --- | --- | --- |
| | Rugged Thunderbolt USB-C | Rugged Thunderbolt USB 3.0 | Rugged RAID | Rugged USB-C | Rugged Mini | Rugged Triple |
| Strengths | Performance, durability, compatibility | Performance, durability, compatibility | RAID performance, durability, capacity | Mobility, compatibility, capacity | Mobility, capacity | Legacy compatibility, daisy chain |
| Max. Capacity | 5TB (HDD), 1TB (SSD) | 5TB (HDD), 1TB (SSD) | 4TB | 4TB | 4TB | 2TB |
| Interface Transfer Rate | 510MB/s (SSD), 130MB/s (HDD) | 387MB/s (SSD), 130MB/s (HDD) | 240MB/s | 130MB/s | 130MB/s | 110MB/s |
| Interface | 1x Thunderbolt (integrated), 1x USB-C (Thunderbolt 3 compatible) USB 3.0 compatible | 1x Thunderbolt (integrated), 1x USB 3.0 | 1x Thunderbolt (integrated), 1x USB 3.0 | 1x USB-C (USB 3.0 compatible) | 1x USB 3.0 | 1x USB 3.0, 2x FireWire 800 |
| Drop Resistance | 5ft (1.5m) | 6.6ft (2m) | 5ft (1.5m) | 4ft (1.2m) | 4ft (1.2m) | 6.6ft (2m) |
| Crush Resistance | 1-ton car | 1-ton car | 1-ton car | 1-ton car | 1-ton car | - |
| Environmental Resistance | IP 54 rated: water/dust | IP 54 rated: water/dust | IP 54 rated: water/dust | Rain | Rain | - |
| Included Cables & Adapters | Thunderbolt (integrated), USB-C, USB 3.0 adapter | Integrated Thunderbolt USB 3.0 | Integrated Thunderbolt USB 3.0 | USB-C, USB-C to USB 3.0 adapter | USB 3.0 | USB 3.0, FireWire 800 |
| Limited Warranty | 3-year | 3-year | 3-year | 2-year | 2-year | 3-year |
| Rescue Data Recovery | 3-year | | | 2-year | | |