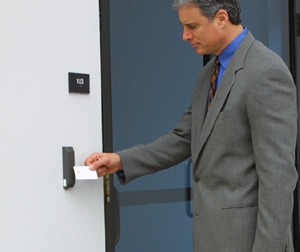 The HID Thinline II 5395Ck100 is a proximity reader with a Wiegand interface, which provides performance and reliability in a low-profile, unobtrusive design. It offers high reliability, consistent read range and low power consumption, and features multi-color LED and beeper for reader status notification which can be controlled internally, or externally via a host. It can mount onto a variety of surfaces, including metal, without the risk of impacting the read range performance. Plus, it's easy to install and maintain with the use of replaceable covers, and its two-piece, weatherproof secure potted enclosure is rugged and durable enough for harsh outdoor environments.
Security
It recognizes card formats up to 85 bits, with over 137 billion unique codes.
Audiovisual Indication
A red LED flashes green and the beeper sounds when reader is presented with a proximity card. The multicolor LED and beeper can also be controlled individually by the host system.
Diagnostics
On reader power-up, an internal self-test routine checks and verifies the setup configuration, determines the internal or external control of the LED and beeper, and initializes reader operation. An additional external loop-back test allows for the reader outputs and inputs to be verified without the use of
Indoor/outdoor Design
Sealed in a rugged, weatherized polycarbonate enclosure designed to withstand harsh environments, it provides reliable performance and a high degree of vandal
Easily Interfaced
Wiegand output model interfaces with all existing Wiegand protocol access control systems. Clock-and-Data (magnetic stripe) model interfaces with most systems that accept magnetic stripe readers.
Options
LED and beeper operation