Need labels? Find out what labels work with this printer here.
PT-H500Li P-Touch Label Maker

Rechargeable, Take-it-Anywhere Labeler with PC-Connectivity
Preview work on Brother's extra-large Vivid Bright display. Create extra-wide, durable labels for indoor/outdoor use. Connect to PC/Mac with included USB cable to create and print labels using P-touch Editor software. Super fast printing and auto cutting helps save time. Intuitive, one-touch formatting keys. Print multiple lines of text and graphics on colorful labels up to 24mm wide, as well as many pre-designed labels, symbols, fonts, frames and barcodes.
Features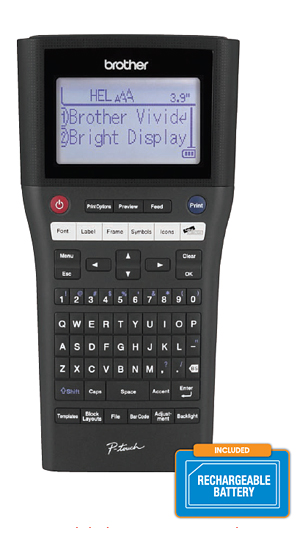 Flexible Power Source

Works with rechargeable battery or AC adapter (both included) or 6 x AA batteries (sold separately)Brother™ Vivid Bright Display


Create and preview work in most any lighting situationRobust Software


Connect to your PC/Mac to print customized labels using the label design softwareCreate Labels with Fewer Keystrokes
Intuitive one-touch keys support quick, easy label formattingMulti-Line Printing


Create extra-wide labels with up to seven lines of text and graphicsDurable, Laminated Labels


Create labels for indoor or outdoor useGet Creative
Hundreds of built-in symbols, fonts, frames and barcodesDo More in Less Time


Fast print speeds and automatic cutting helps support efficient labelingEasy and Accurate Typing


Large, Keyboard-Style LayoutWarranty and Support


Two-Year Limited Warranty and Free Phone Support for the Life of Your ProductHassle-free application


Split back tapes for easy peel and stickTapes for Most Any Application


Standard, extra-strength adhesive, acid free, cable and wire, tamper evident, fabric iron-on, super narrow or decorative Simply Stylish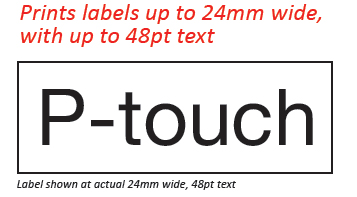 Specifications
Display
Graphical with Backlight
Display Size
16 characters x 3 lines
Maximum Tape Width
24mm
Built-in Memory
Up to 50 labels
Keyboard
QWERTY
Tape Cutter
Automatic
Maximum Print Speed
20mm/sec. (using Rechargeable Battery)
30mm/sec. (using AC Power Adapter)
Maximum Print Resolution
180dpi
Maximum Print Height
18.0mm
Power Source
Rechargeable Li-ion battery pack (included)
AC Power Adapter (included)
6 x AA Batteries (optional)
Auto Power Off
Yes
Interface
USB