SanDisk Ultra CZ48
Designed with convenience and speed in mind, the SanDisk Ultra USB 3.0 flash drive will meet all your needs of data storage in the office, at school or at home. Keep your document files, videos, photos and more always on-hand.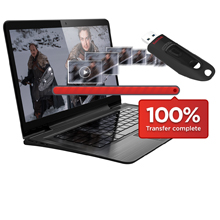 Move files quickly with faster transfer speeds
With transfer speeds of up to 100MB/s1 the SanDisk Ultra USB 3.0 Flash Drive reduces the time you'll spend waiting for files to move from the flash drive to your computer. Enabled for USB 3.0, this fast drive lets you transfer and store large files up to ten times faster than USB 2.0 drives.2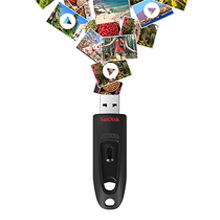 High-capacity drive accommodates large files
Offered in capacities up to 512GB3 the SanDisk Ultra USB 3.0 Flash Drive can hold all your favorite media and important documents, including high-resolution photos, MP3s, movies, presentations, and graphic files.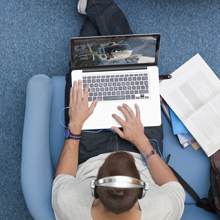 Stylish, portable design
With its sleek black design, the SanDisk Ultra USB 3.0 Flash Drive is as stylish as it is practical. This compact and portable drive can easily travel with you in a pocket or handbag.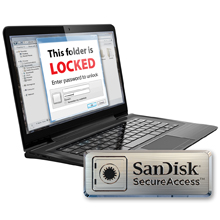 SanDisk SecureAccess software keeps files private
The SanDisk Ultra USB 3.0 Flash Drive includes SanDisk SecureAccess software, which lets you set up a password-protected private folder on your drive.4 Your files will be secured with 128-bit AES encryption to help keep them confidential, even when sharing the drive with others.
Notes:
1. (for 32GB, 64GB, 128GB, 256GB, 512GB): Write to drive up to 10 times faster than standard USB 2.0 drives (4MB/s); up to 100MB/s read speed. USB 3.0 port required. Based on internal testing; performance may be lower depending on host device. 1MB = 1,000,000 bytes. (for 16GB): Write to drive up to 5 times faster than standard USB 2.0 drives (4MB/s); up to 100MB/s read speed. USB 3.0 port required. Based on internal testing; performance may be lower depending on host device. 1MB = 1,000,000 bytes.
2. Based on 1.2GB MPEG-4 video transfer with USB 3.0 host device. Results may vary based on host device, file attributes, and other factors. (Not applicable to 16GB)
3. 1 GB=1,000,000,000 bytes. Actual user storage less.
4. Password protection uses 128-bit AES encryption and is supported by Windows® 7, Windows 8, Windows 10, and Mac OS X 10.9+ (Software download required for Mac, see www.SanDisk.com/SecureAccess)