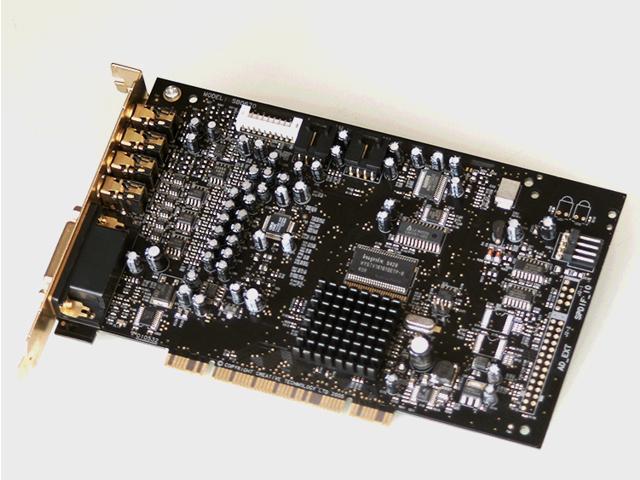 Creative X-Fi SB0670 PCI Sound Card
Creative's X-Fi SB0670 sound card harnesses the power of the Creative X-Fi Xtreme Fidelity processor to deliver crystal-clear clarity. The support for 7.1 channel surround sound brings theater-like audio for movies and provides positional awareness for gaming. It's also compatible with standards like DTS-ES and Dolby Digital EX. Add it to the PCI slot of your PC and enjoy high-quality sound for entertainment and gaming.
Specifications
Sound Output Mode: 7.1 channel surround
DAC Resolution: 24-bit
Sample Rate: 8 kHz (min)–192 kHz (max)
Signal-To-Noise Ratio: 109 dB
Frequency Response: 10 Hz
Compliant Standards: ASIO 2.0, Digital Theater Systems Extended Surround (DTS-ES), Dolby Digital EX, and EAX ADVANCED HD
Signal Processor: Creative X-Fi Xtreme Fidelity
Min Sampling Rate: 8 KHz
Max Sampling Rate: 192 KHz
Interfaces
Connector Type: 4 pin MPC, and mini-phone 3.5 mm
Type: SPDIF input/line-in/microphone, audio line-in, and audio line-out
Software / System Requirements
System Requirements Details: Windows XP SP2 (Compatible with Windows 10), Pentium III 1 GHz, RAM 256 MB, and HD 600 MB.
Software: Drivers and Utilities, Creative Software Suite, and Creative MediaSource 3.