The Brother LC51M magenta ink cartridge produces true-to-life images, delivering superior results for all your printing needs. The anti-smearing feature offers the optimal ink-drying time, while the anti-clogging feature ensures reliable operation of the long-life print head. The Brother LC51M magenta ink cartridge is capable of yielding up to 400 pages.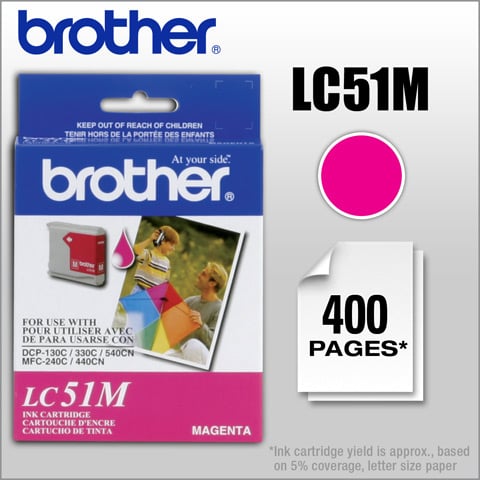 True-to-life color printing
During the printing process, the Brother color inkjet printing product calculates the appropriate mixture of inks to create vibrant colors. This calculation is based upon Brother's own ink formula, and produces true-to-life images every time with correct color matching.

Even Ink Delivery and Distribution
The viscosity of original Brother ink is designed to flow through critical points of the Brother ink cartridge print head with ease and on demand. This gives you an even distribution of ink on your page, resulting in a visually more pleasing image.

Anti-smearing and Anti-clogging features
To prevent pages from smearing during the color inkjet printing process, the genuine Brother ink penetrates and dries on the paper in the time optimal for your Brother machine. Delays between page prints are based on Brother's ink-drying time specification. To help prevent the Brother ink cartridge print head from clogging, genuine Brother ink contains carefully selected dyes, penetrates, water, and other material especially to meet the specifications of your Brother product, ensuring smooth and reliable operation of the print head.

High page yield
Compatible with the Brother DCP-130C, DCP-330C, DCP-350C, IntelliFax-1860C, 1960C, 2480C, 2580C, and MFC-230C, 240C, 3360C, 440CN, 465CN, 5460CN, 5860CN, 665CW, 685CW, 845CW, and 885CW printers, this ink cartridge delivers an approximate 500-page yield for your documents and marketing materials.