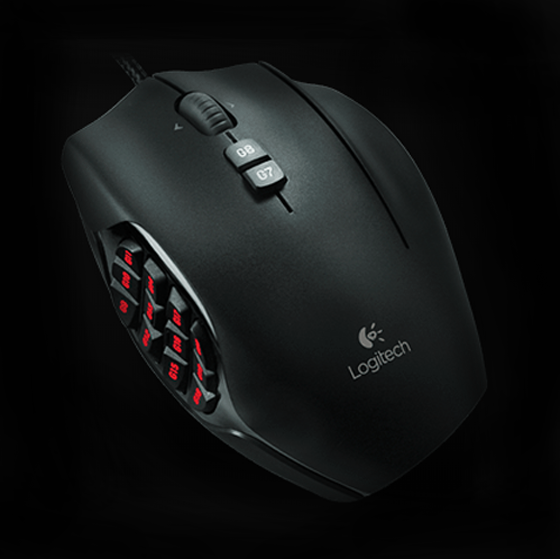 Master Your Favorite MMOs
Arm yourself with the Logitech G600 MMO and experience complete control in your favorite MMOs. The high-end gaming mouse brings together unsurpassable accuracy, lighting-fast response, and ultimate customization, giving you the competitive edge to obliterate the oppositions. The customizable backlighting gives it the unmistakable look of serious gaming machinery. The ergonomic design provides optimum comfort for hours of gaming. The quality construction ensures superior reliability and durability.
Logitech G600 MMO Gaming Mouse
We are Logitech G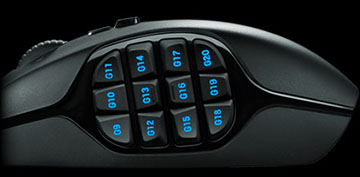 20 MMO-TUNED BUTTONS
Customization evolved
Pre-configured for optimal MMO use right out of the box. G600 includes three primary buttons, 12 thumb buttons, a clickable scroll wheel that tilts and a G-switch to double down and dominate. Use optional Logitech Gaming Software for full programmability and customization.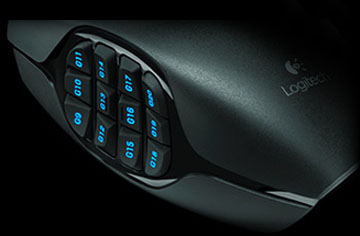 DUAL-DISH THUMB PANEL
Precise and intuitive
Put immediate access to all 12 primary MMO skills under your thumb. The unique dual-dish design of the thumb panel was developed with direct input from both MMO gamers and leading MMO game developers. Field-testing led to two carefully positioned sets of six buttons, helping to reduce both learning time and action timings. And the actuation force is carefully tuned to minimize misclicks.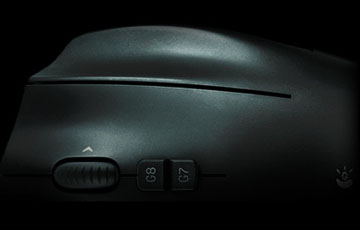 G-SHIFT BUTTON
Double down on control
Use the G-Shift button to double the total number of customizable functions. In its default setting, holding the G-shift button down activates a second function to each G-key. Or set G-Shift to temporary change DPI for extra cursor precision.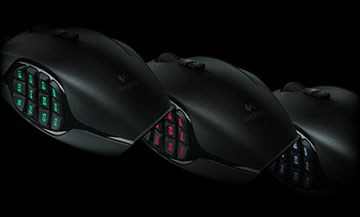 CUSTOM-COLOR BACKLIGHTING
Experience illumination
Locate keys in any room with custom backlit keys. Choose 1 out of 16 million colors and assign a unique color to each profile, profile mode, and mode style in the same game. You can tell, without looking down, which mode you're in to ensure your setup is optimized.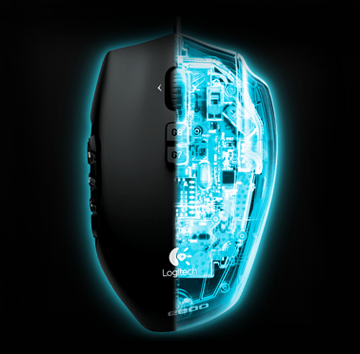 CUSTOM-COLOR LIGHTING
Eye-catching illumination
Customize the thumb panel lighting for a clear visual reference of up to 3 active profiles and 3 different sub modes. Choose 1 out of 16 million colors and assign a unique color to each profile, profile mode and mode style in the same game. Make colors pulse on-and-off or cycle continuously.*
*Logitech Gaming Software required for lighting customization.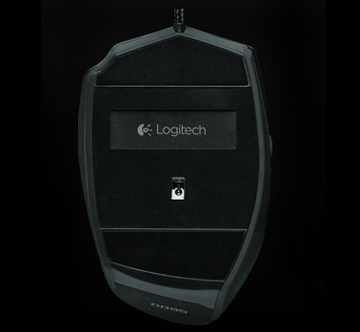 GAMING-GRADE LASER
Focus on accuracy
When the difference between MVP and also-ran is measured in pixels, laser sharp sensitivity pays off. G600 uses a gaming-grade laser that delivers precision at any hand speed and works across a wide range of surfaces to register even the most subtle hand movements.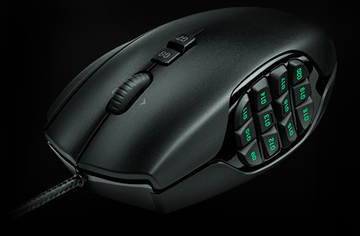 1-MILLISECOND REPORT RATE
Thought and action unite
Be confident your every command is executed as fast as possible. The 1000 Hz report rate is up to eight times faster than a standard USB mouse. G600 captures your moves as fast as you can make them.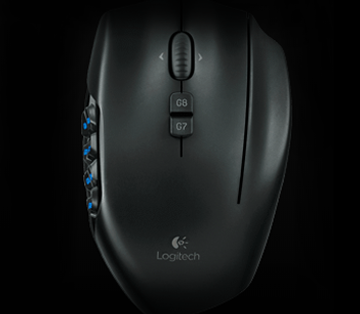 ON-THE-FLY DPI SWITCHING
Be ready in an instant
Quickly shift DPI levels, from pixel-precise targeting (200 DPI) to lightning-fast maneuvers (up to 8200 DPI), all with a single button press located behind the scroll wheel, or by reassigning the ring-finger button for temporary shifts in cursor speed while held down.
ONBOARD MEMORY PROFILES
A mouse with a brain
Program up to three profiles for individual players or games (keyboard macros and DPI settings), and bring your game to other PCs with no software required.
DURABLE BUILD
Built to outlast
Gaming conditions torture typical mice. All three primary buttons are rated to a 20 million-click lifespan. Low-friction polytetrafluoroethylene feet are tested to last an amazing 250 km. G600 is designed to endure.
NATURALLY CONTOURED GRIP
Shaped to go the distance
With a natural contoured grip designed for maximum comfort and every button carefully positioned to reduce click fatigue while avoiding accidental actuations, you'll always be the last gamer standing.
BRAIDED USB CABLE
Rough and ready
With a cloth wrapped, durable 2m (6.5ft.) USB cord, your G600 mouse comes with a hook-and-loop cable to keep things tidy and ready to play.
LOW-FRICTION FEET
A material advantage
The low-friction polytetrafluoroethylene feet eliminate friction on nearly any surface for smoother motions, precise cursor movements and improved accuracy.
EASY-TO-USE SETUP SOFTWARE
Make it yours – simply
Use the optional Logitech Gaming Software to perfectly match its commands to your favorite games. Simple drag-and-drop settings allow you to customize button and tracking profiles for any game you play. Or, use pre-configured customizations with automatic game detection.