Multi-function front panel gives you direct access to your memory cards, USB 3.0, USB C, and eSATA ports on your PC. Easily transfer your videos, music, photos, data with this blazing fast gadget.
It provides easy access of your data through the front panel, with it is convenient design it is a must have solution with all your PC components.
It supports Super Speed USB 3.0 up to 5 Gbps with three front accessible USB Type-A ports, one front accessible USB 3.1 Type-C port
The USB 3.0 hub is also backwards compatible with USB 2.0 /USB 1.0 /USB 1.1.
One front accessible eSATA port support eSATA device data transfer speed up to 6Gbps, backward SATA 3Gbps and 1.5Gbps
Equipped a 6slots all in 1 high speed USB 2.0 card reader.
The high speed card reader is compatible with most popular formats of flash media on the market, SD/MMC/SDHC, CF/CF II/HS CF/MD, MS/MS Duo/MS Pro, XD, TF/T-Flash, M2.
Features
Multi-function 5.25 front panel,Fit any 5.25 inch computer case front bay
USB Ports are Super Speed USB 3.0, supports up to 5 Gbps of data transfer speed, Backward compatible with USB 2.0 /USB 1.0 /USB 1.1
Three front accessible USB 3.0 Type-A ports
One front accessible USB 3.1 Type-C port
One front accessible eSATA port
All in 1 high speed card reader
Support SD/MMC/SDHC, CF/CF II/HS CF/MD, MS/MS Duo/MS Pro, XD, TF/T-Flash, M2
Maximum capacity of the memory read up to 64GB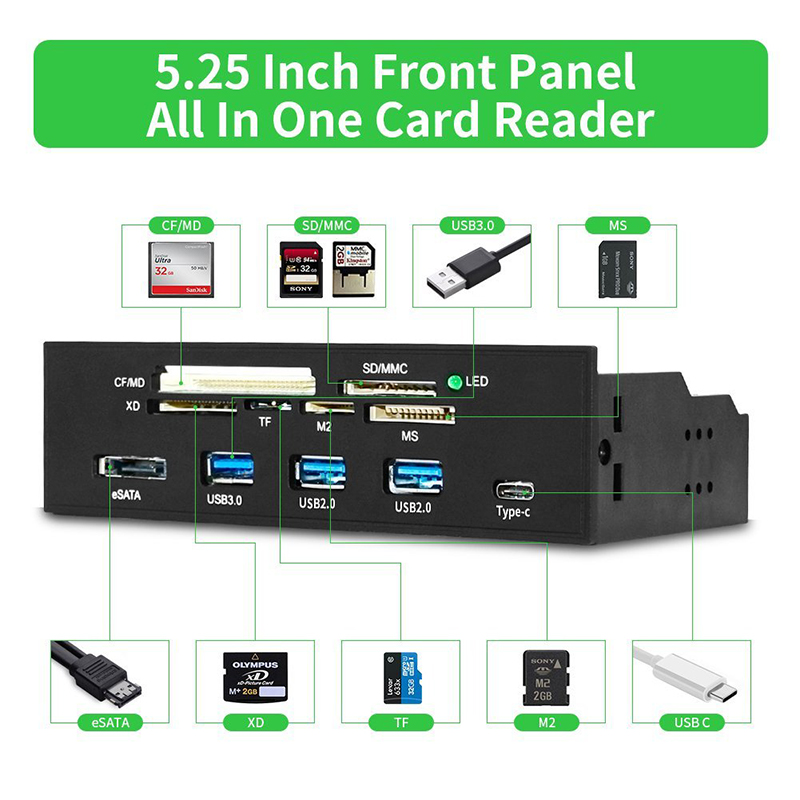 Multi-function 5.25 front panel
Special design front panel for multi-function purpose
Offers 3 x USB 3.0, 1 x USB C,1 x eSATA, interface
Up to 5 Gbps data transfer rate for all USB type-A and type-C ports
USB 3.0 ports are backwards compatible with USB 2.0 & 1.1
eSATA port support SATAIII data transfer speed up to 6Gbp,backward to SATA 3Gbps and SATA 1.5 Gbps
6 card reader slots for complete accessibility
High quality material ensure durability, LED indicator make you keep an eye on work status. Can be easily and neatly installed into a 5.25in drive bay on your desktop PC to give you convenient access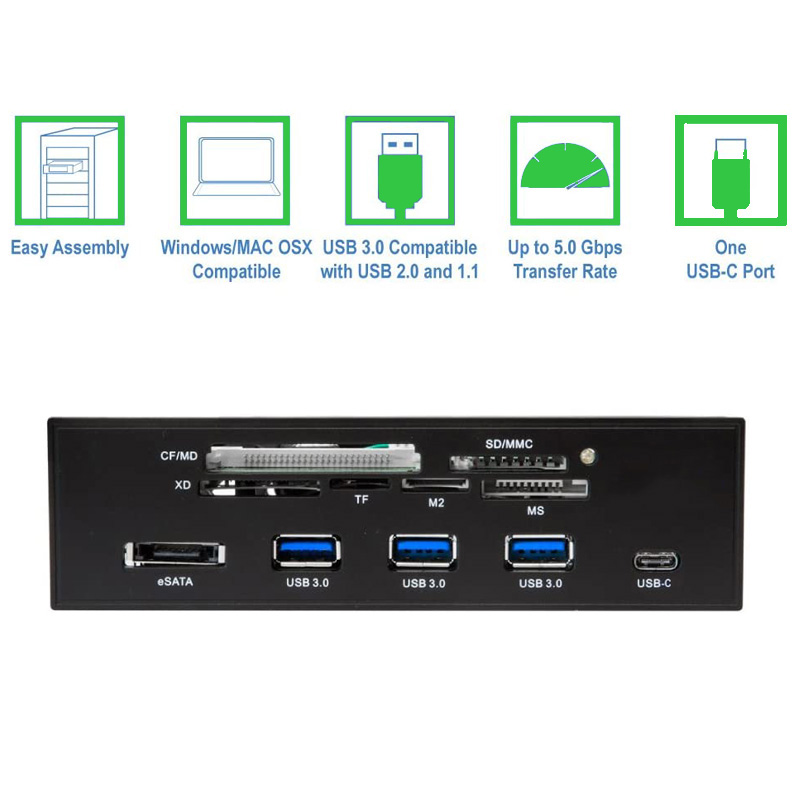 USB 2.0 Internal Card Reader
6 card slots offer quick and easy access to the most common-used card formats, support SD/MMC/SDHC, CF/CF II/HS/ CF/MD, MS/MS Duo/MS Pro, XD, TF/T-Flash, M2 card
This high speed card reader writer, let you transfer files between your flash media and computer easily and quickly
Data transfer speed up to 480Mbps
Maximum capacity of the memory read up to 64GB
USB 3.0 20pin motherboard header is needed for 3x USB 3.0 Type-A and USB-C ports
SATA 7pin data header is needed for eSATA port(Just for data transfer, an extra eSATA power is necessary for eSATA device).
USB 2.0 10pin motherboard header is needed for high speed 6 slot internal card reader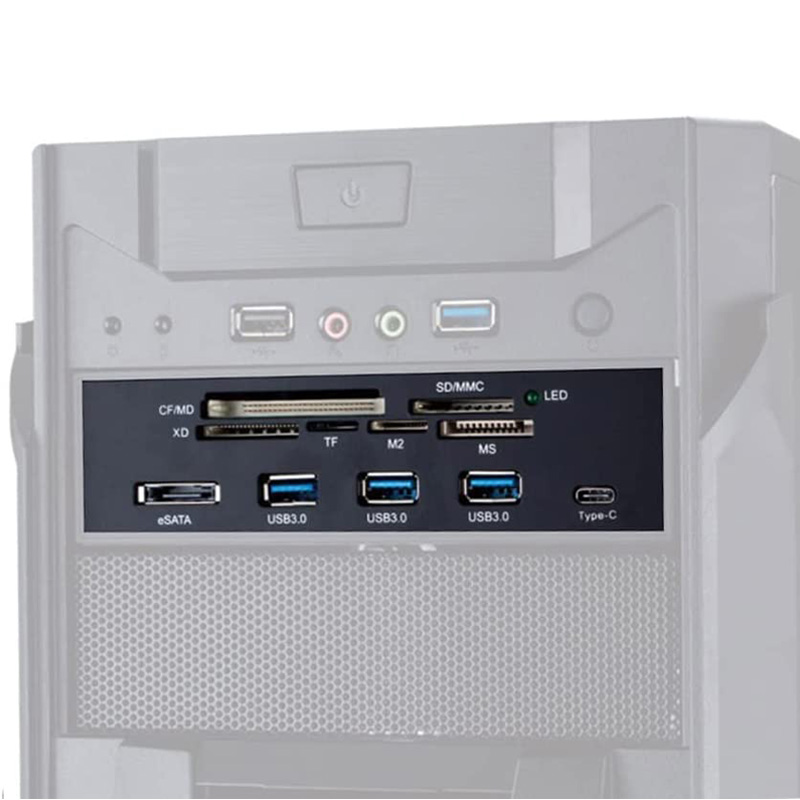 Specifications
Product Name: 5.25 inch USB 3.0 Hub & Internal Card Reader Multi-function front panel
Output-A: 3x USB 3.0 Type-A
Output -B: 1 USB 3.1 (GEN 1 5Gbps) Type-C
Output-C: 1x eSATA
USB ports Transfer Rate: Up to USB 3.0 supper speed 5 Gbps, backward compatible with USB 2.0 USB 1.1 and USB 1.0
eSATA port Transfer Rate: Up to 6 Gbps
6 Slots Card Reader
Supported Systems: Windows 10/8/7/Vista/XP, Mac OSX 10.2 +
Material: ABS/Plastic
Color: Black
Dimensions: 5 7/8" W x 1 11/16" H x 3" D
Weight: 0.45 lbs