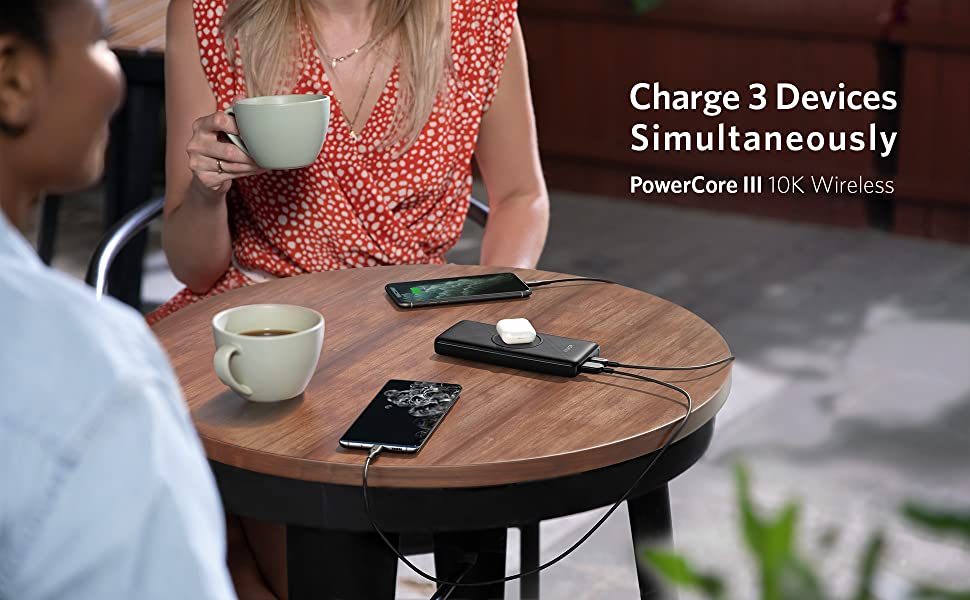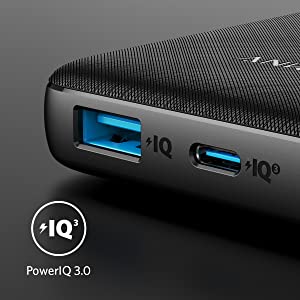 Advanced Charging Technology
The 18W USB-C port is equipped with our exclusive PowerIQ 3.0 technology to offer high-speed charging to a wide range of mobile devices. Compatible with Power Delivery and Quick Charge technology.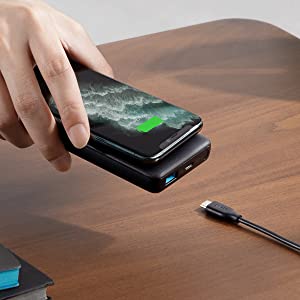 Versatile Charging
Connect PowerCore to an 18W charger to simultaneously charge your phone wirelessly while recharging PowerCore's battery. And when you need to go, just unplug PowerCore to give your phone a portable wireless charge.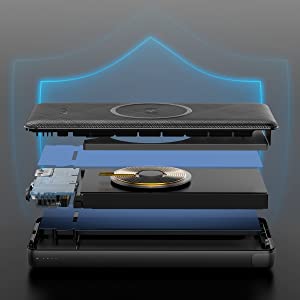 Superior Safety
Our MultiProtect safety system combines foreign-object detection, short-circuit protection, temperature control, and more so you can charge your devices with total peace of mind.
Built-In Stand
A small hook slides out from the side of the battery so you can prop your phone up while watching videos.
Charge Through Cases
PowerCore supports charging through phone cases up to 5 mm thick. Please note that cases made of metal, external attachments such as magnets, credit cards, grips, and stands will interfere with charging.
On-The-Go Wireless Charging
Place your phone, earbuds, or other Qi device on the center of the pad to get a convenient wireless charge anywhere.
Model Number: A1617
PowerCore III 10K Wireless
The Freedom to Charge Anywhere
Wireless Charging. Anywhere.
The convenience of wireless charging is no longer confined to your home or office. 10W max charging lets you fully charge an iPhone 11 in less than 4 hours no matter where you are.
Choose How You Charge
With wireless, USB, and USB-C charging all available, PowerCore gives you unprecedented choice over how you charge. You can even use all of them at once to charge 3 devices simultaneously.
High-Speed Charging
The 18W USB-C port offers the kind of charging speeds that you normally only find in a wall charger. Charge an iPhone 11 to 50% in 30 minutes or fully charge a Galaxy S20 in less than 2 hours.
Power a Full Day
PowerCore is equipped with a 10,000mAh capacity to keep your devices charged for at least a full day. Charge an iPhone 11 or Pixel 4 more than twice, or charge a Galaxy S20 over 1.5 times.
Universal Compatibility
Wireless charging is designed to work with Qi-compatible devices, while our exclusive PowerIQ 3.0 technology ensures optimized charging to virtually any mobile device including phones, tablets, and more.
Built-In Phone Stand
Slide out the built-in phone stand to watch videos while charging. Note: Only wired charging can be accessed while using the phone stand.
Rapid Recharge
Connect an 18W charger (not included) to the USB-C port to fully recharge the internal battery in just 4.5 hours.
Notes
This wireless charger does not feature MagSafe-style magnetic alignment, and therefore is not able to charge the iPhone 13 or 12 series magnetically.
The wireless charging feature does not work with the Apple Watch series or Samsung Watch series.
Do not use a 5W charger to charge your phone wirelessly and recharge PowerCore simultaneously. To charge simultaneously at full speed, it's recommended to use a charger with at least an 18W output.
Phone cases thicker than 5 mm, magnetic attachments, metal attachments, stands, or credit cards will interfere with wireless charging.
Place your phone on the center of the wireless pad to ensure stable charging. If your phone does not show as charging, adjust the position of your phone.
Press the power button to activate wireless charging.
USB-C wall charger sold separately.
10,000 mAh is the total nominal rated capacity of the internal battery cells.
FAQ
How do wireless charging speeds compare to a traditional wired charger?
Results may vary depending on your device, but wireless charging is generally slower than traditional wired charging.
What kind of AC adapter should I use when charging phone wirelessly and recharge the Powercore at the same time?
PD18W and above wall charger (except for Nintendo Switch wall charger) are recommended. Or use normal wall charger at least 10W.
What is the wireless charging speed?
It could charge iPhone 8 and later at 7.5W, Samsung Galaxy S20/S20+/S20 ultra/S10+/ S10/ S10e/S9+ / S9 / S8 / S8+/ Samsung Note 10/Note 9 / Note 8 / , LG G7+ at 10W.
Will PowerCoreIII 10K Wireless work with phone cases?
PowerCoreIII 10K Wireless charges through phone cases that are no thicker than 5 mm. However, items such as magnetic / metal attachments, grips, stands, keys, or credit cards will interfere with charging. Charging speeds may also be reduced while charging with a phone case.