Anker PowerCore III Elite
The Anker PowerCore III power bank covers all your needs. It can charge three devices simultaneously, and works with both high-power laptops and low-power devices. Its big capacity ensures you will always have enough power at hand.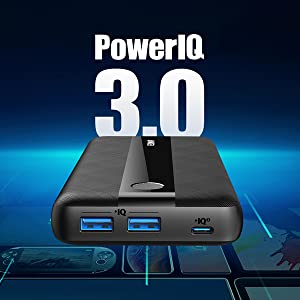 Advanced Charging Technology
Our exclusive PowerIQ 3.0 technology is compatible with both Quick Charge and Power Delivery to provide optimized charging to a wide range of phones, tablets, laptops, and more.
Comprehensive Protection
Our MultiProtect safety system combines temperature control, high-voltage protection, current regulation, and more to give you peace of mind.
Travel Ready
The power bank is light enough and compact enough to fit in your bag for days out. And the 19,200mAh cell capacity meets the requirements for being taken aboard airplanes.
Features:
Charge Laptops Anywhere
With a powerful 60W USB-C port you can now charge a wide range of laptops on the go including MacBook Air 2020, MacBook Pro 13.4" 2020, Lenovo Yoga 720, and more.
Simultaneous Charging
Make the most of PowerCore's 3 ports to charge up to 3 devices simultaneously—wherever you are.
Huge Capacity
The 19,200mAh capacity gives you the freedom to keep your mobile devices charged for days on end, no matter where you are.
Rapid Recharge
Connect the included 65W USB-C charger to the USB-C port to recharge PowerCore's internal battery in less than 1.5 hours.
Trickle-Charging Mode
Designed to provide optimized charging to low-power devices such as earphones, Bluetooth speakers, and other accessories. To activate, press the power button twice or press and hold for 2 seconds until the LED indicator turns green.
Note
19,200mAh is the total of the nominal rated capacity of internal battery cells.