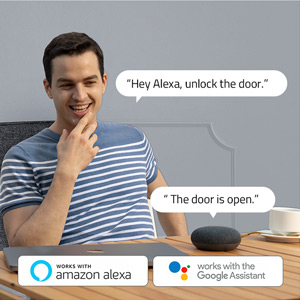 Open on Command
Got your hands full when the doorbell rings? Use Alexa or the Google Assistant to unlock your front door completely hands-free.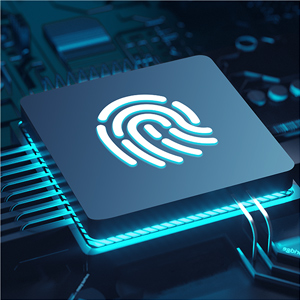 Keep Your Fingerprints Private
Smart Lock Touch & Wi-Fi stores your fingerprint data locally-rather than on the cloud-to keep your personal information safe and private.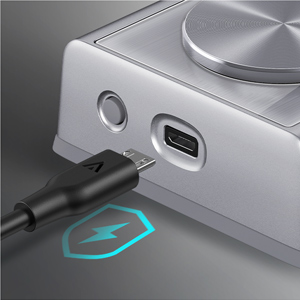 Plenty of Power
The huge 10,000mAh rechargeable battery keeps Smart Lock Touch & Wi-Fi powered for up to 18 months.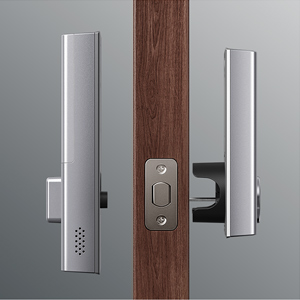 A Breeze to Install
Set up Smart Lock in just 10 minutes, all by yourself, using only a screwdriver-saving you from calling a contractor.
Ready for All Weather
Come rain, shine, sleet, snow, or hail, Smart Lock Touch & Wi-Fi keeps your home secure and your family safe with its IP65 rating.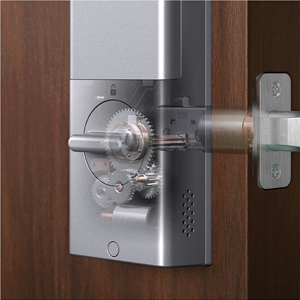 Decades of Protection
Tested by BHMA-the leading authority on hardware hardware-build quality-to work after locking and unlocking 250,000 times. That means you can use Smart Lock Touch & Wi-Fi up to 10 times a day for over 60 years.
eufy Security Smart Lock Touch & Wi-Fi
From eufy, the home security brand where privacy comes first.
Comprehensive Safety Solutions for Your Home
Created by the same team as Anker-renowned for exceptional quality and innovation
Compatible with Voice Assistants: Conveniently unlock Smart Lock from the comfort of your home via the Google Assistant or Alexa.
All-Weather Protection: Smart Lock is built tough with an IP65 weatherproof rating designed to withstand prolonged rainfall as well as temperature swings from -22°F/-30°C to 158°F/70°C.
Easy to Install: Install the deadbolt lock in just 15 minutes, all by yourself, using only a screwdriver-saving you from calling a contractor.
Charge Once a Year: The rechargeable 10,000mAh lithium battery allows you to enjoy convenient unlocking for up to 12 months. To charge, simply remove the battery or power up directly via the micro USB port.
Emergency Unlocking: You can use a portable charger to unlock your Smart Lock if it ever runs out of battery power.
What's Included: Exterior assembly, interior assembly, deadbolt, strike plate, strike reinforcer, screw pack, rechargeable 10,000 mAh lithium battery, microUSB charging cable, user manual, and a welcome card.
Note: The elderly and young children should use the keypad or their keys to unlock Smart Lock due to changes that happen to our fingerprints during these life stages.
*The Google Assistant and Alexa are not built into Smart Lock Touch & Wi-Fi.