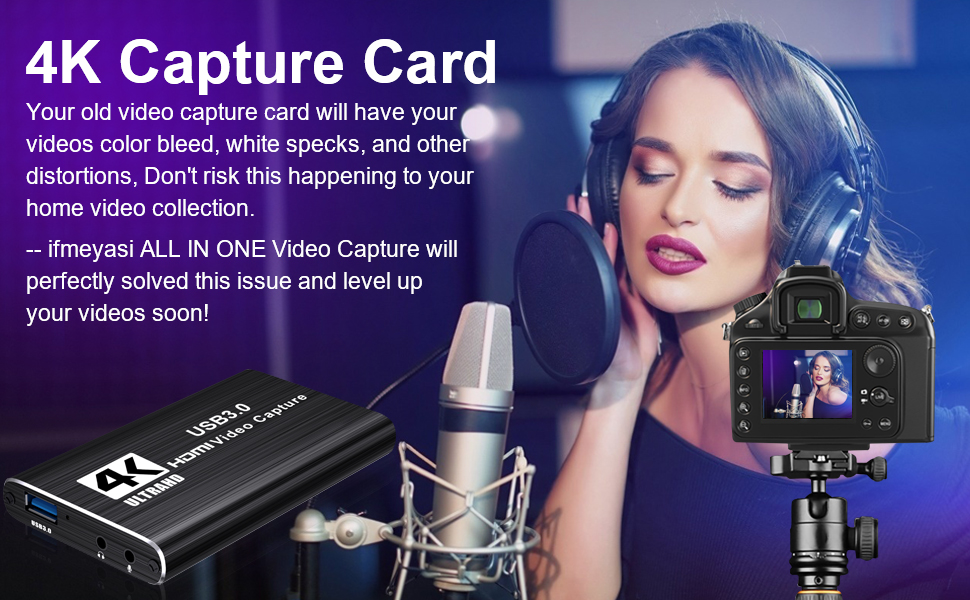 Video Capture Card with wonderful resolution performance, level up your videos soon!
UBS 3.0 input: Based on the high-speed USB 3.0 technology, it can capture one single channel HD HDMI video signal. No need to install a driver, Just plug and play.
HDMI input: It can be connected to the source HDMI interface devices. (Such as: PS3, PS4, NS switch, XBOX, computer, laptop, DVD, HD player etc.)
HDMI output: It can be connected to TV etc. display devices. As bonus, Built-in a HDMI OUTPUT port, it is convenient for you to check the video or game on TV set at the same time
Audio Output: 3.5MM 2.0 stereo output, you can monitor the audio of the video by plugging in the headphones
Microphone Input: 3.5MM 2.0 single / dual channel input.
Compatible devices: Game console with HDMI input only, such as Wii U, PS4, PS3, Xbox One, Xbox 360, Wii, Nintendo Switch, DVD, camera, ZOSI security camera, DSLR and set top box etc.
Software compatibility: OBS Studio (windows,OS X); Windows Media Encoder (Windows); Adobe Flash Media Live -Encoder (Windows, OS X); Real Producer Plus (Windows); VLC (Windows, OS X, Linux); QuickTime Broadcaster (OS X); QuickTime Player (OS X); Wirecast (Windows,OS X); Mix(Windows); Potplayer(Windows)and etc.
Development interface compatibility: DirectShow (Windows), DirectSound (Windows), V4L2 (Linux), ALSA (Linux) OS X (QuickTime).