Sony X85J Series TV with Walts TV Mount and Screen Cleaner
Sony X85J TV - LED-Backlighting - Smart TV - HDR - 4K - Motion Flow - Voice Activated Assistant Included - Gaming Optimization - X-Balanced Speaker - AI Upscaling - Intelligent Signal Booster - 1 Digital Tuner - 16GB On Board Storage - LED Display - Display Resolution (3840 x 2160) - 178 Degree Viewing Angle - 16:9 Aspect Ratio - TRILUMINOS PRO - 4K Processor - 120Hz Refresh Rate - Bass Reflex Speaker - 20W Speaker Output - 2 Channel Speakers - DTS Digital Surround Sound - Built-in Wi-Fi - Vewd Internet Browser - Screen Reader - RS-232C - 1 RF Connection - 4 HDMI - 1 Composite Input - 1 Digital Output - 1 Headphone Output - 2 USB - Ethernet Port - (Black)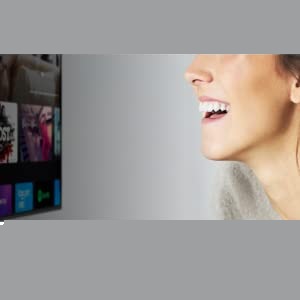 Watch What You Love. Control it with Your Voice
Your TV is now more helpful than ever. Use your voice to easily find your favorite movies, shows and music. Ask the Voice Assistant to find a specific title, search by genre, or get personalized recommendations on what to watch by saying, "What should I watch?". Even get answers on screen, control smart home devices and more. Just press the Voice Assistant button on the remote to get started.
Breathtaking Colors Make Everything so Real
Over a billion colors are brought to life by TRILUMINOS PRO and our 4K HDR Processor X1. With extreme contrast, everything you watch feels so real.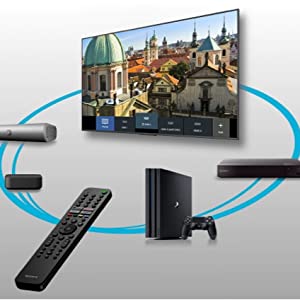 Control all your devices with one smart remote
All your connected devices can be controlled with our smart commander. One-button access to video-on-demand services brings shows and movies into your room in seconds.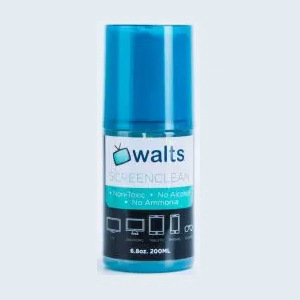 Keep Your Display Clean and Clear
Walts HDTV Screen Cleaner is made to be used on electronic screens. The cleaner is gentle on your screen to minimize the risk of accidently scratching or otherwise damaging the display with harsh chemicals. The included Polar Fleece Cloth reduces smudging or streaks, while trapping dirt and dust.
200mL/6.8oz Liquid Spray Screen Cleaner - Includes 200mm x 200mm Polar Fleece Cloth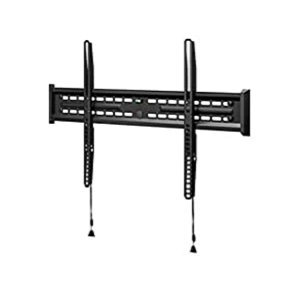 FIXED-MOUNT-43-90
| | |
| --- | --- |
| Walts TV FIXED-MOUNT-43-90 TV Mount - 175lb Maximum Weight - 43-90 Inch Screen Size - 100 x 100mm Minimum - 700 x 400mm Maximum - Hardware Included - Wood Stud or Solid Concrete Installation Options - Pad Lock Holes - Adjustable Strap Length - (30.9"W x 0.73"D x 18.9"H) - (Black) | |
FULL-MOTION-MOUNT-32-65
| | |
| --- | --- |
| Walts TV Full Motion Mount for TV's 32"-65" - Full Motion - Vesa Mount Compatibility (100X100 - 400X400) - Most 32-65" TV Compatibility - 3-10 Degree Viewing Angle - 20" Extension - 80 lb Capacity - Includes All Necessary Hardware - 2" Profile from Wall - Post Installation Leveling - Cable Management - (17"W x 4"D x 16"H) - (Black) | |
FULL-MOTION-MOUNT-43-90
| | |
| --- | --- |
| Walts TV Full Motion Mount for TV's 43"-90" - Full Motion - Vesa Compatibility (200X100 - 700X500) - Works With 43"-90" TV's - Viewing Angles +3 Degrees to -12 Degrees - 31" Extension - Includes All Necessary Hardware - Low Profile - 2.4" Profile - Single Arm - Post Install Leveling - Cable Management - 150lb Capacity - (36"W x 4"D x 23"H) - (Black) | |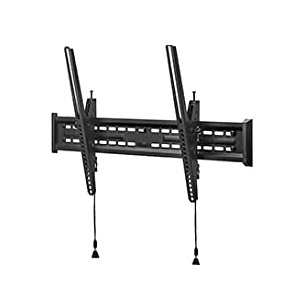 TILT-MOUNT-43-90
Walts TV Tilt Mount for TV's 43"-90" - Tilt Mount - Vesa Compatibility (100X100 - 700X400) - 43-90 TV Compatibility - Viewing Angle 3-12 Degrees - Includes All Necessary Hardware - 175 lb Capacity - Post Install Leveling - Full Back Plate - Three Way Tensioner - Padlock-able for Security - (34"W x 4"D x 7"H) - (Black)
TV Technical Specification
| | |
| --- | --- |
| Brand | Sony |
| Display Technology | LED |
| Resolution | 4k UHD |
| Year | 2021 |
| Refresh Rate | 120 hz |
| Color | Black |
| | | | | | | |
| --- | --- | --- | --- | --- | --- | --- |
| Products | Sony KD43X85J 43" 4K LCD TV with Full Motion Mount 32-65 and Screen Cleaner | Sony KD50X85J 50" 4K LCD TV with Full Motion Mount 43-90 and Screen Cleaner | Sony KD55X85J 55" 4K LCD Smart TV with Tilt Mount 43-90 and Screen Cleaner | Sony KD65X85J 65" 4K LCD Smart TV with Tilt Mount 43-90 and Screen Cleaner | Sony KD75X85J 75" Smart TV with a Walts Fixed Mount and Screen Cleaner | Sony KD85X85J 85" 4K LCD TV with Full Motion Mount 43-90 and Screen Cleaner |
| Screen Size | 43 Inches | 50 Inches | 55 Inches | 65 Inches | 75 Inches | 85 Inches |
| Voice Activated Assistant | | | | | | |
| Supported Internet Services | Netflix, Hulu, Spotify, Sling, Disney +, ESPN, and many more | Netflix, Hulu, Spotify, Sling, Disney +, ESPN, and many more | Netflix, Hulu, Spotify, Sling, Disney +, ESPN, and many more | Netflix, Hulu, Spotify, Sling, Disney +, ESPN, and many more | Netflix, Hulu, Spotify, Sling, Disney +, ESPN, and many more | Netflix, Hulu, Spotify, Sling, Disney +, ESPN, and many more |
| Connection | Apple Airplay - Apple Homekit - ALLM - Bluetooth - Chromecast - Composite Video - Digital Audio - Ethernet - 4 HDMI - Headphone - RF - RS-232C - 2 USB - WiFi | Apple Airplay - Apple Homekit - ALLM - Bluetooth - Chromecast - Composite Video - Digital Audio - Ethernet - 4 HDMI - Headphone - RF - RS-232C - 2 USB - WiFi | Apple Airplay - Apple Homekit - ALLM - Bluetooth - Chromecast - Composite Video - Digital Audio - Ethernet - 4 HDMI - Headphone - RF - RS-232C - 2 USB - WiFi | Apple Airplay - Apple Homekit - ALLM - Bluetooth - Chromecast - Composite Video - Digital Audio - Ethernet - 4 HDMI - Headphone - RF - RS-232C - 2 USB - WiFi | Apple Airplay - Apple Homekit - ALLM - Bluetooth - Chromecast - Composite Video - Digital Audio - Ethernet - 4 HDMI - Headphone - RF - RS-232C - 2 USB - WiFi | Apple Airplay - Apple Homekit - ALLM - Bluetooth - Chromecast - Composite Video - Digital Audio - Ethernet - 4 HDMI - Headphone - RF - RS-232C - 2 USB - WiFi |
| Smart Features | GOOGLE TV - Multiple Streaming Services - GOOGLE ASSISTANT - APPLE AIRPLAY | GOOGLE TV - Multiple Streaming Services - GOOGLE ASSISTANT - APPLE AIRPLAY | GOOGLE TV - Multiple Streaming Services - GOOGLE ASSISTANT - APPLE AIRPLAY | GOOGLE TV - Multiple Streaming Services - GOOGLE ASSISTANT - APPLE AIRPLAY | GOOGLE TV - Multiple Streaming Services - GOOGLE ASSISTANT - APPLE AIRPLAY | GOOGLE TV - Multiple Streaming Services - GOOGLE ASSISTANT - APPLE AIRPLAY |
| What's in the Box? | Table Top Stand - Voice Remote Control - Batteries - AC Power Cord - Operating Instructions - Quick Setup Guide | Table Top Stand - Voice Remote Control - Batteries - AC Power Cord - Operating Instructions - Quick Setup Guide | Table Top Stand - Voice Remote Control - Batteries - AC Power Cord - Operating Instructions - Quick Setup Guide | Table Top Stand - Voice Remote Control - Batteries - AC Power Cord - Operating Instructions - Quick Setup Guide | Table Top Stand - Voice Remote Control - Batteries - AC Power Cord - Operating Instructions - Quick Setup Guide | Table Top Stand - Voice Remote Control - Batteries - AC Power Cord - Operating Instructions - Quick Setup Guide |
| Mount Mobility | 3-10 Degree Viewing Angle Full Motion | +3 Degrees to -12 Degrees Full Motion | Viewing Angle 3-12 Degrees Tilting Motion | Viewing Angle 3-12 Degrees Tilting Motion | Adjustable Strap Length | +3 Degrees to -12 Degrees Full Motion |
| Mount VESA Compatibility | 100 X 100 - 400 X 400 | 200 X 100 - 700 X 500 | 100 X 100 - 700 X 400 | 100 X 100 - 700 X 400 | 100 x 100mm Minimum - 700 x 400mm Maximum | 200 X 100 - 700 X 500 |
| Mount Capacity and Included Hardware | 80 lb Capacity - Includes All Necessary Hardware | 150lb Capacity - Includes All Necessary Hardware | 175 lb Capacity - Includes All Necessary Hardware | 175 lb Capacity - Includes All Necessary Hardware | 175lb Maximum Weight | 150lb Capacity - Includes All Necessary Hardware |
| Cleaner Bottle | 6.8oz (200mL) | 6.8oz (200mL) | 6.8oz (200mL) | 6.8oz (200mL) | 6.8oz (200mL) | 6.8oz (200mL) |