The perfect solution for live events.
Get everything you need for cameras in live production. The ATEM Camera Converter is a high-performance, super-tough optical fiber converter with talkback, tally, HDMI and microphone inputs. It allows you to position your cameras a long distance away from your switcher, while still getting closer to the action. Just connect your camera's SDI or HDMI outputs for conversion to optical fiber, and your switcher program feed can be fed back via optical fiber for camera monitoring. The ergonomically designed front control panel lets you easily control all settings for the ultimate convenience.
Additionally, its built-in rechargeable battery provides more than three hours battery life. With a wide 12-31V power range, you can also use an external battery to power the unit, if longer operation is required where no mains power source is available.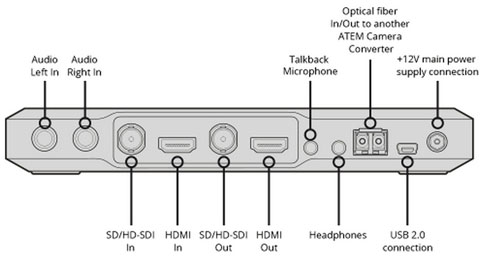 An excellent optical fiber converter
Optical fiber lets you connect way beyond the distance of traditional copper cables. The ATEM Camera Converter uses standard single mode optical fiber running at 1310nm, enabling you to connect to your cameras up to 28 miles away.
Talkback
It's vital to be able to talk to your camera operators during busy live production. The ATEM Camera Converter takes advantage of the 16 channel SDI audio standard, and embeds the talkback into rarely used channels 15 and 16. This feature allows switcher operator to coordinate with camera operator via standard PC or iPhone type headsets. It also includes a built- in microphone input and speaker for extra convenience.
Tally
The ATEM Camera Converter supports SDI tally output from the program feed of switchers, such as Blackmagic Design's ATEM range of live production switchers. When a camera is on air, a red LED illuminates on the ATEM Camera Converter and a red tally border is displayed on the converter's SDI and HDMI monitoring outputs.

High Quality Connections
The ATEM Camera Converter features high quality SDI and HDMI inputs for connecting professional SDI and consumer HDMI cameras. It also includes 1/4? stereo jack mic/line inputs, so external commentary and effects audio can be sent from the camera position. Moreover, the all connectors feature the recessed design, which keeps them safe from any damage.

Ergonomically designed control panel
ATEM Camera Converter's controls are conveniently located in a rubberized button strip on one side of the unit. LED indicators show the remaining battery power and confirm that optical fiber and video signals are present. The unit's power button needs to be pressed and held for two seconds to ensure the unit is not accidentally turned off during use.

Heavy Duty Machined Metal Design
The ATEM Camera Converter is machined from a solid block of aluminum to withstand daily use in live production environments. The precision cut chassis houses advanced electronics, and video connectors are recessed for added protection. Its rubber feet on the bottom allows for easy grip, when you use the ATEM Camera Converter on a desk. Plus, the built-in aluminum clip allows the converter to be mounted on your belt.