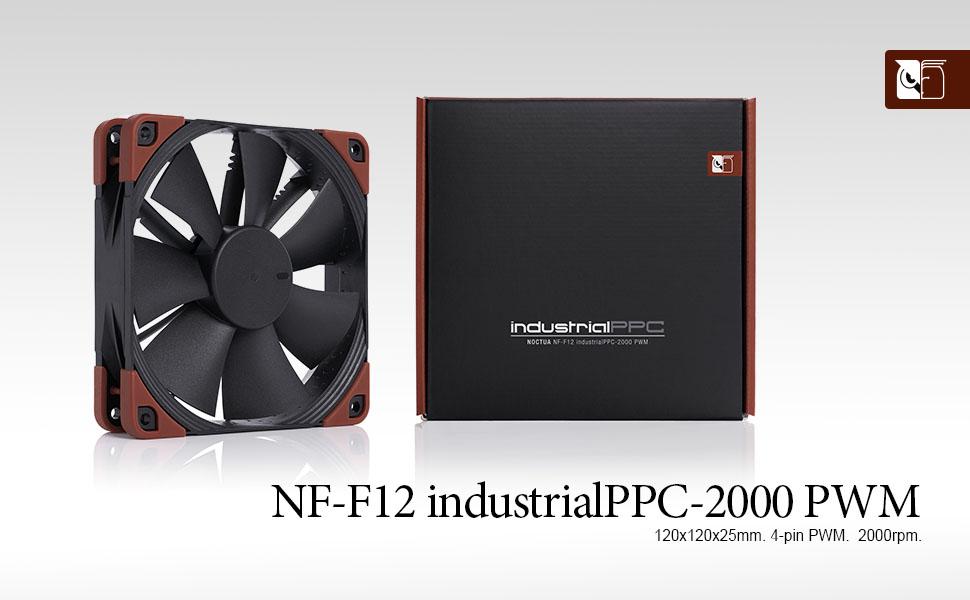 Conceived for industrial heavy duty applications that require enhanced cooling performance and advanced ingress protection, the NF-F12 industrialPPC (Protected Performance Cooling) is a ruggedised high-speed version of the award-winning retail model. Thanks to the outstanding aerodynamic efficiency of the NF-F12 design and the use of a novel three-phase motor, the industrialPPC version provides superior airflow and pressure capacity while keeping noise levels and power consumption moderate as against comparable high-speed fans. While its fibre-glass reinforced polyamide construction and certified water and dust protection make the NF-F12 industrialPPC suitable for operation in challenging environments, the renowned SSO2 bearing technology ensures an MTTF of over 150.000hrs. Topped off with Noctua's trusted reliability, the NF-F12 industrialPPC is an ideal choice for highly demanding applications that require superior flow rates and ultimate dependability.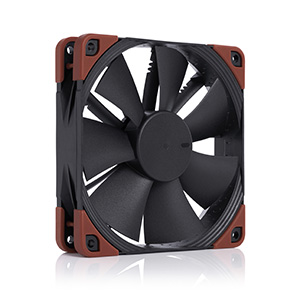 Focused Flow frame
Designed for pressure demanding applications such as heatsinks and radiators, the Focused Flow frame features eleven stator guide vanes that straighten, channel and focus the airflow, which allows the NF-F12 to rival the performance of conventional fans running at much faster speeds.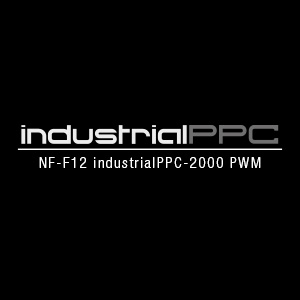 2000rpm industrialPPC version
| | |
| --- | --- |
| Thanks to its elevated 2000rpm top speed, the NF-F12 industrialPPC-2000 provides a significant performance boost over the 1500rpm retail version. Combined with the industrialPPC series' robust polyamide construction and advanced protection features, this makes the fan ideal for challenging industrial applications. | |
Three-phase motor design
| | |
| --- | --- |
| While most axial fans use single-phase motors with 4 slots, Noctua's industrialPPC fans feature a three-phase design with 6 slots, which provides smoother transitions between the slots and thus allows for even higher running smoothness, further reduced vibrations and unprecedented energy efficiency. | |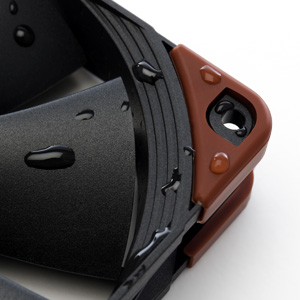 IP52 water- and dust protection
| | |
| --- | --- |
| Thanks to a special varnish coating that covers the motor and PCB, the NF-F12 industrialPPC complies with the ingress protection rating IP52. This means that it is not only highly dust resistant but also withstands dripping water equivalent to 3mm rainfall per minute. | |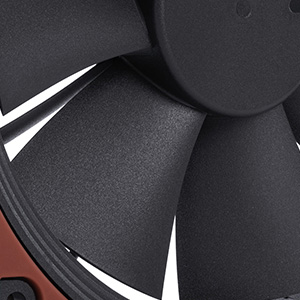 Fibre-glass reinforced polyamide construction
Both the impeller and the frame of Noctua's industrialPPC fans are made entirely from fibre-glass reinforced polyamide. This material can withstand temperatures up to 140°C and makes the fans even more robust and break-proof than Noctua's standard fibre-glass reinforced PBT fans.

| | | | | | | |
| --- | --- | --- | --- | --- | --- | --- |
| Products | NF-F12 industrialPPC-2000 | NF-F12 industrialPPC-2000 PWM | NF-F12 industrialPPC-2000 IP67 PWM | NF-F12 industrialPPC-3000 PWM | NF-F12 industrialPPC-24V-2000 SP IP67 PWM | NF-F12 industrialPPC-24V-3000 SP IP67 PWM |
| Connector | 3-Pin | 4-Pin PWM | 4-Pin PWM | 4-Pin PWM | 4-Pin PWM | 4-Pin PWM |
| Voltage | 12V | 12V | 12V | 12V | 24V | 24V |
| RPM | 2000 | Max: 2000 / Min: 450 | Max: 2000 / Min: 450 | Max: 3000 / Min: 750 | Max: 2000 / Min: 450 | Max: 3000 / Min: 750 |
| Acoustical Noise | 29,7 dB(A) | 29,7 dB(A) | 29,7 dB(A) | 43,5 dB(A) | 29,7 dB(A) | 43,5 dB(A) |
| Static pressure | 3,94 mm H2O | 3,94 mm H2O | 3,94 mm H2O | 7,63 mm H2O | 3,94 mm H2O | 7,63 mmH2O |
| Airflow | 121,8 m³/h | 121,8 m³/h | 121,8 m³/h | 186,7 m³/h | 121,8 m³/h | 186,7 m³/h |
| Ingress Protection Rating | IP52 | IP52 | IP67 | IP52 | IP67 | IP67 |
| Size | 120x120x25 mm | 120x120x25 mm | 120x120x25 mm | 120x120x25 mm | 120x120x25 mm | 120x120x25 mm |