WorkFit-TL, Sit-Stand Desktop Workstation
Standing Desk Converter
Presenting an ultra easy standing desk solution, which quickly converts a tabletop into a healthy sit-stand workstation. Simply place the WorkFit-TL on an open surface and you're ready to work!
WorkFit-TL features a larger keyboard tray and wider worksurface. Like the smaller WorkFit-T, it saves space because it moves straight up and down, always staying within the footprint of your desktop. Extremely stable throughout its range of motion, one can freely lean on it while working without worry of tip or height-drop.
Product Benefits
WorkFit-TL features a larger keyboard tray, wider worksurface and higher weight capacity
Add an accessory monitor mount kit: Attach your display(s) with a riser to provide independent screen adjustment while clearing worksurface space
Modify an existing office space or cubicle by simply adding a WorkFit-TL to an open tabletop, without the cost of expensive professional installers
Ships fully assembled. Sits directly on top of desk—no special mounting or tool-adjustments required for installation
Provides 15 inches (38 cm) of vertical adjustment
Instantly move to sit or stand as you work: Simply release hand-brake levers on either side of unit to position the surface higher or lower
No cranks or motors to engage: Counterbalancing mechanism uses CF™ technology to facilitate quick height adjustment
Extremely stable and solid platform
Space-saving design does not protrude beyond tabletop
Works well in corner desk configurations; fits on surfaces as shallow as 19" (48 cm)
Tested and guaranteed: Full 5-year warranty!
Tech Specs
SCREEN
CAPACITY
LIFT
TILT
PAN
ROTATION
VESA
=30"
10 - 40 LBS
4.5 - 18.1 KG
15"
38.1 cm
¯
¯
¯
¯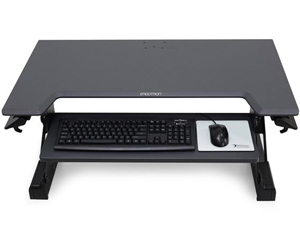 Part Number: 33-406-062, 33-406-085
Description: WorkFit-TL Sit-Stand Desktop Workstation
Ships fully assembled; no tool-adjustments needed for installation
Footprint = 37.5" x 23" (95 x 59 cm)
Fits on desk surfaces 24" (61 cm) deep or larger
Keyboard moves in tandem with the worksurface. Tray is positioned 4.5" (11.4 cm) below worksurface to maintain ergonomic spacing between screen height and keyboard
Displays can be placed directly on the worksurface. Alternatively, use our monitor mount kits to integrate displays into system (see accessories)
This product is certified in compliance with indoor air quality standards defined by ANSI/BIFMA pertaining to emissions of VOC (volatile organic compounds)
Product Weight: 56 lbs (25.5 kg)
Shipping Dimensions: 42" x 33.5" x 8.25" (107 x 85 x 21 cm)
Shipping Weight: 62 lbs (28.2 kg)
Warranty: Five (5) years