Fast, safe and energy-saving. Keep your room warm and cozy with the Lasko 5160 Digital Ceramic Tower Heater. Its elongated ceramic heating element, penetrating air velocity, and widespread oscillation combine to provide warmth throughout the room. The easy-to-access controls at its top panel, along with a multi-functional remote control, allow you to easily set/adjust the temperature. The compact design and easy-grip handle allow for easy transportation.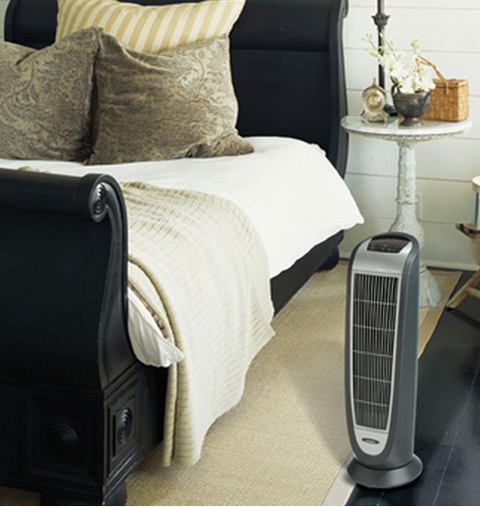 Effective heating performance
This heater features an elongated ceramic element to provide 1500 watts of quick, comforting warmth, while utilizing exclusive blower technology to enhance heat penetration. The widespread oscillation evenly distributes warmth and comfort to your entire room.

Put controls at your fingertips
The top panel of the heater features dual heat settings (low and high), a programmable thermostat control, and an eight-hour timer. With just the push of a button, you can easily set and adjust the temperature to achieve optimal comfort. Moreover, the multi-functional remote control gives you the option to change settings without moving from your desk or couch.

Maximum security
The V-O safety plastic housing stays cool to the touch. The self-regulating ceramic element has automatic overheat protection, ensuring the maximum safety when you are enjoying the comforting warmth.
Compact design
The sleek, ultra-compact (7.3"L x 8.14"W x 22.76"H) tower takes up a very little space, ideal for any sized room. Since it has an easy-grip handle, so you can effortlessly move it from room to room.