Optimized for smartphones - CHS Series 8 Barcode Scanners
The Socket Mobile Bluetooth Cordless Hand Scanner (CHS) Series 8 is a small, thin and easy to use barcode scanner optimized for smartphones. Featuring full software support, the CHS Series 8 is easy to attach to your smartphone when in use and easy to detach and slip in your pocket when not in use.
Unlike other barcode scanners, the CHS Series 8 can be used with different devices of varying shapes and sizes (even tablets!) and can be used either attached or detached from the host device. Weighing only 1.7 oz (48 g), it's the lightest barcode scanner on the market that can be attached to a smartphone in a sled-type scanning solution.
Certified by Apple® for iOS devices – Guaranteed Compatibility
Compatible with Android, BlackBerry, and Windows devices
Made with antimicrobial material for protection against potential harmful microbes
Battery Friendly® technology enables battery lasting a full work shift
Robust Bluetooth Connectivity for long range wireless freedom
Ideal for retail POS, field service, inventory management, asset tracking and more
Designed and assembled in the USA
In-depth Developer Support
Fully Programmable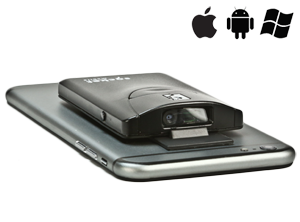 Attach to your device for a one-handed solution
Need to keep a hand free to handle merchandise or equipment? The CHS Series 8 easily attaches to your favorite smartphone or multimedia device with our optional Klip Case. You'll have a convenient, one-handed solution that's easier to carry!
Socket Mobile currently offers Klip Cases for the Apple iPhone 5/5s/5c, Apple iPod touch (5th generation) and Samsung Galaxy S4 as well as a Universal Klip Case.
Wear around your neck
Want convenient access to the CHS Series 8 at all times?
Wear it around your neck or fasten it to your belt with the included lanyard / belt clip, which features a retractable tether so you can comfortably pull the scanner out to your arm's full length.
Flexible for Different Devices and Usage Scenarios
The CHS Series 8 gives you the most flexibility to integrate with your devices and user preferences. After you've attached it to a phone, it's easy to detach and just change the Klip Case to attach it to a different phone or device. You can even skip the Klip Case and use it unattached.
The scanner is compatible with a broad range of Apple, Android and Windows devices and is Apple MFi certified for the iPad, iPad mini, iPhone and iPod touch.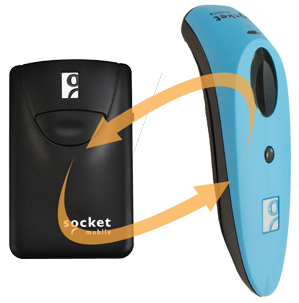 Easy to integrate
The CHS Series 8 has the same key hardware features and uses the same software and SDK as our popular CHS Series 7 barcode scanners.
If you're currently using our CHS Series 7 barcode scanners, you'll have a familiar user experience and be able to use the same apps with our CHS Series 8.

HARDWARE FEATURES
Compatible with Apple, Android, Windows devices
Made with antimicrobial material to provide an extra protection against potentially harmful microbes
Robust Bluetooth connectivity
Battery Friendly® technology 10-hour battery life on a single charge
Scanner automatically connects to phone after initial setup
LED and beeps visual and audio indicators signal good scan, connection, and power status
Vibrate mode indicates good scans, ideal for noisy environments where beeps are hard to hear or applications that require silent mode
Supports Bluetooth HID connections for easy setup with no software installation - connect like a wireless keyboard
Supports Bluetooth SPP connections for advanced scanner control and SDK support
SPECIAL FEATURES FOR APPLE iOS
Certified by Apple for iPad, iPhone, and iPod touch
Quickly access Apple iOS on-screen keyboard by pressing a scanner button
Authentication chip enables two-way communications with Apple devices running a compatible app developed with SocketScan 10 SDK.
App to modify beep, LED, vibrate, and other settings
SOFTWARE FOR ANDROID AND WINDOWS
SocketScan™ 10 keyboard wedge enters scanned data into any app, no custom programming needed
Suffix support — automatically add a carriage return or tab
Data editing — reformat, extract or manipulate data
Scanner configuration — modify beep, LED, vibrate, and symbology settings. View scanner's battery level