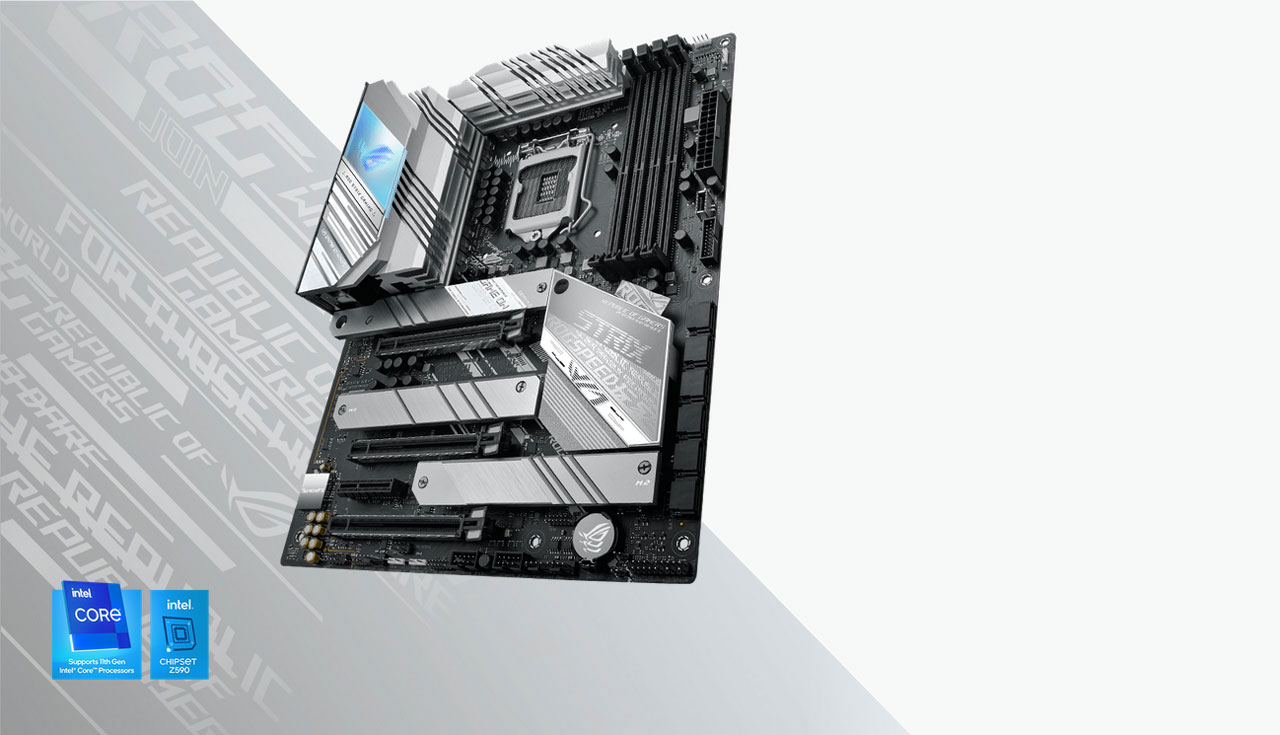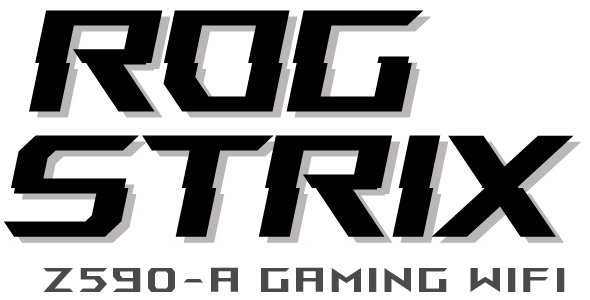 Designed with boosted power delivery and optimized cooling, this ATX motherboard offers a solid foundation for your next powerhouse based on the 11th Generation Intel Core Rocket Lake processors. It brings next-gen connectivity including Wi-Fi 6, PCIe 4.0 for graphics and M.2, and USB 3.2 Gen 2x2 Type-C. It also looks good, with a stunning silver and gray color scheme that complements the brushed-metal-finish on the heatsinks.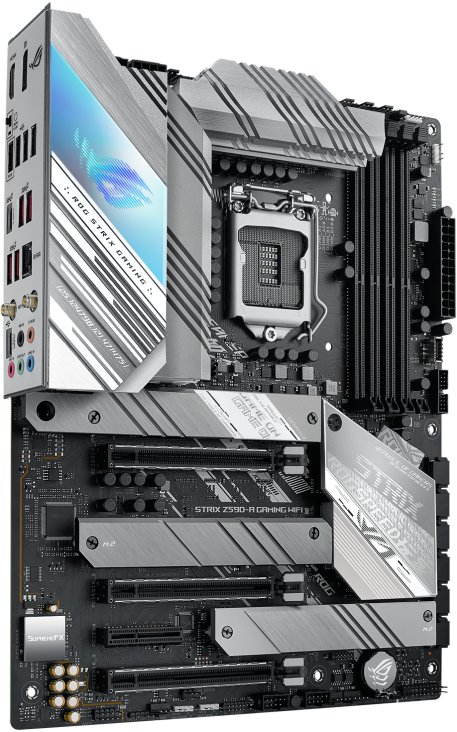 Ready for 11th Gen Intel Core processors & 10th Gen Intel Core, Pentium Gold and Celeron Processors
Optimal Power Solution: 14+2 power stages with ProCool II power connector, high-quality alloy chokes and durable capacitors to support multi-core processors
Optimized Thermal Design: VRM and aluminum I/O heatsink, three onboard M.2 heatsinks, including an M.2 backplate for the PCIe 4.0 M.2 slot
High-performance Networking: On-board Intel WiFi 6 AX200 (802.11ax) and Intel 2.5 Gb Ethernet with ASUS LANGuard
Best Gaming Connectivity: Supports HDMI 2.0 and DisplayPort 1.4 output, three M.2 slots, as well as USB 3.2 Gen 2x2 USB Type-C
Intelligent Control: ASUS-exclusive AI Overclocking, AI Cooling, AI Networking and Two-Way AI Noise Cancelation to simplify setup and improve performance
DIY Friendly Design: M.2 Q-Latch, pre-mounted I/O shield, BIOS FlashBack and FlexKey
Unmatched Personalization: ASUS-exclusive Aura Sync RGB lighting, including RGB header and Gen 2 addressable headers
Industry-leading Gaming Audio: ALC4080 with Savitech SV3H712 amplifier, along with DTS Sound Unbound and Sonic Studio III
Renowned Software: Bundled 60 days AIDA64 Extreme subscription and intuitive UEFI BIOS dashboard with integrated MemTest86
All-round Performance
ROG Strix Z590-A Gaming WiFi is armed with up-rated power delivery and optimized cooling to enable top-tier performance for gaming. Fully equipped with intelligent controls for easy management of overclocking, cooling and networking settings, Strix Z590-A Gaming WiFi also features Two-Way AI Noise Cancelation for crystal-clear in-game communication.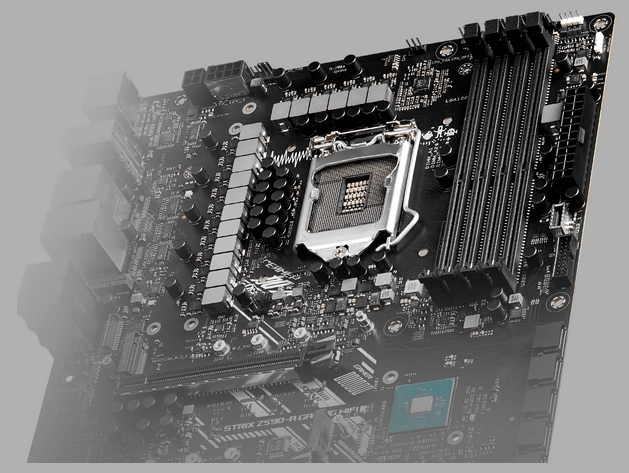 DIGITAL POWER DESIGN
Digital power control and an array of power stages provide the muscle needed to control the latest Intel CPUs.
TEAMED POWER STAGES
14+2 power stages combine high-side and low-side MOSFETS and drivers into a single package, delivering the power and efficiency that the latest Intel processors demand.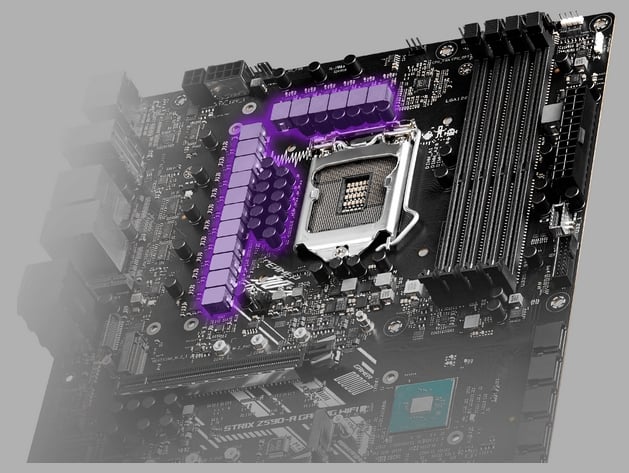 ALLOY CHOKES AND CAPACITORS
Superior chokes and durable capacitors are engineered to resist extreme temperatures, enabling performance that exceeds industry standards.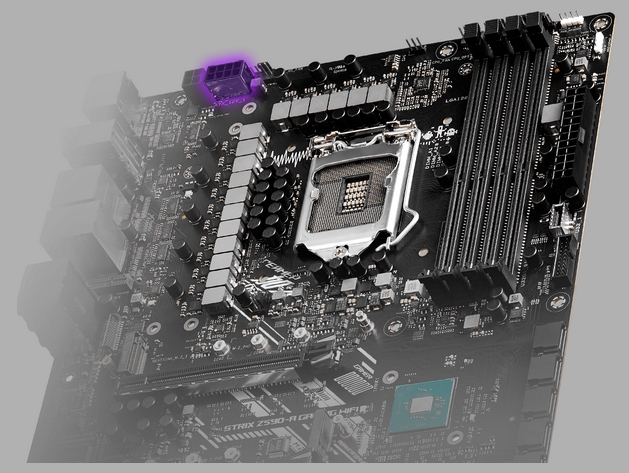 PROCOOL II POWER CONNECTOR
The ASUS ProCool II socket is built to tight specifications to ensure flush contact with the PSU power lines. Metal armor improves heat dissipation, and lower impedance helps prevent hotspots and improves reliability.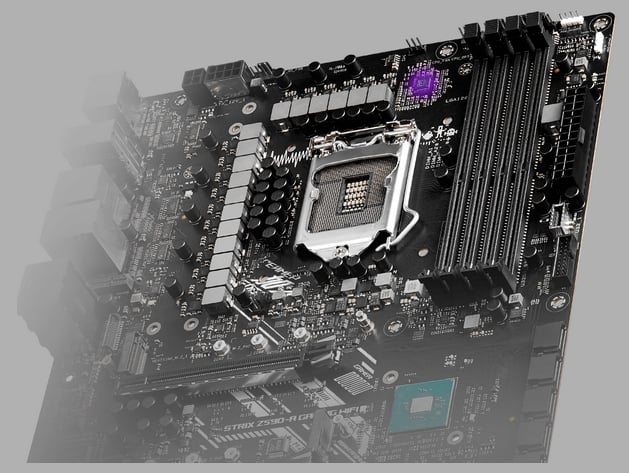 DIGI+ POWER CONTROL
The built-in Digi+ voltage-regulator module (VRM) is one of the finest in the industry, ensuring ultra-smooth and clean power delivery to the CPU.
SIX-LAYER PCB
The PCB design quickly dissipates heat around the VRM to improve overall system stability and provide the CPU with more overclocking headroom.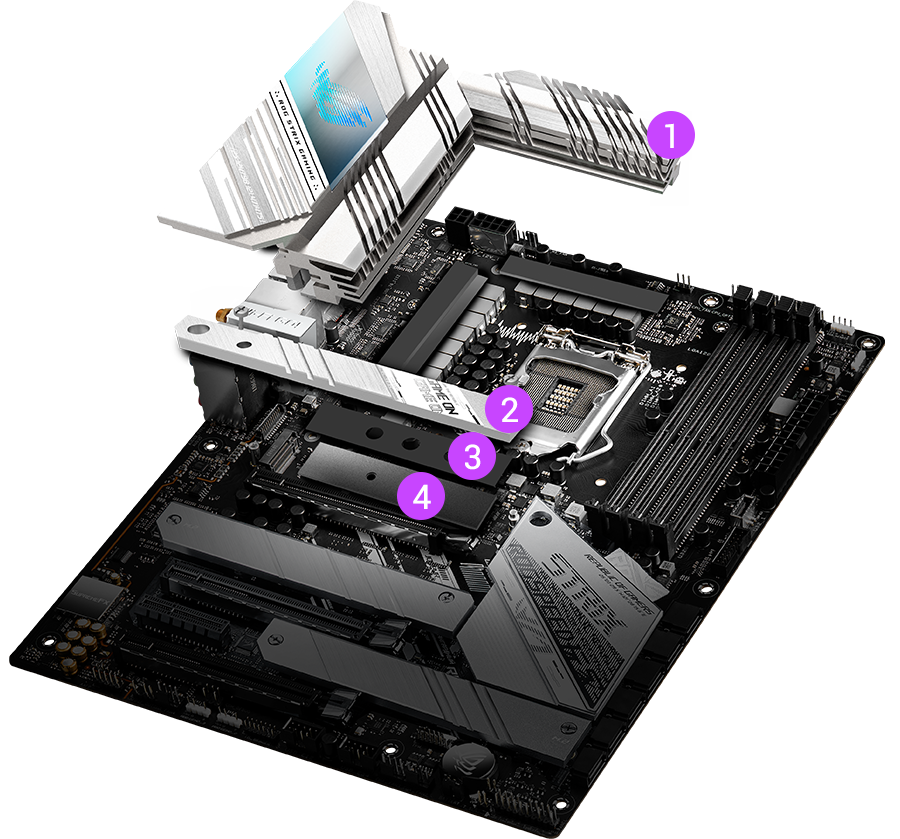 COOLING INNOVATION
1. Integrated I/O Cover and VRM Heatsinks
Deep strakes across the two VRM heatsinks increase surface area to improve heat dissipation.
2. Thermal Pads
High-quality thermal pads efficiently transfer heat from the inductor and phase array to the heatsink.
3. M.2 Heatsinks
The M.2 heatsinks keep the M.2 SSD at optimum operating temperature for consistent performance and reliability.
4. M.2 Backplate
An integrated M.2 backplate helps ensure that high-performance drives deliver peak performance, even when airflow is restricted.
TWO-WAY AI NOISE CANCELATION
This powerful ASUS-exclusive utility leverages a massive deep-learning database to reduce background noise from the microphone* and incoming audio while preserving voices. Distracting keyboard clatter, mouse clicks and other ambient noises are removed so you can hear and be heard with perfect clarity while gaming or during calls.
* A splitter cable is necessary when using a 3.5 mm headset.
500M quadruple
Deep-learning Database
Minimal
Performance Impact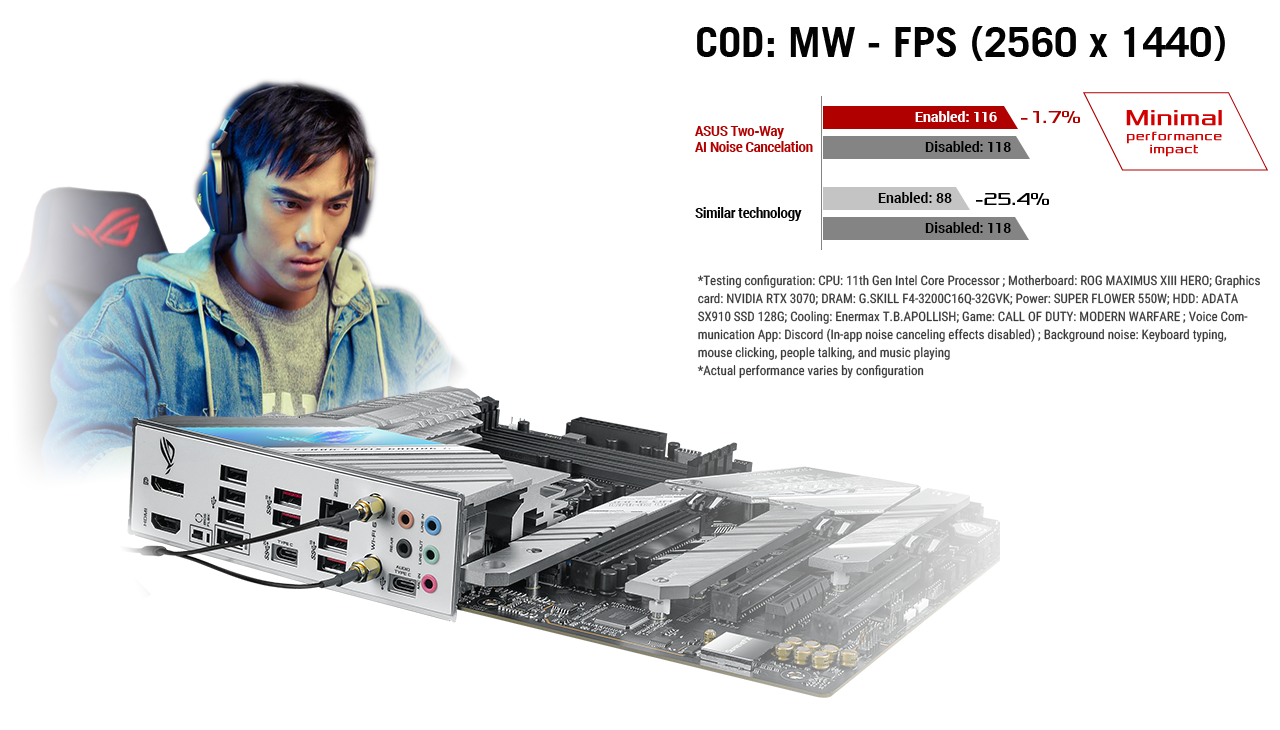 AI OVERCLOCKING
ROG AI Overclocking is an intelligent utility that helps you get the most out of your build by automatically profiling your CPU and cooling system to predict optimal voltage and frequency settings.
Accessible via the AI Suite software in Windows or directly through the UEFI, the intuitive AI Overclocking user interface enables users of all levels. A range of customizable settings are available for seasoned overclockers, and an auto-tuning option is available for beginners.

Designed by Experts
At the heart of AI Overclocking is a proprietary algorithm developed by ROG R&D engineers who worked with world-renowned overclockers to create a tool for users of all levels.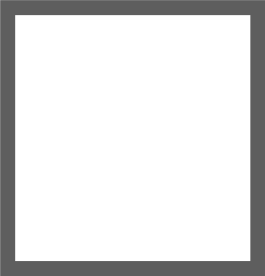 Predictive Edge
The algorithm analyzes your CPU and cooling system and, based on what it finds, predicts optimal settings. The software then automatically applies these settings to guide the clocking process, balancing frequency and voltage.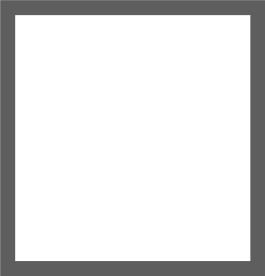 Real-time Adjustments
The software monitors workload, system temperature, fan speed and power draw at one-minute intervals, and makes real-time adjustments to ensure ongoing optimal performance.
AI COOLING
ASUS AI Cooling technology automatically manages and controls motherboard-connected fans to ensure optimal settings based on current system load and temperature.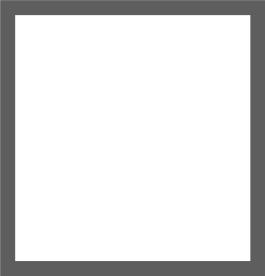 CPU temperature detection
AI Cooling detects CPU temperatures and uses a proprietary algorithm to calculate the lowest fan speed required to effectively cool the system and keep fan noise down.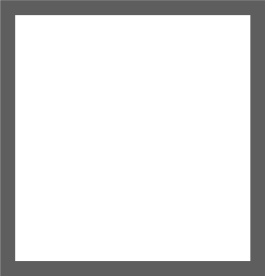 Automated optimization
Under stable system loads, the software automatically lowers fan* speed to the optimal setting, decreasing fan noise without compromising performance.
*Fans need to be connected to the following headers for AI Cooling control: CPU_FAN / CPU_OPT / CHA_FAN / M.2_FAN / H_AMP / RAD_FAN

Ongoing monitoring
AI Cooling continues to monitor the system and adjust fan speed based on current load.
AI NETWORKING
The proprietary ROG GameFirst VI utility is designed to help all users — beginners, experts, and everyone in between — optimize network settings to ensure smooth online gameplay. New to this generation, GameFirst VI features AI-enhanced identification and boost technologies to ensure faster and smarter network optimization.

Identification
GameFirst VI analyzes usage patterns and the digital signatures of your applications and compares them to a database of over 200,000 apps.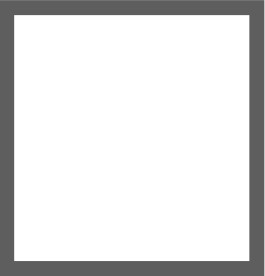 Boost
GameFirst VI intelligently switches application priority and adjusts bandwidth, depending on the situation. When gaming, it accelerates and prioritizes game packets to give you supersmooth online gameplay ? even when you're streaming high-quality video or transferring large files.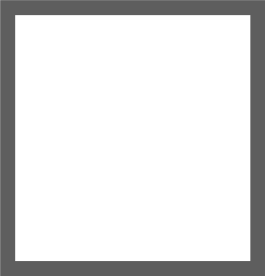 Visualization
An intuitive graph provides an overview of real-time network status. Simply click on the tab to view the current bandwidth usage of each application, geolocation status of each network connection, or an analysis of the WiFi channels.
LEADING CONNECTIVITIY
ROG Strix Z590-A Gaming WiFi includes the latest connectivity for supersmooth online experiences and blisteringly fast large file transfers. Superior audio performance gives you a massive advantage, allowing you to pick up on the smallest audio cues for a completely immersive gaming experience.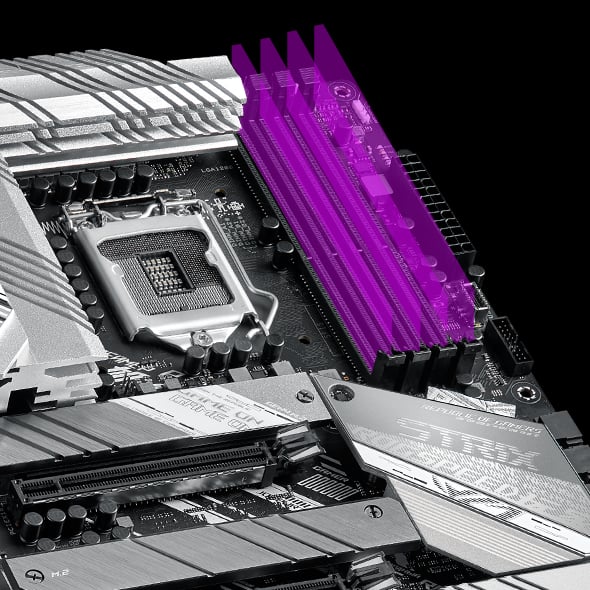 Optimem II
ROG Strix Z590-A Gaming WiFi supports up to 128 GB DDR4 memory across four slots. OptiMem II technology improves trace layout to significantly reduce vias and crosstalk, enhancing memory stability and compatibility while giving memory kits higher frequency margins.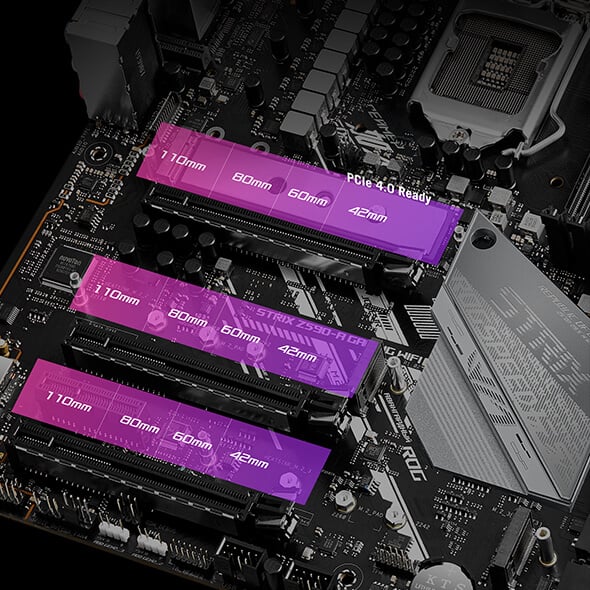 PCIe 4.0-Ready
ROG Strix Z590-A Gaming WiFi features three onboard M.2 slots, one of which support the latest PCIe 4.0 standard to provide maximum storage flexibility and the fastest data speeds available with the latest Intel processors. An M.2 backplate helps deal with the heat generated by the PCIe 4.0 SSDs. In addition, three of the M.2 slots support up to a 22110 socket and NVM Express RAID.
WiFi 6 (802.11 ax)
Onboard WiFi 6 (802.11ax) supports ultrafast wireless-networking speeds, improved capacity and better performance in dense wireless environments, providing exceptional online gaming experiences. Pair your motherboard with ASUS WiFi 6 routers to fully experience the networking potential of WiFi 6.
Intel 2.5 Gb Ethernet
Onboard 2.5 Gb Ethernet gives your wired connection a boost, with up to a 2.5X improvement over standard Ethernet connections for faster file transfers, smoother lag-free gaming and high-res video streaming.
ROG SUPREMEFX
ROG SupremeFX is a unique blend of hardware and software that provides superior audio. In ROG Strix Z590-A Gaming WiFi, this combination features the ALC4080 codec with a Savitech amplifier to deliver pristine audio, increasing playback resolution from 192 kHz to 384 kHz and also decreasing distortion and reducing signal interference from surrounding components.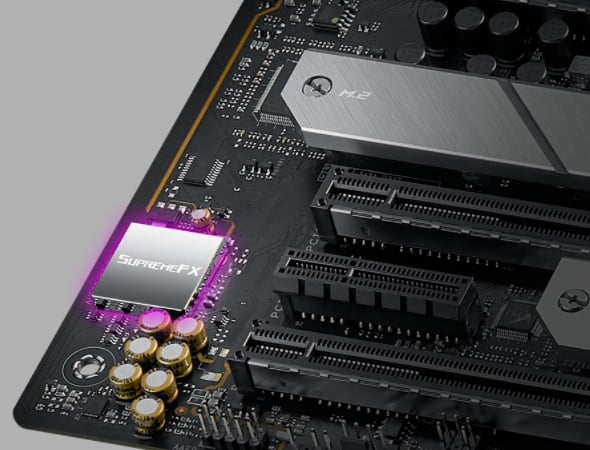 Audio Cover
Effective shielding against electromagnetic interference preserves the integrity of audio signals to ensure the best sound quality.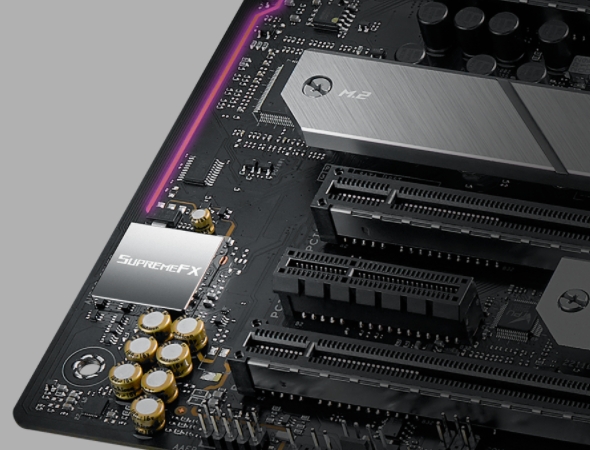 Audio-Line Shielding
Specially designed shielding blocks electromagnetic interference from the motherboard or add-ons.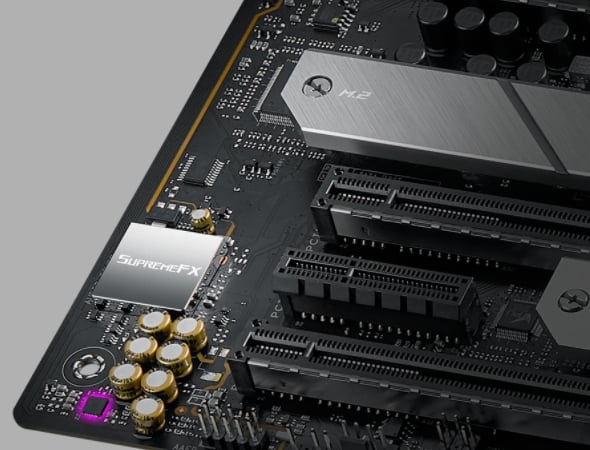 Savitech SV3H712 Amplifier
The integrated Savitech amplifier greatly improves THD+N performance from 72 to 83 dB, resulting in cleaner, more pristine sound.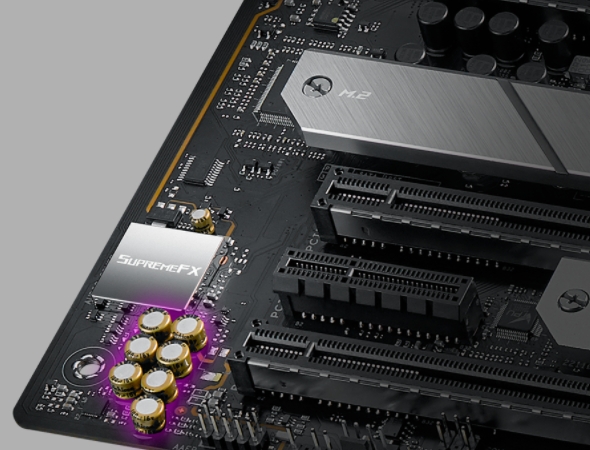 Premium Nichicon Audio Capacitors
High-quality Japanese-made components produce a warmer, more natural sound with exceptional clarity and fidelity.
PLAY YOUR OWN STYLE
Cyberpunk-inspired aesthetics are accentuated by bold slashes and cybertext. By pairing ROG Strix Z590-A Gaming WiFi with other products from the diverse ROG ecosystem, you can create a fully customized gaming setup that reflects your personal style.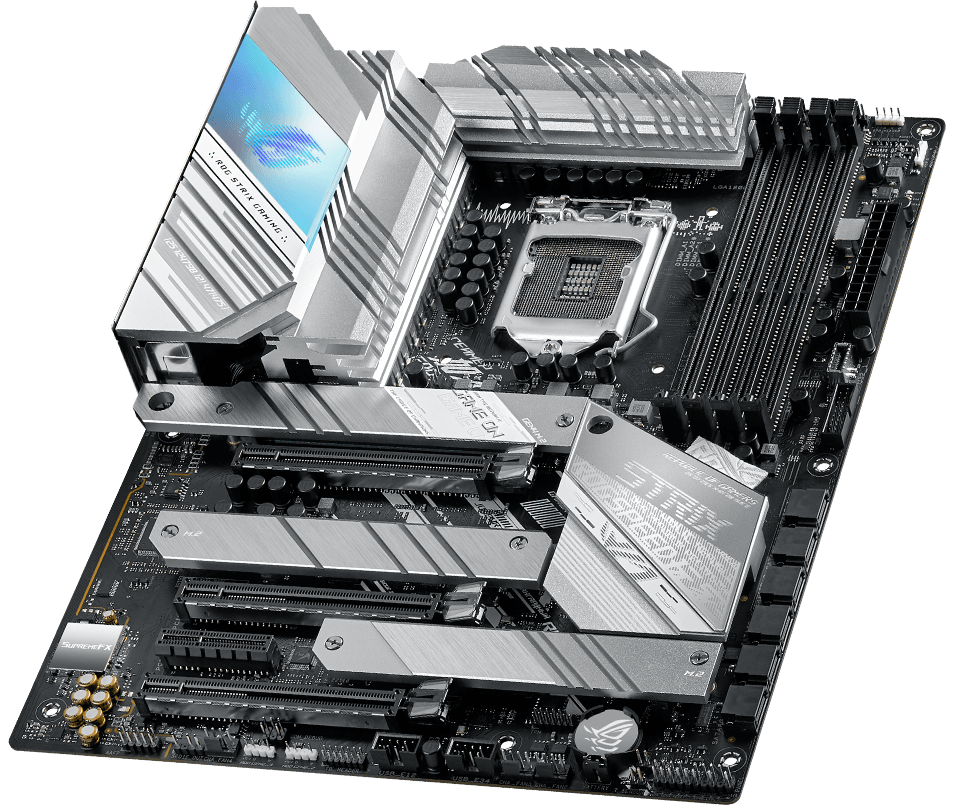 UNDENIABLY ROG STRIX
ROG Strix Z590-A Gaming WiFi embodies the ROG spirit with its futuristic cyberpunk-inspired design elements and two-tone silver-and-gray finish. It also offers a look of distinction, with a cybertext pattern on the PCH heatsink and an Aura RGB-illuminated ROG logo on its mirror-like I/O shroud.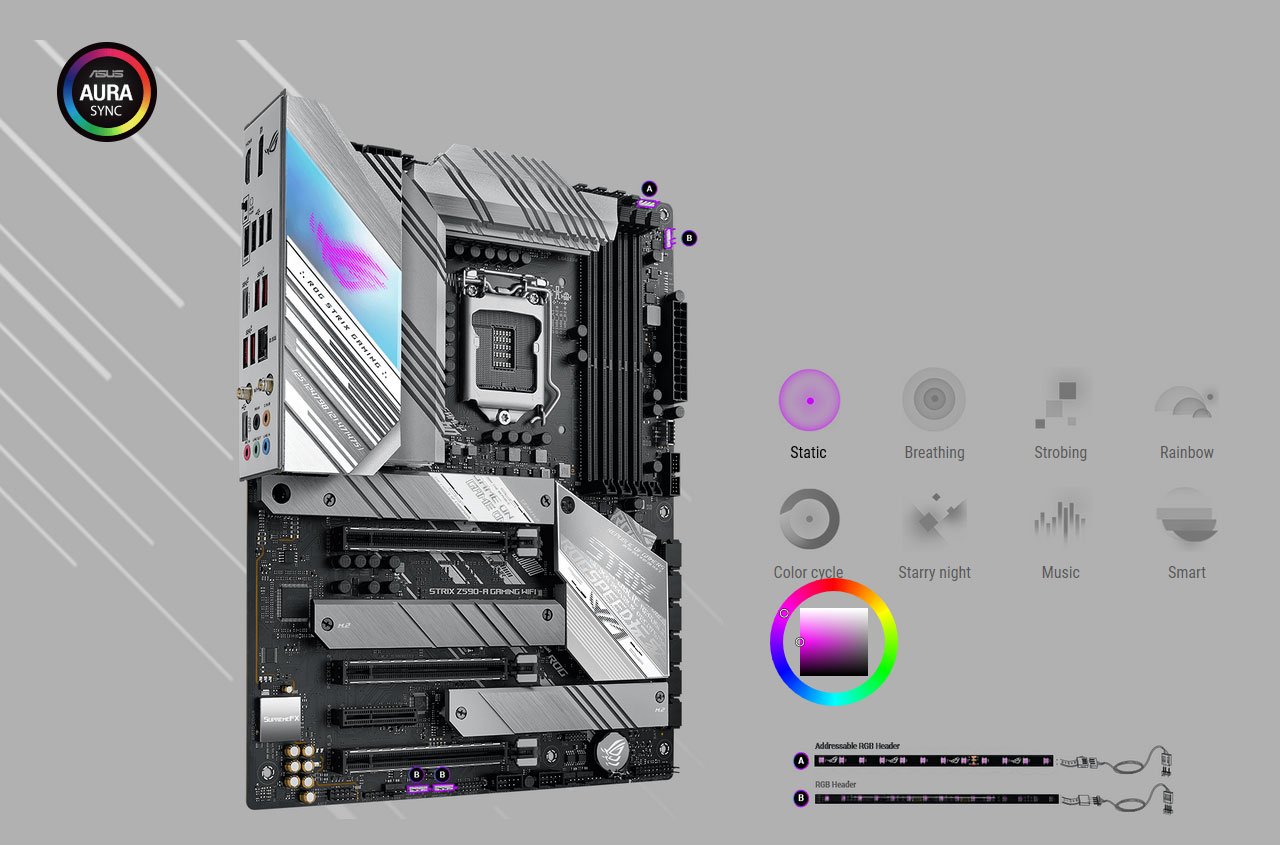 OUTSHINE THE COMPETITION
ROG Strix motherboards deliver sterling performance and superior aesthetics to outshine the competition. They also feature built-in ASUS Aura technology that enables full RGB lighting control and a variety of presets for embedded RGB LEDs, as well as lighting strips connected to onboard RGB headers. In addition, all lighting can be easily synced with an ever-growing portfolio of Aura-capable ASUS hardware.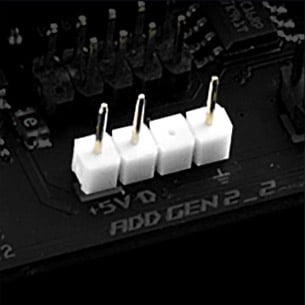 ADDRESSABLE GEN 2 RGB HEADER
ROG Strix Z590-A Gaming WiFi's Addressable Gen 2 RGB headers are now capable of detecting the number of LEDs on second-gen addressable RGB devices, allowing the software to automatically tailor lighting effects to specific devices. The new headers also offer backward-compatibility with existing Aura RGB gear.

M.2 Q-Latch
The innovative Q-Latch makes it easy to install or remove an M.2 SSD without the need for specific tools. The design employs a simple locking mechanism to secure the drive and neatly eliminate traditional screws.

FlexKey
FlexyKey makes it possible to redefine the role of the chassis reset button. Assignable options include quick Aura lighting control, booting directly into UEFI, or performing a safe boot to recover settings.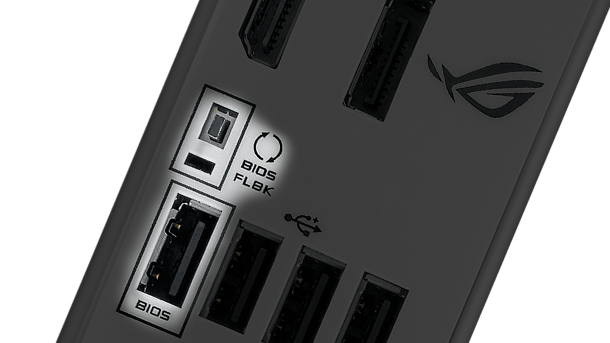 BIOS FlashBack
BIOS FlashBack is the simplest and safest way to update BIOS. Simply drop the (UEFI) BIOS file onto a FAT32-formatted USB stick, and plug it into the USB BIOS FlashBack port and press the button. Updates can even be performed without having memory or a CPU installed.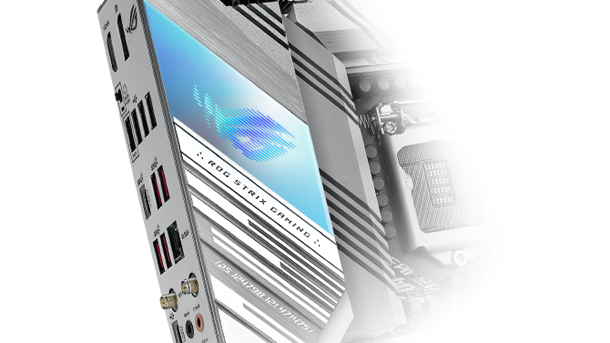 Pre-Mounted I/O Shield
The patented ROG I/O shield is finished in sleek matte black and comes pre-mounted, which further simplifies the process of installing the motherboard.

CERTIFIED COMPATIBILITY
ROG Strix motherboards undergo an extensive certification program to ensure the very best compatibility with the widest range of components and devices.

THE ROG STRIX ECOSYSTEM AWAITS
Level up your game with ROG Strix. Enjoy complementary aesthetics, control and compatibility across AIO coolers, cases, peripherals, and much more. ROG offers more choices than any other brand.
ROG GIVES YOU MORE
ROG-exclusive software utilities deliver intuitive audio tuning and gaming enhancements so you can configure your gaming build the way you want. Bundled third-party software like AIDA64 and MemTest86 allow you to benchmark individual components or the entire system.
UEFI BIOS
The renowned ROG UEFI (BIOS) provides everything you need to configure, tweak, and tune your rig. If offers intelligently simplified options for newcomers to PC DIY, as well as more comprehensive features for seasoned veterans.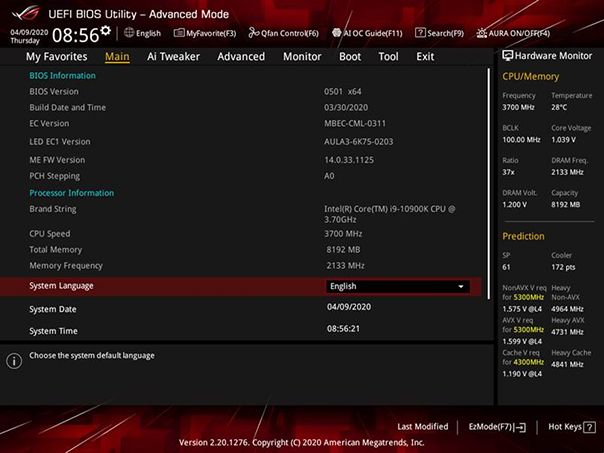 ADVANCED MODE
When you're ready for a deeper dive into the configuration of your system, delve into the UEFI's Advanced mode and take complete control. Each section is intuitively organized, and a built-in search feature makes it easy to find the options you need. Advanced functions are coded with the intelligence to adapt to your settings, and when you're ready to take charge, parameters have the granularity to dial in performance just the way you want.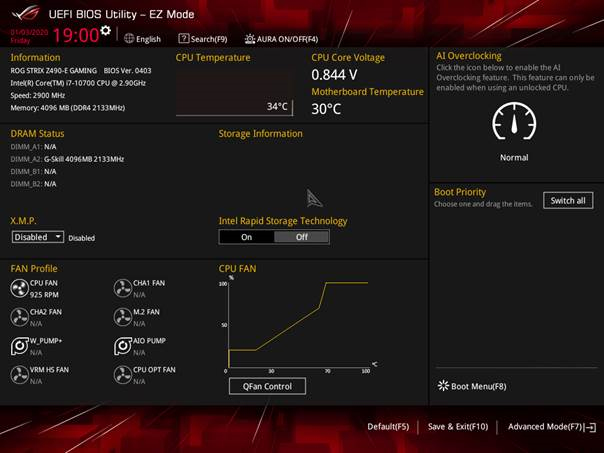 EZ MODE
Designed to simplify setup, EZ mode presents vital settings and stats on a single page. With guided wizards, drag-and-drop functionality, and one-click application of important settings, your rig will be up and running in no time.
DTS:SOUND UNBOUND
ROG Strix Z590 motherboards are pre-loaded with the DTS Sound Unbound app that envelops you in audio as never before, conjuring whole new levels of immersion for extraordinary gaming and entertainment experiences. By leveraging Windows Sonic spatial technology, DTS Sound Unbound delivers audio in a virtual 3D space — putting you right in the middle of the soundscape, where you can sense the location and direction of every gunshot, footstep or other sound in your virtual environment.
* DTS Sound Unbound requires in-game support. Check with game developers for supported titles.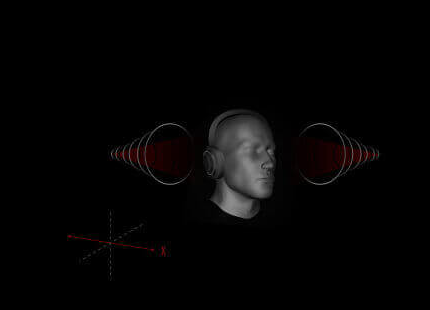 STEREO SOUND
Discrete left and right audio channels enable headphone or two-speaker setup.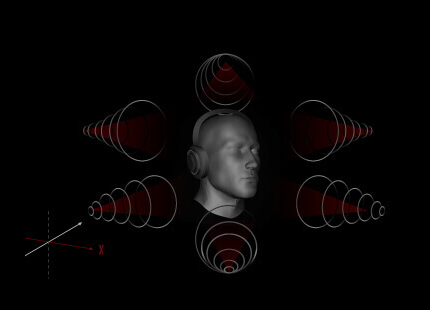 SURROUND SOUND
Audio is split and served over multiple speaker channels – e.g., 5.1 or 7.1 – to create an enveloping experience on a single, logical plane.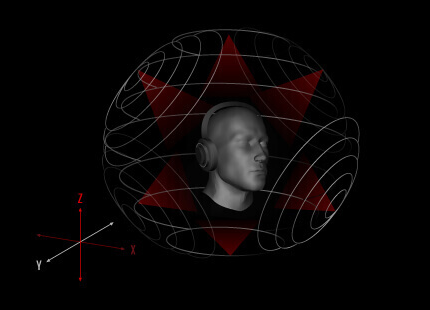 SPATIAL SOUND
A virtual audio-sphere effect creates astonishing 360° immersion – with you at the center, where sounds seem to arrive from all directions.
ARMOURY CRATE
Armoury Crate is a software utility designed to give you centralized control of supported gaming products, making it easy to tune the look and feel of your system. From a single intuitive interface, Armoury Crate lets you easily customize RGB lighting and effects for compatible devices and synchronize them with Aura Sync to create a unified lighting scheme across your system. You can also use Armoury Crate to download drivers, software and the user manual. In addition, Armoury Crate features a dedicated product registration page as well as a news feed to help you stay in touch with the gaming community.
*Windows 10 is required for full Aura Sync functionality within Armoury Crate. For Windows 8 and earlier versions, standalone Aura Sync software is available for free download from the product support site.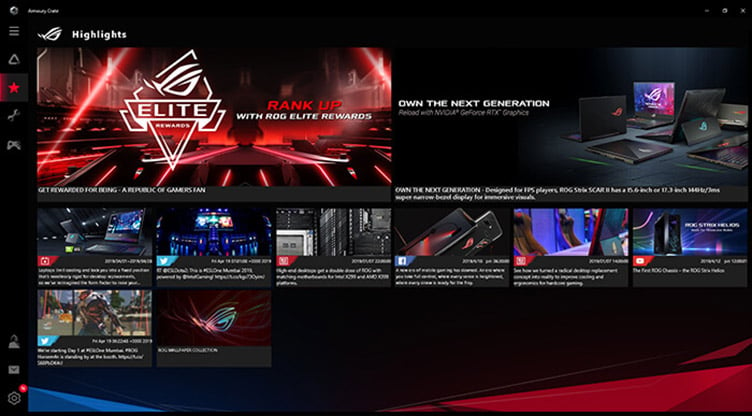 RAMCACHE III
RAMCache lll software turns milliseconds into microseconds to boost game-load times. Fully compatible with the latest NVM Express storage options, its uniquely intelligent technology effectively caches an entire storage device so that favorite games and apps launch at breakneck speeds. A Smart mode automatically caches all storage devices to maximize system resources.