What's new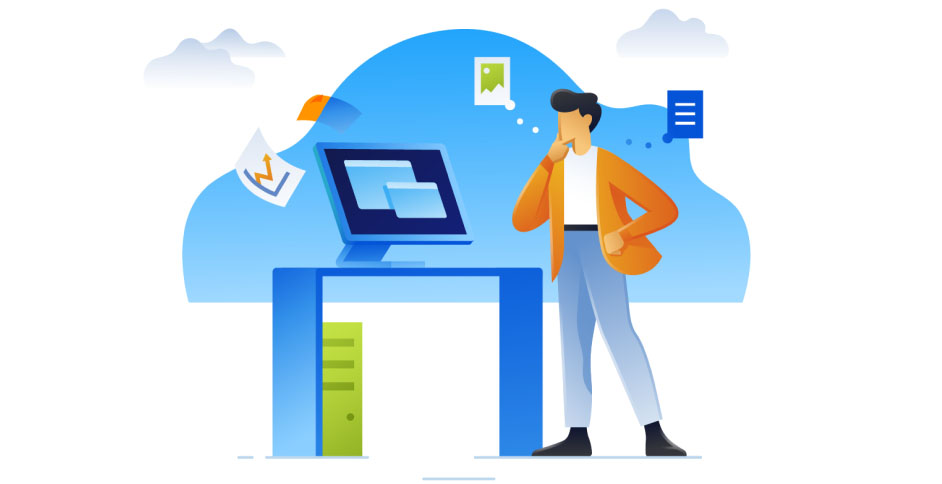 Real-time protection
Cyberthreats are constantly evolving, with 350,000 new types of malware being reported every day. Our integrated, AI-enhanced antimalware technology blocks them all—even those never seen before—by checking every file you interact with to detect and stop malicious activity in real-time.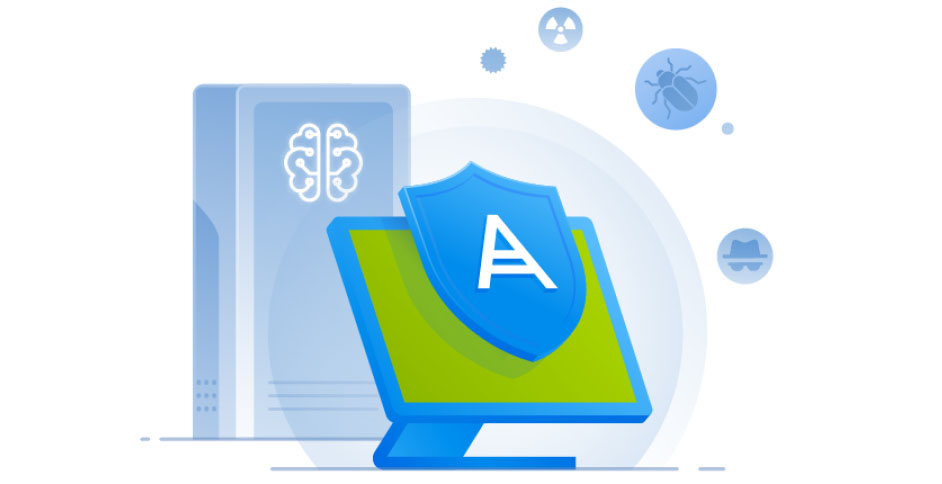 On-demand antivirus scans
Ensure threats aren't lurking on your computer by scanning for malware whenever you want. Choose a quick scan of files that are most typically where malware will hide or conduct a full system scan to check everything. You can schedule a scan or run one with the click of a button.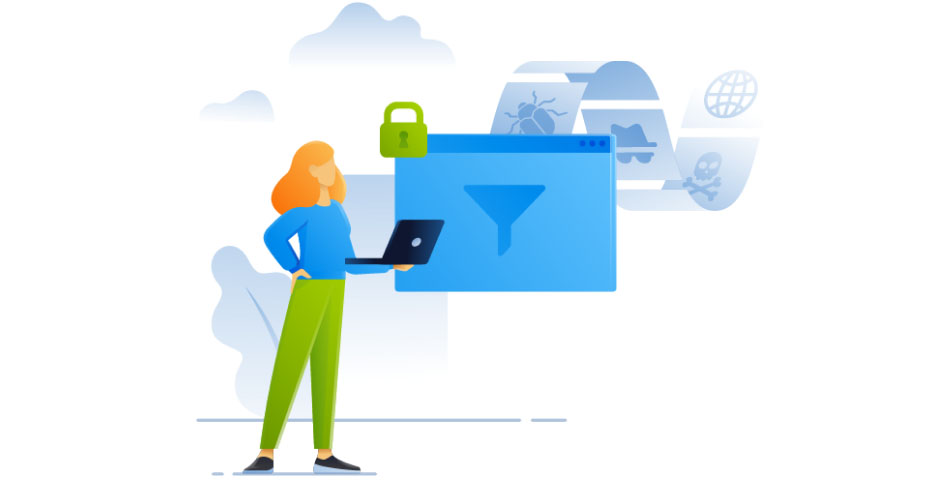 Web filtering
Most websites are useful, informative, or fun—but others are designed to inject malware, ransomware, and cryptojackers onto your system, or harbor scams, fake news, and phishing threats. Our new protection automatically blocks those malicious URLs the moment someone tries to visit them.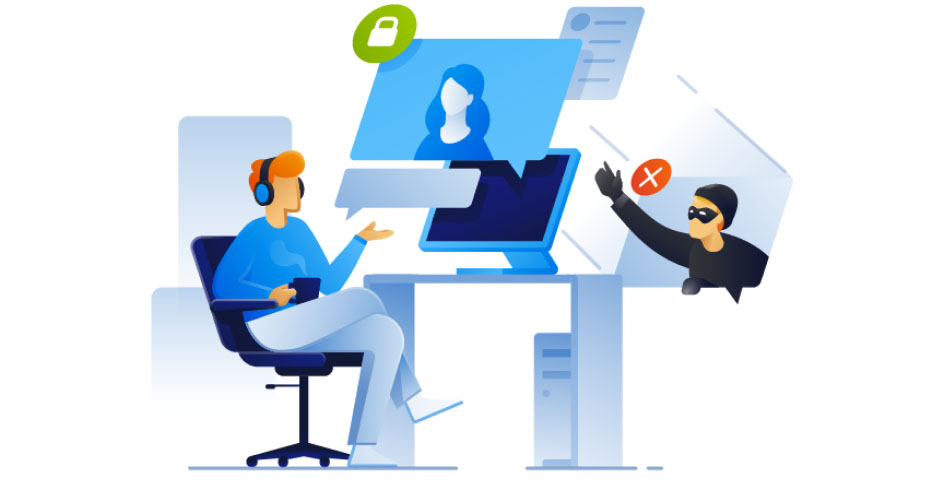 Videoconference protection
As work applications like Zoom, Cisco Webex, and Microsoft Teams are used to keep people family and friends connected, they don't have IT support ensuring their security. Acronis' new protections stop malware injection attacks and prevent hackers from exploiting these tools on your machine.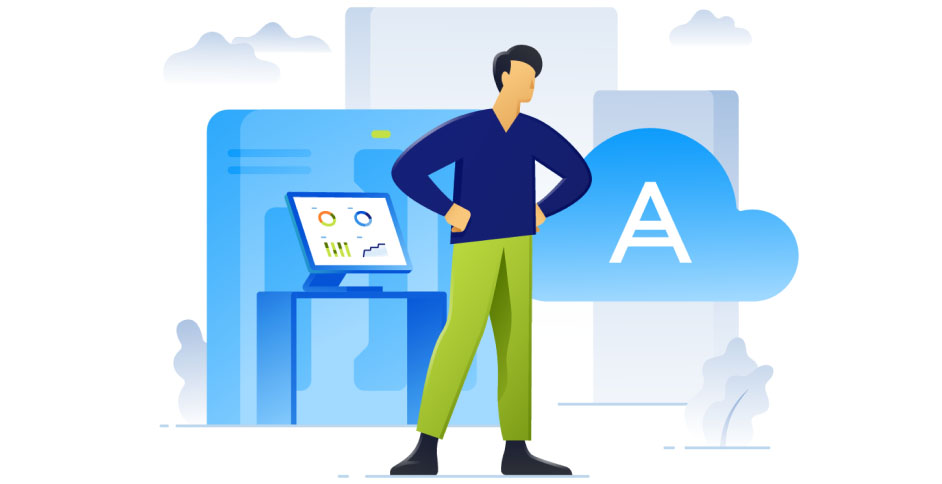 Visual protection dashboard
Your data is valuable, but so is your time. That's why our Protection Dashboard let you quickly run scans, manage exclusion lists and quarantined items, etc., and monitor your protection at a glance with graphic displays of files checked, threats found, threats stopped, and the status of scans.
New capabilities

Signature-based analysis
Traditional antivirus defenses deliver constantly updated protection by checking for updates to the threat database every five minutes.

Behavioral analysis engine
Our new dynamic detection engine is able to identify malware when it executes based on how it interacts with your Windows machine.

CPU load balancing
A new load-balancing setting keeps your computer's CPU from overloading during antivirus scans by giving priority to other applications.

Protection pause
Suspend protection functions when you want for as long as you want: resume them automatically, on a schedule, or on your next restart.

Quarantine and exclusions
Potential threats are isolated in quarantine, while you control exclusion lists that allow approved programs to run uninterrupted.

Windows Security Center
Integration with Windows' built-in protection ensures compliance with Widows guidelines and compatibility with other security solutions.
Enhancement highlights
Quick backup validation
You now have the option to validate only the latest version for your backup, which significantly speeds up the standard process for validating the effectiveness of your backups.
Resumable replication
If the replication of a backup is interrupted, the replication process restarts from the point of the interruption, ensuring data isn't duplicated—saving you time and cloud storage space.
More backup functionality
Several in-demand capabilities have been incorporated so you can do more with your backup files, such as the ability for .tibx archives to be mounted, moved, renamed, and converted to the .vhd format.
Faster anywhere access
Our Web Restore page has been redesigned to deliver faster, convenient, and more secure access to your cloud data—including the new option to password-protect your shared files and folders.
Options to match your needs
Essential
Flexible backups: full image to file-level
Active disk cloning
Quick recovery / Universal restore
Ransomware protection

New!

Antimalware protecting both your device and backup data (a FREE 3-month trial)
Tech support: phone, email, and online chat
Advanced
Flexible backups: full image to file-level
Active disk cloning
Quick recovery / Universal restore
Ransomware protection

New!

Antimalware protecting both your device and backup data
Cloud backup and features
Automatic replication of data in the cloud
Microsoft 365 backups
Tech support: phone, email, and online chat
Includes 250 GB of cloud storage
Premium
Flexible backups: full image to file-level
Active disk cloning
Quick recovery / Universal restore
Ransomware protection

New!

Antimalware protecting both your device and backup data
Cloud backup and features
Automatic replication of data in the cloud
Microsoft 365 backups
Blockchain certification of files
Electronic signatures on files
Ability to add up to 5TB of cloud storage
Tech support: priority phone, email, and online chat
Includes 1 TB of cloud storage