Breath new life into your computer!
Features: 1. PCIe NVMe interface, ultra-high speed read and write, 4-channel controller, and TLC Flash. 2. Mute quiet running, temperature control protection, safe ana reliable, Date is protected by encryption. 3. Hardware compatibility, Desktop and Notebook Computer, PC, Note Book, Server, Pos Machine, OS Compatible, Windows, OS, Linux.
Harness your PC's potential with the KingDian NVME SSD. Whether you need a boost for gaming or a seamless workflow for heavy graphics, the Vaseky V900 PCIE Series is a smart choice for outstanding SSD performance -- and it's all backed by an NVMe interface and PCIe 3.0 technology.
NVMe SSD can effectively reduce latency
In terms of software layer, the delay of NVMe standard is less than half that of AHCI. NVMe streamlines the calling method and does not need to read registers when executing commands; while AHCI requires 4 registers to be read for each command, which consumes 8000 times in total. The CPU cycles, causing a delay of about 2.5 microseconds.
IOPS greatly increased
Another focus of NVMe is to improve the IOPS (read and write per second) performance of the SSD. At present, the SATA interface SSD with good performance on the market can only test the IOPS capability with a queue depth of 32 at most. In fact, this is the upper limit of AHCI after all. In fact, many flash memory masters can provide better queue depth. NVMe can increase the maximum queue depth from 32 to 64,000, and the IOPS capability of SSDs will also be greatly improved.
Growth of Vaseky Brand
Vaseky products from the product design, raw material procurement and production and manufacturing are strictly controlled, all products are strictly executed and inspected by professionals. We provide three-years replacement service.
Optimal Master Control Solution
SM2263XT has 4 channels, all of which support PCI-E 3.0 x4 channels and the new NVMe 1.3 protocol. The flash memory determines the life of the SSD, and the master control determines the performance of the SSD.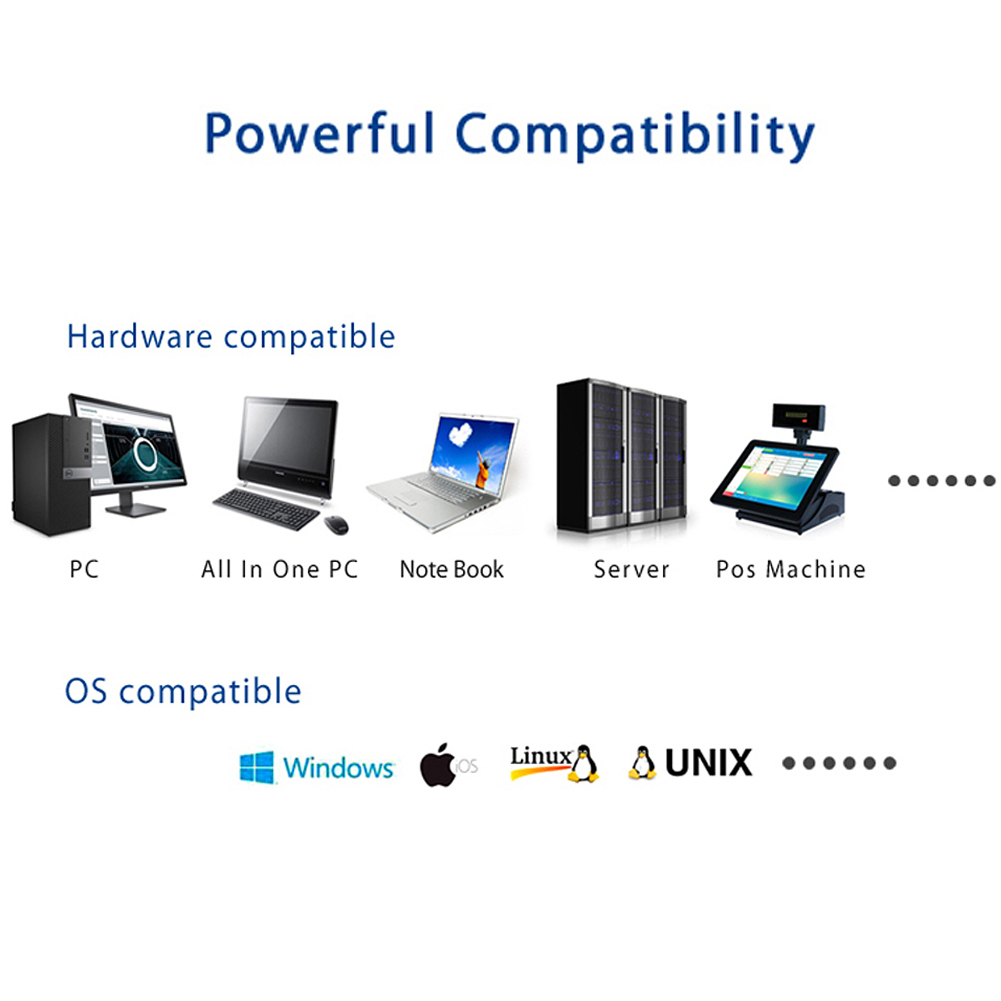 Powerful Compatibility
Application: Desktop; Laptop; Ultrabook; All in One PC
System Support: Windows10; Windows8. 1; windows 7; Windows xp; Windows 2003; Windows 2008; DOS; Linux; Unix.
Extraordinary read and write speed
The read and write speeds can reach 2400MB/S and 1700M/S, and the random read and write reach more than 250,000 IOPS.

The SM2263XT are 4-channel high-performance PCIe Gen3 x4 SSD controllers ideally suited for cost-effective, small form factor and low power client SSDs. The SM2263EN features best-in-class performance for mainstream PCIe NVMe client SSDs, while the DRAM-less design of SM2263XT reduces BOM cost without compromising performance while enabling 11.5mmx13mm BGA SSDs as well as SSDs supporting the Host Memory Buffer (HMB) architecture. The SM2263XT feature four 8 gigabit-per-second (Gbps) lanes (PCIe Gen3 x4) of simultaneous data flow coupled with four NAND channels. By optimizing hardware and software to take full advantage of PCIe 3.1 and NVMe 1.3 SSD specifications, the SM2263EN and SM2263XT solutions deliver high performance, better reliability, and more cost-effective PCIe SSD solutions.
The SM2263XT are complete merchant ASIC/firmware solutions supporting 3D NAND from all major NAND suppliers. Leveraging Silicon Motion's proprietary NANDXtend TM error-correcting code (ECC) technology, the SM2263XT enhance the endurance and retention of 3D NAND and provides a comprehensive data protection through SRAM ECC and End to End data path protection.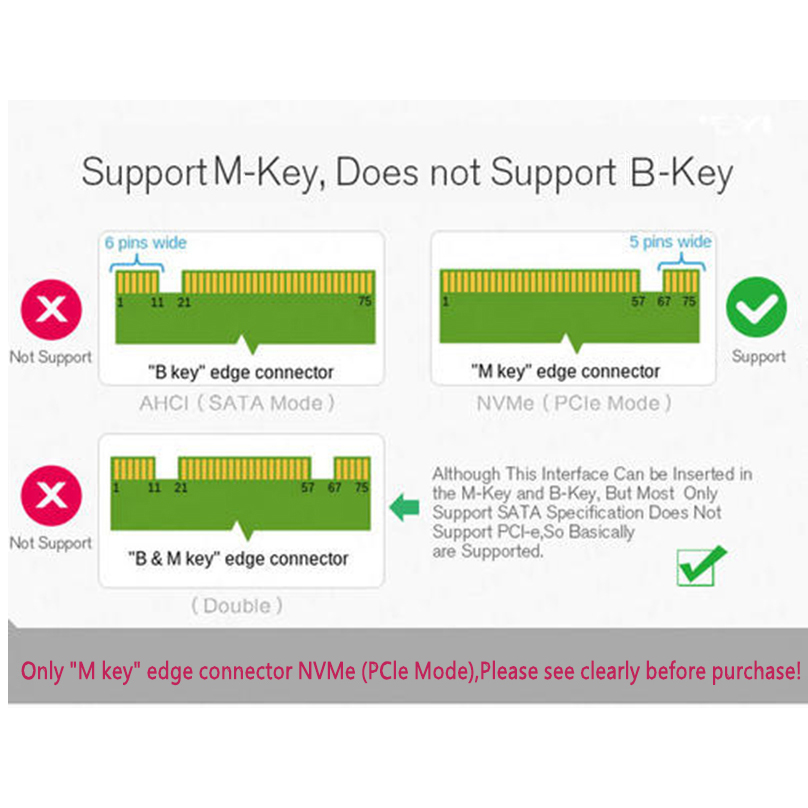 Know Before Purchase:
Can the motherboard with M.2 interface use M.2 SSD?
No, the channels supported by the M.2 interface of different motherboards are different. Some only support the PCI-E channel, which is marked in the description of M.2 in the specification. Some are compatible with SATA and PCI-E channels.
M.2 has two interfaces: Socket 2 (B key) and Socket 3 (M key). Socket 2 supports SSDs with SATA and PCI-EX2 channels. Socket 3 is designed for high-performance storage and supports PCI-E×4. So if you want to buy an M.2 SSD, you must first understand which channel the M.2 interface on your motherboard supports.
Product description:
Brand: Vaseky
Capacity: 2TB /1TB /512GB /256GB /128GB
Item Dimensions: 22x80x3mm;
Model: NVME M. 2 2280 M. 2 22x80mm Design.
Performance:
Sequential Read/Write(Average): up to 2400 MB/s
Boot Time: 2-5s
Average Access Time: 0.12ms
Input Power: 3.3V 2.6A
PC/ Notebook Controller: 2263XT
Storage Mediums: TLC
Reliability:
MTBF: min2,000,000 hours
ECC: Support BCH ECC 40 bits per 1024 K
TRIM/SMART: Support
Anti-shock: 1500G(@0.5ms half sine wave)
Operating Temp: 0~70 Celsius
Storage Temp: -40~85 Celsius
Warranty: 3 Years warranty
Package list:1* Vaseky M.2 PCIe NVMe 512GB SSD
| | |
| --- | --- |
| Host Interface: | PCIe Gen3 x4 |
| PCIe Protocol: | NVMe 1.3 |
| CE/Channel: | 4 |
| Max Performance: | Sequential Read: 2,400 MB/sSequential Write: 1,700 MB/s Random Read:280K IOPS |
| DRAM Interface: | DRAM-less |
| NAND Flash Support: | ONFI4.0/3.0 and Toggle3.0/2.0 NV-DDR3 up to 667MT/s |
| Security: | Real time full drive encryption with AESTCG Opal protocolHardware SHA 256 and TRNG |
| Capacity: | 512GB |