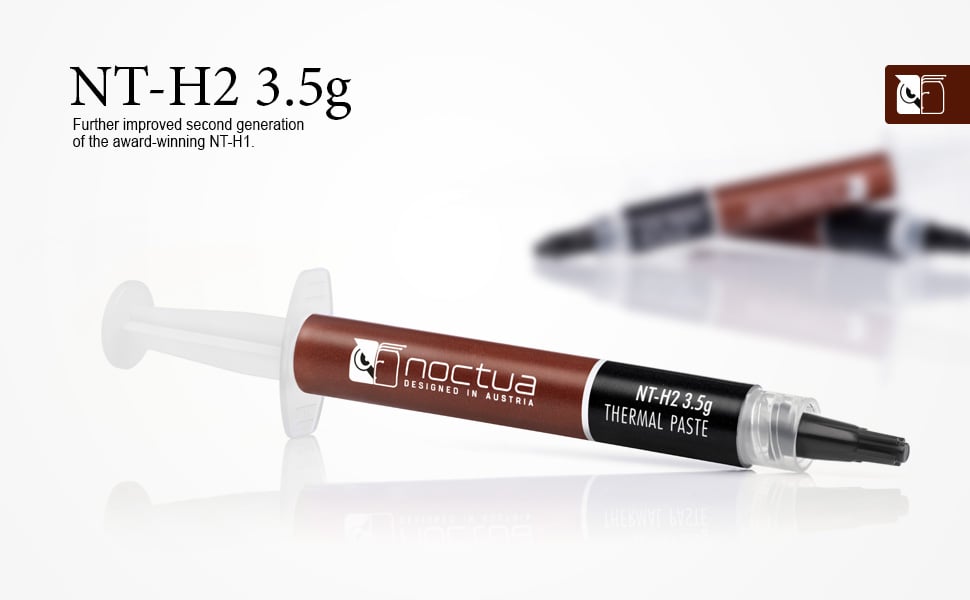 NT-H2 is the further improved second generation of Noctua's award-winning hybrid thermal compound. Combining the iconic NT-H1's proven features, superb ease-of-use and renowned long-term stability with a novel, fine-tuned formula of micro particles for even better thermal performance, NT-H2 is an enthusiast-grade paste for the highest demands. Whether it's air- or water-based cooling, CPU or GPU applications, overclocking or silent systems: NT-H2 will consistently deliver outstanding results and thanks to the included cleaning wipes, it is just as easy to remove as to apply.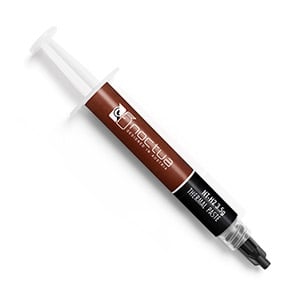 Next-generation performance
Further improving the award-winning NT-H1, NT-H2 uses a new, fine-tuned mixture of metal oxide micro-particles for even lower thermal resistance and reduced bond-line thickness at typical mounting pressures. This allows it to achieve even better performance in most application scenarios.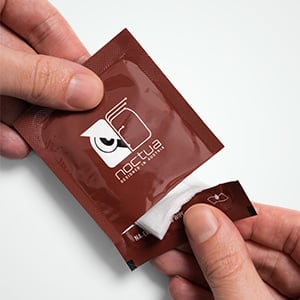 Easy to clean with included wipes
| | |
| --- | --- |
| The 3.5g pack of NT-H2 includes three large NA-CW1 cleaning wipes that are pre-moistened with an isopropyl alcohol mixture and make it child's play to remove: Simply wipe off the paste from the CPU and the base of the cooler using one of the wipes and you're done! | |
Not electrically conductive, non-corroding
| | |
| --- | --- |
| While some high-end thermal compounds and pads are risky to use due to their electrical conductivity or corroding properties, there's no risk of short-circuits with NT-H2 and it's completely safe to use with any type of CPU cooler, regardless of whether it's made from copper or aluminium and whether it's nickel-plated or not. | |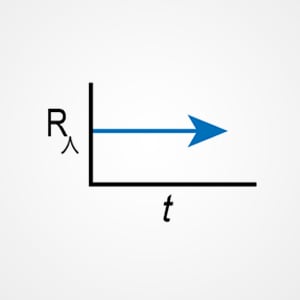 Excellent long-term stability
| | |
| --- | --- |
| NT-H2 unique formula is highly stable over time, even after longer periods of usage. It can be stored at room temperature for at least 3 years and due to the compound's exceptional curing, bleeding, dry-out and thermal cycling characteristics, it can be used on the CPU for 5 years or more. | |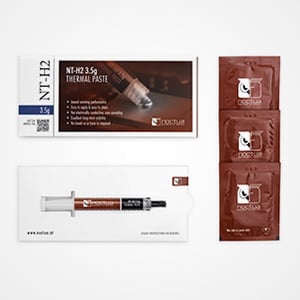 3.5g package for 3-20 applications
Sufficient for around 3-20 applications (depending on the size of the CPU or GPU, e.g. around 3 applications for large CPUs such as TR4 and around 20 for small CPUs such as LGA1151), the classic 3.5g packaging size is ideal for most users who only install coolers every now and then.

| | | | | | | |
| --- | --- | --- | --- | --- | --- | --- |
| Products | NT-H1 3.5g | NT-H1 3.5g SW Edition | NT-H1 10g | NT-H2 3.5g | NT-H2 10g | NA-SCW1 |
| Description | Renowned premium-grade thermal compound | Renowned premium-grade thermal compound | Renowned premium-grade thermal compound | Further improved second generation thermal compound | Further improved second generation thermal compound | Cleaning wipes for removing thermal compound |
| Weight/Size | 3.5g | 3.5g | 10g | 3.5g | 10g | 15x12cm |
| Volume | 1,4 ml | 1,4 ml | 4,0 ml | 1,2 ml | 3,6 ml | - |
| Density | 2,49 g/cm³ | 2,49 g/cm³ | 2,49 g/cm³ | 2.81 g/cm³ | 2.81 g/cm³ | - |
| NA-CW1 Wipes | - | 3x included | - | 3x included | 10x included | 20x included |
| Spatula Included | - | | - | - | - | - |