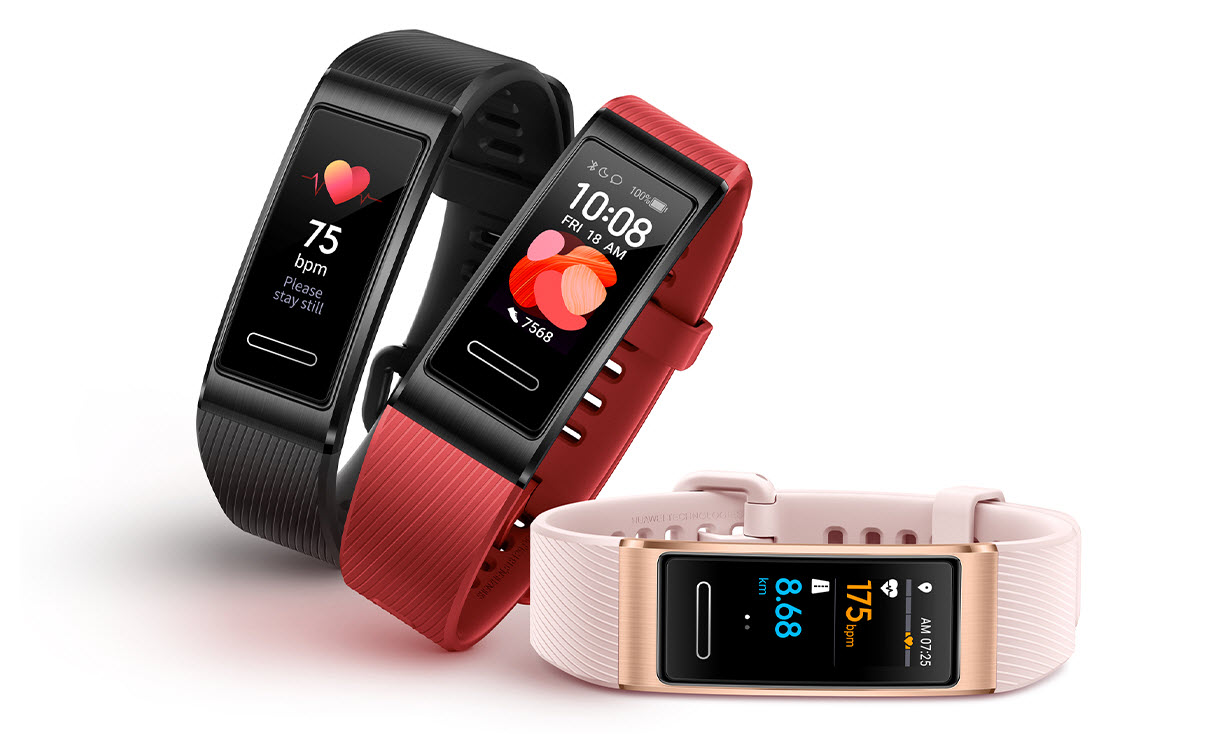 HUAWEI Band 4 Pro
It's like a personal training coach on your wrist. HUAWEI Band 4 Pro not only provides data on activities, sleep, and heart rate, but also reminds you when heart rate threshold is passed and provides workout guidance. Built-in GPS gives you the whole picture of movement. Three band colors and various watch faces are available to complement your style.
Brighter Colors, Smarter Life
Featuring a stunning 0.95 inch AMOLED touchscreen of great color and contrast, HUAWEI Band 4 Pro provides you an ultimate visual experience. Now available in Pink Gold / Cinnabar Red / Graphite Black.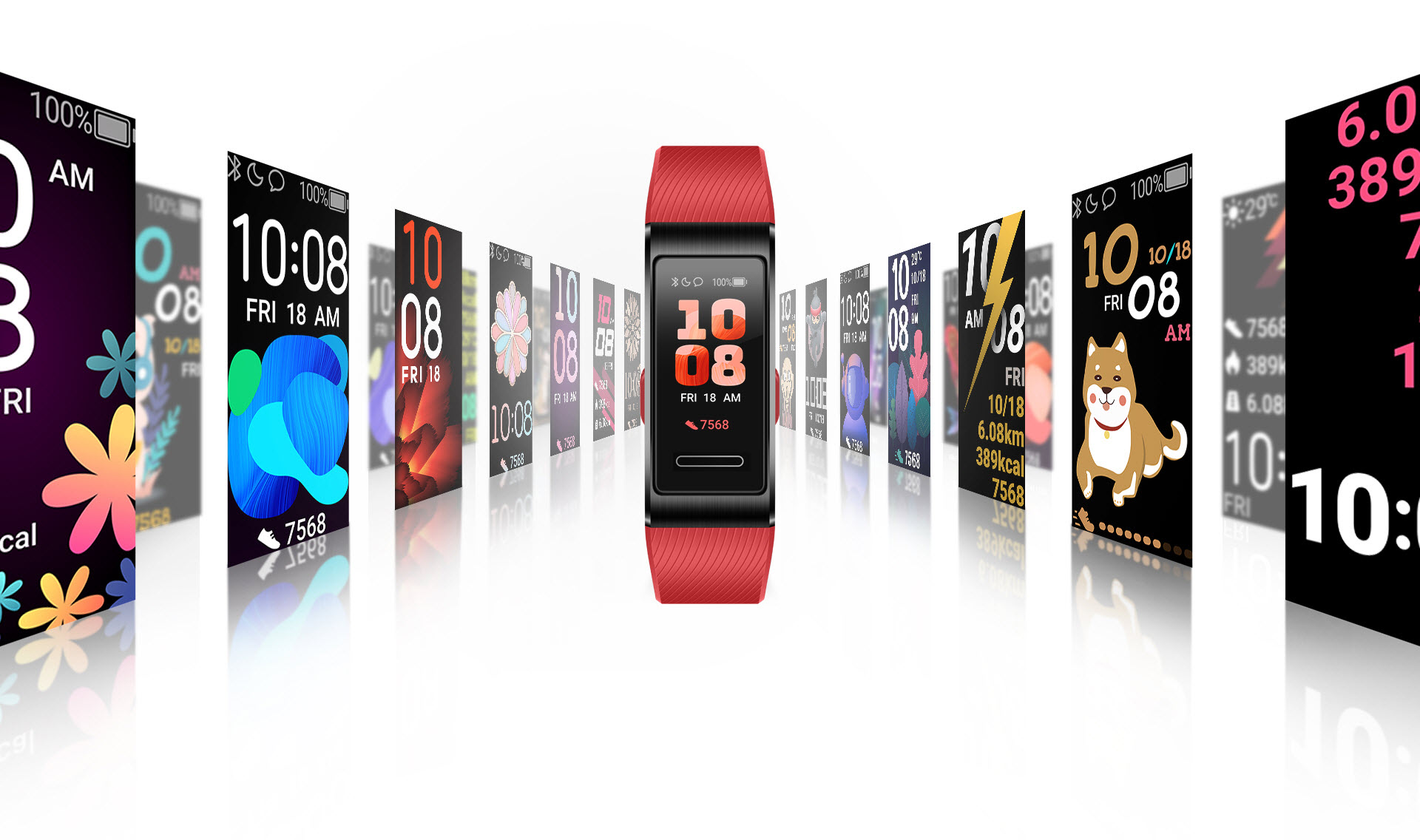 Every Unique Side of You
Express yourself by giving your device as much personality as you have.
HUAWEI Watch Face Store1 offers various watch faces in different styles of sports, cartoon, intelligence and hi-technology for your selection. The style changes with your mood.
Smart Heart Rate Tracking
Thanks to the professional optical devices, processing chips and AI algorithm, the HUAWEI TruSeen 3.5 monitors your heart rate accurately and provides intelligent vibration reminders if your heart rate exceeds the heart rate limit.2 While you are sleeping, the device will continue to monitor your sleep while the invisible light causes no distractions.
Get Better Sleep Care
Healthy sleep is the basis for healthy living. HUAWEI TruSleep 2.0 tracks your heart rate during sleep to recognize the four phases and analyze the sleep quality. Also, this device can identify 6 types of sleep problems and provide scientific recommendations3 for better sleep.
Powerful Built-in GPS: Leave Your Phone at Home
With built-in GPS, HUAWEI Band 4 Pro provides accurate and fast positioning services to free you from your phone. After completing your outdoors workouts such as running, walking, cycling or open water swimming,4 you can view your GPS data on the map.
Push Yourself: Indoor / Outdoor Pro Tracking
HUAWEI Band 4 Pro tracks all of your favorite sports activities with multiple sports modes: Outdoor / Indoor Run, Outdoor / Indoor Cycle, Outdoor / Indoor Walk, Free Training, Elliptical and Rower modes, and even Pool / Open Water swimming.
Running
The device monitors distance and heart rate, and even gently alerts runners if their heart rate exceeds the limit. More than 7 hours GPS life can accompany you to complete a marathon.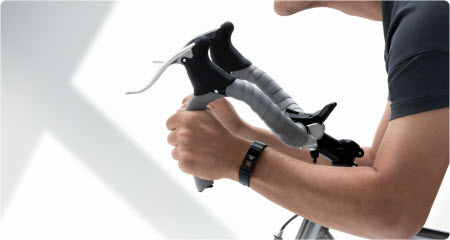 Riding
HUAWEI Band 4 Pro tracks distance, speed and riding routes5 to inspire you to race to the next level of your performance goals every time you get on your bike.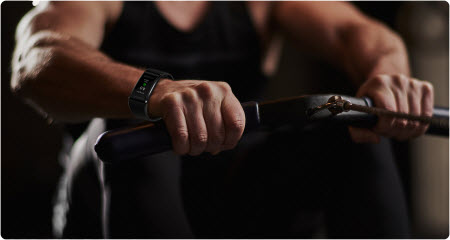 Rower
Training indoors with a rowing machine can be measured with HUAWEI Band 4 Pro. The onboard sensors and intelligent algorithms are fine tuned to track your workout from start to finish.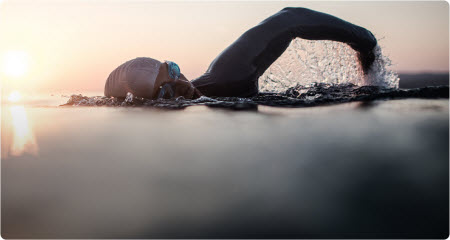 Swimming
Thanks to the water resistance of up to 50 meters and a 6-axis motion sensor, HUAWEI Band 4 Pro can recognize and record your swimming distance, laps, active calorie burned, speed, stroke count, stroke type and SWOLF.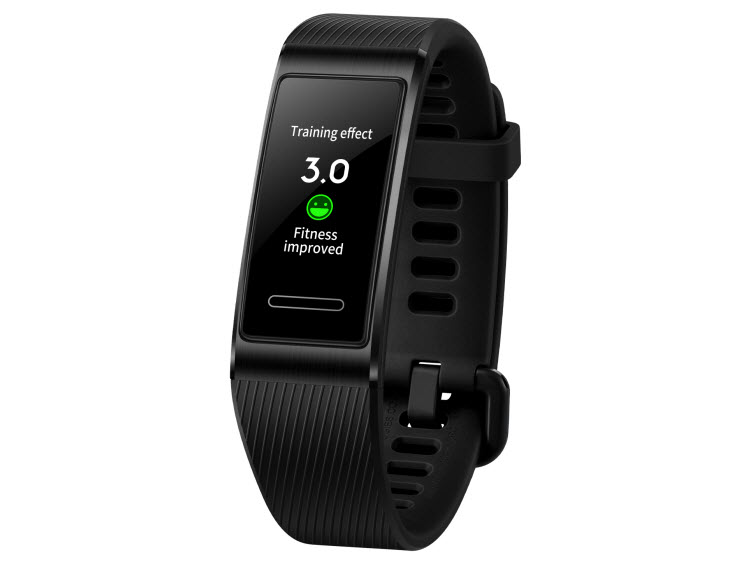 Professional Data Helps You Train Better
Thanks to the algorithm powered by FIRSTBEAT, you will get professional sports guidance based on the data of Heart rate zone, VO2max and recommended recovery time and training effect.6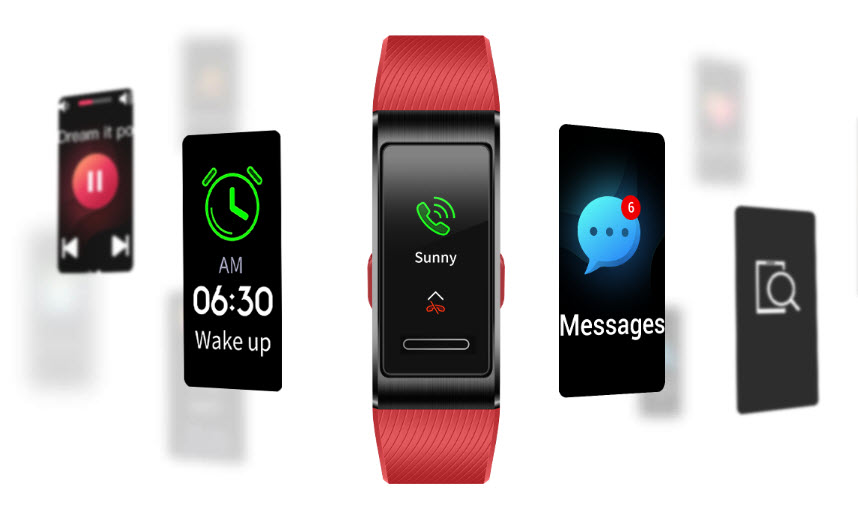 Life Assistant on Your Wrist
Raise your wrist to check the notifications of messages or phone calls. Just a touch, Find Phone, Control Music Playback7 or Remote Shutter8 is at your service. Live an efficient life with HUAWEI Band 4 Pro.
Note:
1. HUAWEI Watch Face Store is available only on Android and availability may vary by region.
2. Users can manually adjust this setting.
3. Features may not be available depending on the country or region.
4. Open water swim mode: uses built-in GPS for swims in lakes, oceans or rivers.
5. Riding route can only be recorded in Outdoor Cycle mode.
6. Evaluations and recommendations of VO2max, training effect and recovery time are provided by FIRSTBEAT Algorithm, and the results may vary by the workout mode and the actual training intensity.
7. Control Music Playback is compatible only with phones running on Android 5.0 or later.
8. Supported only on cameras that come with phones running EMUI 8.1 or later.
This product is not intended to be used as medical instrument, data are for reference only.