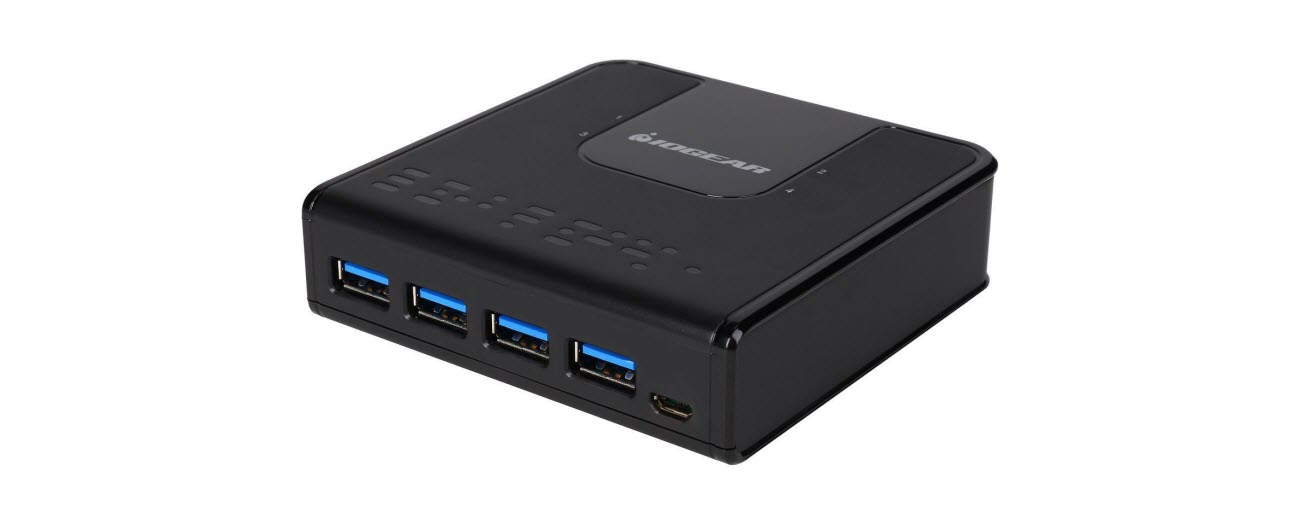 The IOGEAR GUS434 sharing switch is a convenient solution to share four USB peripherals between four different computers. It supports plug-and-play functionality with no need for software installation, while also letting you easily switch between those four computers with a simple button press. Complaint with USB 3.0, this switch offers data transfer rates up to 5Gbps and is also backward-compatible with USB 2.0 & USB 1.1.
How It Works
Features
USB 3.0 Compliant
Being USB 3.0 compliant with a data-transfer rate of up to 5Gbps, this 4x4 USB 3.0 peripheral-sharing switch works well with high-bandwidth devices including hard drives, high-resolution webcams and more. Connect a keyboard and mouse to the GUS434 and use it as a simple USB dock or limited KM switch, to serve as a simple means of controlling four computers from a single control point.
Backward Compatible
The 4x4 USB 3.0 peripheral-sharing switch is also compatible with older USB devices.
LED Indicators
You will always know which computer is active at a glance via LED indicators.
Hot-Plugging
Hot-plugging allows you to easily add or remove computers connected to the switch without having to power it down.
Support for Additional Power
An optional Micro USB cable can be connected to support additional power. Get up to 2.5W via the USB 2.0 port or up to 4.5W via the USB 3.0 port.
Over-Current Protection
IOGEAR GUS434 offers over-current protection, meaning you can use it with full peace of mind.
What's in the Box
1x 4x4 USB 3.0 Peripheral Sharing Switch
4x USB 3.0 Cables
1x Selector Button
1x Quick Start Guide
1x Warranty Card