Depusheng U4 Multi-function DJ Console Portable Audio Mixer
The U4 audio mixer is a multi-purpose 4-channel mixer with a sound card that can be meet users of home music recording, webcast, singing, small party, and other needs.
The mixer is equipped with input gain and high bass adjustment, built-in 48V phantom power supply for condenser microphone direct power supply, high-definition headset output port, MP3, WMA, WAV, FLAC broadcast, device with a sound card can be directly connected to the PC.
Mixer compact, lightweight, can be directly connected to the PC's USB port power supply, No additional power, can be connected to the computer through the USB power supply to run.
With the trouble with an external adapter, you can also use the mobile power or USB AC/DC. The adapter is powered by the adapter.
All you need is a cellphone data cable to connect to your computer and tune it up when it's powered.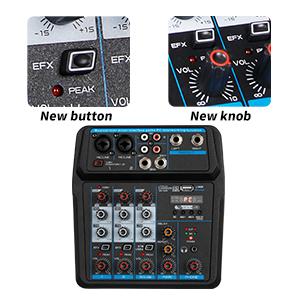 New Button & Knob Design
Mini 4-channel design, light and small, can be carried outdoors at any time, and is convenient to travel. Specially designed knobs and buttons with a new shell for the mixer.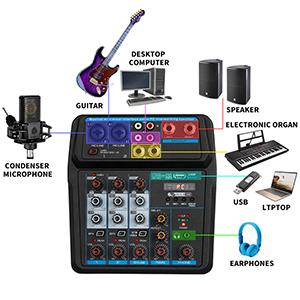 Professional Connection
U4 mixer can connect a variety of conventional equipment, meet various scene requirements.
And with recording function. Support MP3 playback. Bluetooth technical support.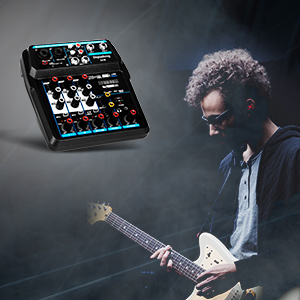 USB Bus Powered or Mobile Battery
The compact and durable U4 can be operated using USB bus power or a mobile battery Power Bank giving you a powerful mobile setup that can fit easily into a backpack.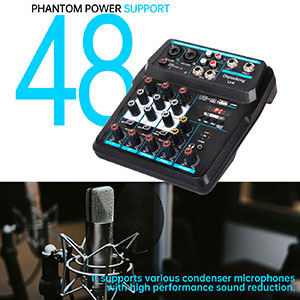 XLR Input and 48V Phantom
Built-in +48V phantom power for condenser mics.
4-channel mixing console with two mono channels and one stereo tape channel
XLR plug and phone type plug can be connected what you want to use microphone or instrument.
Connect to PC
A) Connect Computer to Audio mixer
1. Use the cable connect the mixer to PC
2. Press the button on the back of the mixer to enter PC mode
3. Push the ST/USB button to USB mode
B) Computer Playback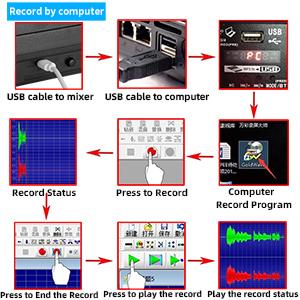 Record by Computer
It is easy to Record by computer.
Installation steps can be looking this image.
Computer recording software with mixing console to create more beautiful sound songs.
Use for home music production, webcast, K song and other need.