Galaxy Tab Active2
Strong from the inside out
The Galaxy Tab Active2 is a tablet which can survive any harsh conditions. Armed with the latest digital workflow tools, it offers maximum operational efficiency. It is ideal for industries like asset management, retail, transportation, manufacturing, field service and public safety.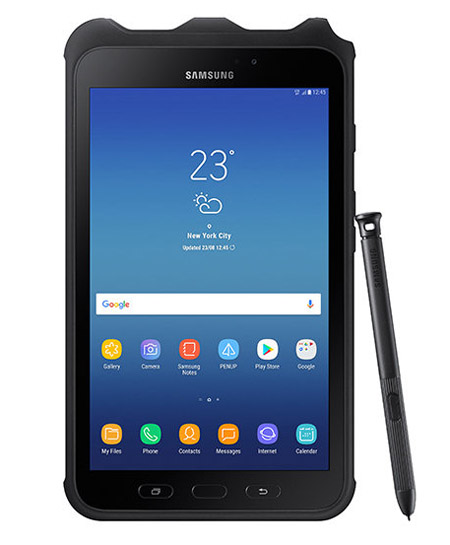 Strong from the inside out with a durable tablet design passing military specification MIL-STD-810G1 and IP68-certified1
Seamless workflow thanks to innovative features and an ecosystem of partner solutions for industry-specific needs
Water-resistant1 S Pen and screen for note-taking in inclement weather, plus Glove mode and facial recognition for working with protected hands
IT-friendly with defense-grade security plus a fingerprint scanner for biometric authentication and services that make IT management easy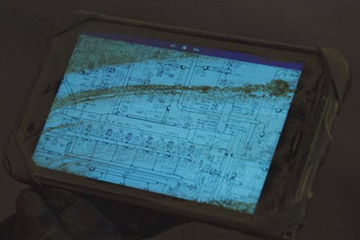 Take on Everything
The Galaxy Tab Active2 was subjected to 21 rigorous tests for MIL-STD 810G certification, and it passed them all. It can survive drops, shocks and vibrations, extreme temperatures and humidity, and even high altitudes. Your team can take this rugged tablet just about anywhere - because it's as tough as they are2.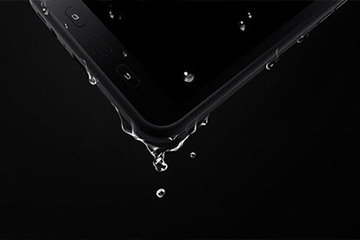 Conquer the Elements
With an IP68 rating, this tough tablet is water- and dust-resistant, so your team can use it worry-free, anywhere. It can even survive for a half-hour in five-foot-deep water, and keep right on working1.
Just Grip it and Go
This ruggedized tablet comes with a water-resistant S Pen1 that makes working more intuitive. The S Pen looks and feels like a typical pen but allows your team members to easily jot down digital notes, sketch ideas or capture signatures without missing a beat.
Always in Its Element
With the Galaxy Tab Active2's Enhanced Touch options, water and protective gear don't get in the way. Rain and snow simply roll off the water-resistant screen1 and Glove mode makes things easy for protected hands.
A Productive New Reality
Equipped with tracking tools - including an accelerometer, gyroscope, GPS and a geomagnetic sensor - the Galaxy TabActive2 can be loaded with third-party applications that let you deploy your team for easier in-field asset management and quicker equipment inspections. With augmented reality (AR) capabilities, your team is smarter and faster.
A Connection that Lasts
The heavy-duty POGO Pin connector means rock-solid dependability. Use it to quickly connect and charge a group of devices all at once, or to easily attach a laptop keyboard. The rugged POGO Pin makes it easier for your team to get it all done. See an example with the Portsmith Multi-Slot Dock.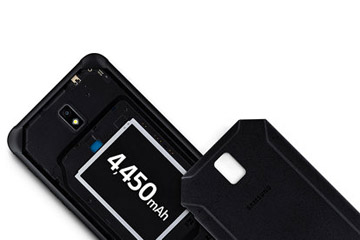 Stronger, Longer Charge
This durable tablet's long-lasting battery keeps your team connected up to 11 hours3. And when it's time, the Galaxy Tab Active2's battery can be easily replaced right in the field for another 11 hours of use. Just load a fully charged battery into a field pack and power on.
Make it Right for Your Team
The Galaxy Tab Active2 works seamlessly with an ecosystem of partners so you can equip your tablets for the way your team gets business done. With an array of third-party software, apps and hardware accessories like rugged tablet cases, adapters and vehicle mounts, the Galaxy Tab Active2 can become virtually customized for any workforce.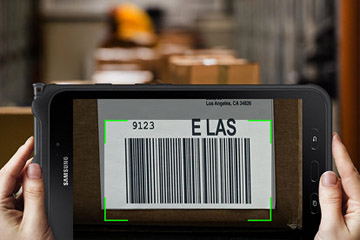 Clarity is Everything
The Galaxy Tab Active2's camera makes your workforce more efficient. A high-resolution front and rear camera makes it easy for your team to easily capture clear, crisp images anywhere and scan barcodes, QR codes and ID documents while in the field.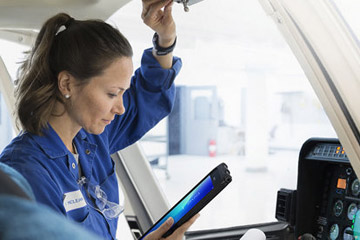 Unlock with a Look
With facial recognition capability, your team can unlock their tablets without their hands. In the office or in the field, just a look opens their unique devices so busy or gloved hands are no problem. Facial recognition keeps work moving forward, seamlessly.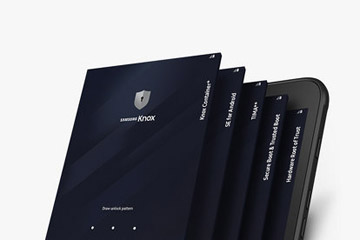 Defense-grade Security for an Open World
Samsung Knox is a unique security platform built from the chip up for superior protection and easy manageability. Knox keeps hackers out and your company's data secure from the second it turns on4.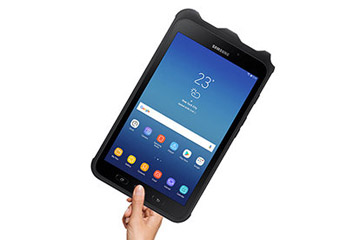 No One Touches Your Data
The right fingerprint means the right user. And the Galaxy Tab Active2's integrated fingerprint scanner makes securing your data and unlocking it as quick as touching the home key.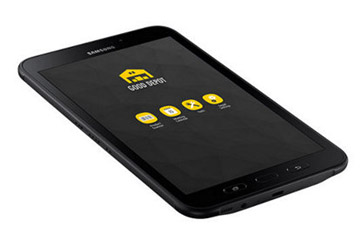 Easy Changes and Updates
It is easy to deploy and manage your workforce's mobile technology. With Knox Configure, a cloud-based management solution, you can configure your devices, push security patches and deploy application updates, all remotely. Now it's as easy to manage hundreds of devices as it is one.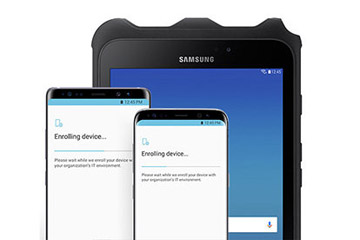 Enroll All Devices at Once
Enroll all of your team's devices at once, without having to manually enroll each one. With Knox Mobile Enrollment, your employees can just power on their devices and connect to the network to enroll. So you can save time and ensure that devices are secure and under your control, from the moment your team starts using them.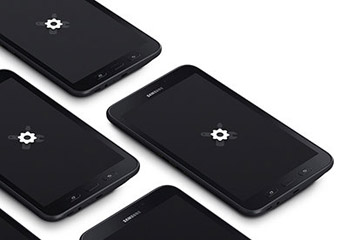 Management Made Easy
Knox Manage is a cloud-based solution with an affordable license fee that provides a simple deployment process to help you address your team's security concerns. Restrict employees' access to certain apps or websites, and remotely wipe and support your team's devices, so you never have to worry about compromising your company's data.
Take Complete Control
The Galaxy Tab Active2 comes with Samsung's Enterprise Firmware Over-The-Air (E-FOTA) built-in. E-FOTA enables remote device management, test updates and control over firmware and OS updates while allowing your devices to remain in the field5.
Note:
1. Water resistant in up to 5 feet of water for up to 30 minutes. Rinse residue/dry after wet.
2. This device passed military specification (MIL-STD-810G) testing against a subset of 21 specific environmental conditions, including temperature, dust, shock/vibration, and low pressure/high altitude. Device may not perform as shown in all extreme conditions. See user manual.
3. Battery can last up to 11 hours based on average battery life with typical usage conditions. Average expected performance based on typical use. Actual battery life depends on factors such as network, features selected, frequency of calls and voice, data and other application-usage patterns. Results may vary.
4. For the full list of Knox certifications, please visit www.samsungknox.com
5. E-FOTA services available for an additional fee. Detailed packages are available at: https://www.samsung.com/us/business/solutions/samsung-knox/mobile-security-solutions/samsung-e-fota.