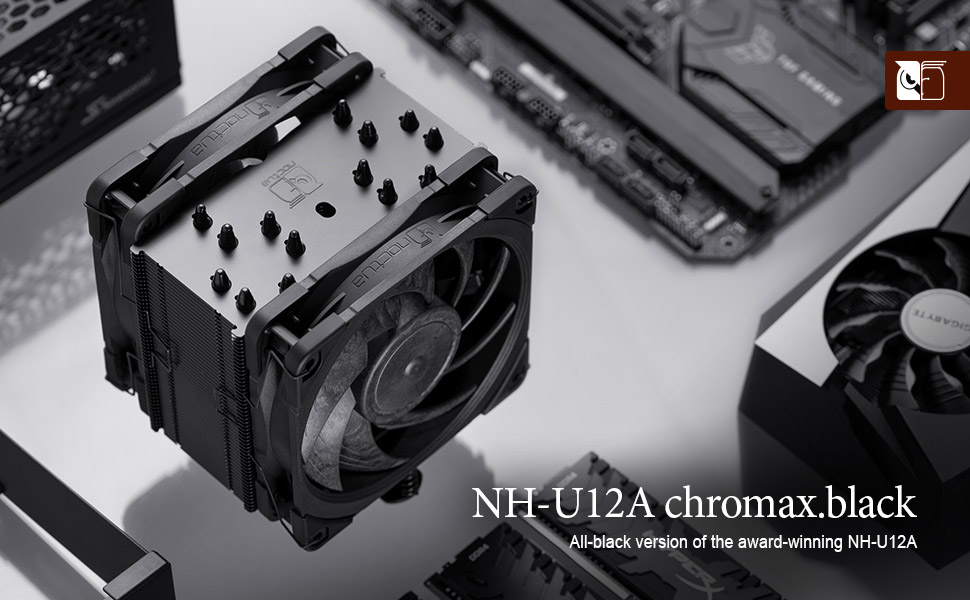 The NH-U12A chromax.black is an all-black version of Noctua's award-winning NH-U12A premium-quality quiet CPU cooler. Thanks to the same proven asymmetrical single-tower heatsink design and state-of-the-art NF-A12x25 PWM fans, it stays true to the NH-U12A´s successful formula of fusing best-in-class cooling performance with superb quietness of operation and outstanding RAM, case and PCIe compatibility. At the same time, the chromax. black version with its black fans and black coated heatsink combines these assets with a sleek stealth look. Topped off with the renowned SecuFirm2 multi-socket mounting system, Noctua´s enthusiast-grade NT-H1 thermal compound and a full 6-year manufacturer´s warranty, the NH-U12A chromax. black is a deluxe choice for customers who seek a highly compatible 120mm heatsink that can rival the performance of 140mm units and looks just as great as it cools.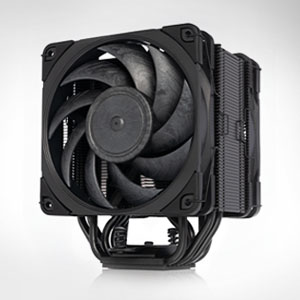 140mm performance in 120mm size
Thanks to its completely revised 7 heatpipe layout, 37% more fin surface area and a dual fan push/pull configuration that uses the new, state-of-the-art NF-A12x25 fans, the NH-U12A can actually match or even outperform many 140mm sized coolers.
100% RAM compatibility on LGA115x and AM4
Due to its asymmetric design, the NH-U12A does not overhang the RAM slots on Intel LGA115x and AMD AM4 based motherboards, which ensures easy access to the modules and 100% compatibility with tall heatspreaders. On LGA2066, the rear fan will overhang the RAM slots on the left-hand side of the socket, so RAM modules should not exceed 42mm in height.*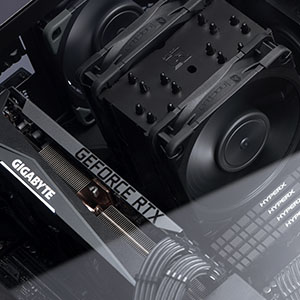 Standing 158mm tall, the NH-U12A is short enough to fit most modern mid- or high-end tower cases. Measuring 125mm wide (including fan and fan clips), the cooler stays clear of the top PCIe slot on most standard ATX or Micro-ATX motherboards, ensuring optimum compatibility with multi-GPU setups.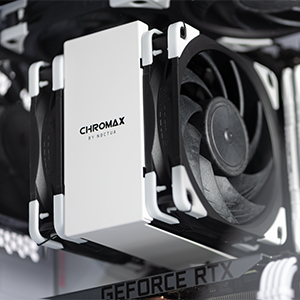 Standing 158mm tall, the NH-Using the optional NA-HC7 and NA-HC8 heatsink covers as well as the NA-SAVP1 anti-vibration pads (available in black, blue, green, red, yellow, white), the NH-U12A chromax.black can be fully customised to fit popular build colour schemes such as black and red or black and white.

| | | | | | | |
| --- | --- | --- | --- | --- | --- | --- |
| Products | NH-U12S | NH-U12S TR4-SP3 | NH-U12S redux | NH-U12S chromax.black | NH-U12A | NH-U12A chromax.black |
| LGA2066, LGA2011-0 & LGA2011-3 | Yes | No | Yes | Yes | Yes | Yes |
| LGA1700 | Yes | No | Yes | Yes | Yes | Yes |
| LGA1200, LGA115x (LGA1150, LGA1151, LGA1155, LGA1156) | Yes | No | Yes | Yes | Yes | Yes |
| LGA775 & LGA1366 | with NM-I3 | No | with NM-I3 | with NM-I3 | with NM-I3 | with NM-I3 |
| Xeon LGA2011 Narrow ILM / Xeon LGA1366 & LGA1356 | No | No | No | No | No | No |
| Xeon LGA3647 | No | No | No | No | No | No |
| Xeon LGA4189 | No | No | No | No | No | No |
| AM2(+), AM3(+), FM1, FM2 (+) | Yes | No | Yes | Yes | Yes | Yes |
| AM4 & AM5 | Yes | No | Yes | Yes | Yes | Yes |
| sTRx4, sWRX8, TR4, SP3 | No | Yes | No | No | No | No |