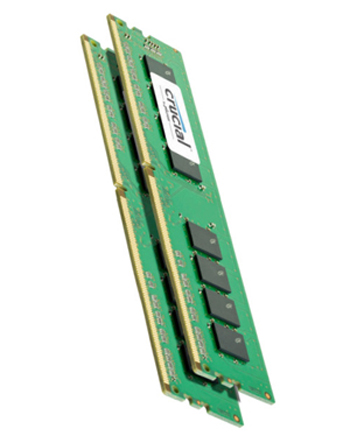 Crucial DDR4 Desktop Memory
Faster speed. Higher bandwidth. More power efficient. The Crucial DDR4 desktop memory crushes the DDR3 memory bottleneck and unlocks a new standard of performance, ideal for any PC system build or upgrade. It's available in single channel module (4GB, 8GB, 16GB), dual channel kits (2x4GB, 2x8 GB, 2x 16GB), and four channel kits (4x4GB,4x8GB, 4x16GB).
Product spotlight
Speeds start at 2133 MT/s and faster data rates are expected to be available as DDR4 technology matures
Increase bandwidth by up to 32%
Reduce power consumption by up to 40%
Faster burst access speeds for improved sequential data throughput
Optimized for next generation processors and platforms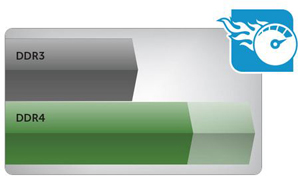 2x the Speed
Load applications faster and run demanding programs without lag. Crucial DDR4 memory debuts at 2133 MT/s – more than 30% faster than DDR3 memory technology.1 Even better, as DDR4 technology matures, speeds are projected to hit 3200 MT/s – twice what was possible on standard DDR3 memory.
2x the Bandwidth
Effortlessly multitask between apps, and empower your system to fire on all cylinders. Crucial DDR4 increases memory bandwidth by over 30%, allowing your system to handle more data at once. As DDR4 technology matures, bandwidths are expected to achieve up to 25.6 GB/s – twice that of standard DDR3. To maximize bandwidth, Crucial DDR4 memory is optimized for next-gen platforms that support four channel memory.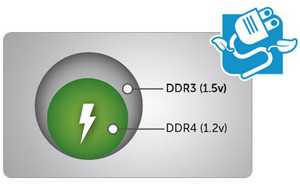 40% More Energy Efficient
Get better performance – using less power. Operating at just 1.2V compared to 1.5V for standard DDR3 memory, Crucial DDR4 consumes 20% less voltage than standard DDR3 technology. Crucial DDR4 modules also contain other efficiency features, for an overall power reduction of up to 40%.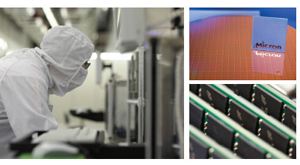 Micron Quality — A Higher Level of Reliability
As a brand of Micron, one of the largest memory manufacturers in the world, Crucial DDR4 memory represents the future of computer performance. From the original DDR technology to DDR4, Crucial has engineered the memory technologies that have powered the world's computers for 35 years and counting.