Zebra GK420 4" Advanced Desktop Barcode & Label Printer
| | |
| --- | --- |
| Part Number | Material Description/Configuration |
| GK42-102210-000 | Thermal Transfer GK420t; 203dpi, US Cord, EPL, ZPLII, USB, Ethernet |
| GK42-102211-000 | Thermal Transfer GK420t; 203dpi, US Cord, EPL, ZPLII, USB, Ethernet, Dispenser (Peeler) |
| GK42-102510-000 | Thermal Transfer GK420t; 203dpi, US Cord, EPL, ZPLII, USB, Serial, Centronics Parallel |
| GK42-102511-000 | Thermal Transfer GK420t; 203dpi, US Cord, EPL, ZPLII, USB, Serial, Centronics Parallel, Dispenser (Peeler) |
| GK42-202210-000 | Direct Thermal GK420d; 203dpi, US Cord, EPL, ZPLII, USB, Ethernet |
| GK42-202211-000 | Direct Thermal GK420d; 203dpi, US Cord, EPL, ZPLII, USB, Ethernet, Dispenser (Peeler) |
| GK42-202510-000 | Direct Thermal GK420d; 203dpi, US Cord, EPL, ZPLII, USB, Serial, Centronics Parallel |
| GK42-202511-000 | Direct Thermal GK420d; 203dpi, US Cord, EPL, ZPLII, USB, Serial, Centronics Parallel, Dispenser (Peeler) |
| GK4H-102210-000 | Thermal Transfer GK420t; Healthcare, 203dpi, US Cord, EPL, ZPLII, USB, Ethernet |
| GK4H-102510-000 | Thermal Transfer GK420t; Healthcare, 203dpi, US Cord, EPL, ZPLII, USB, Serial, Centronics Parallel |
| GK4H-202210-000 | Direct Thermal GK420d; Healthcare, 203dpi, US Cord, EPL, ZPLII, USB, Ethernet |
| GK4H-202510-000 | Direct Thermal GK420d; Healthcare, 203dpi, US Cord, EPL, ZPLII, USB, Serial, Centronics Parallel |
| GK4P-102210-000 | Thermal Transfer GK420t Plus; 203dpi, US Cord, EPL, ZPL II, USB, Serial, Ethernet |
| GK4P-102211-000 | Thermal Transfer GK420t Plus; 203dpi, US Cord, EPL, ZPL II, USB, Serial, Ethernet, Dispenser (Peeler) |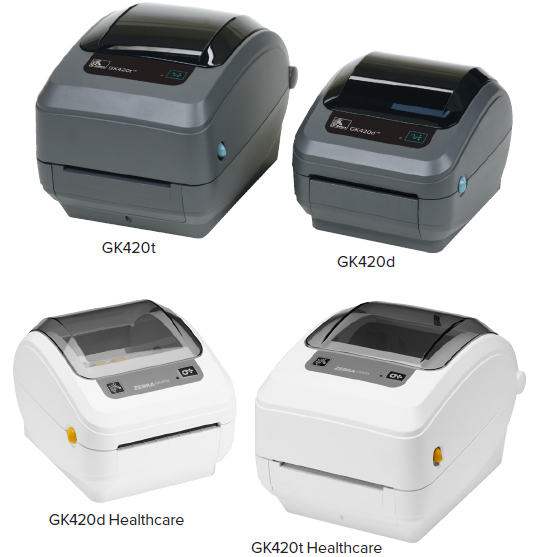 GK420 Advanced Desktop Printers
Boost Productivity with Quality, Reliable Printing and Advanced Features—Priced to Fit Your Budget
Zebra's GK420 advanced desktop printers deliver professional-quality, dependable performance and advanced features, all at a competitive price. Available in both direct-thermal and thermal-transfer models, these printers offer fast print speeds, network manageability and easy-load designs to help you improve operational efficiencies, boost profitability and reduce downtime. Also available in a healthcare-specific model, the printers are ideal for a wide range of environments.
Zebra OneCare Services
Increase printer uptime and reduce lost productivity and unbudgeted repair costs by selecting a Zebra OneCare™ service agreement. A cost- effective means of planning and budgeting for your annual maintenance expenditures, your agreement ensures that trained Zebra technicians will bring your printer back to factory specifications. Zebra offers a variety of plans to fit your budget and business needs.
Genuine Zebra Supplies
Ensure consistent print quality, reduce downtime and increase productivity in your printing process with Genuine Zebra™ supplies. We manufacture each supplies product with the exact same materials every time so you always get crisp, readable and scannable output without needing to adjust the printer darkness setting between rolls.
Advanced Features You Need in a Dependable, Compact Printer
Available with direct thermal or thermal transfer, the GK420 combines an intuitive user interface, advanced features and the quality you expect from a Zebra® printer.
Flexible and Easy to Use
Zebra's GK420 advanced desktop printers are flexible, making them a top choice for a variety of mid-volume and distributed-printing applications. Whether you're printing transportation and logistics shipping labels, healthcare-patient identification or pharmacy labels, retail coupons or receipts, or hospitality boarding passes and bag tags, GK420 printers make it easy. Fast print speeds help you get the job done quicker. And, loading media is a snap with the OpenACCESS™ clam-shell design. Avoid wasted time and media with the standard auto-calibration feature.
Connectivity + Quality
Offering three connectivity interfaces and optional 10/100 Ethernet—along with standard EPL™ and ZPL® programming languages—these printers are quick and easy to integrate. Consistently producing quality text, barcodes and graphics, they ensure your print output is always professional-looking and barcodes are reliably scannable. ENERGY STAR® qualified, GK420 printers help protect your budget and reduce your total cost of ownership.
GK420 Healthcare
For healthcare-specific environments, Zebra offers the GK420 Healthcare printer—available with thermal transfer or direct thermal. These printers are constructed using durable materials in the healthcare color palette for frequent, easy cleaning with harsh disinfectant chemicals over their lifetime. Engineered to protect patient safety and ensure compliance, they also contain a medical-grade power supply that meets IEC 60601-1 standards to reduce the risk of electrical shock. With GK420 Healthcare printers, healthcare professionals can print labels and wristbands anywhere in a healthcare facility.
Cleaning Made Simple for Healthcare Models
For a complete, approved list of cleaning-agent ingredients compatible with GK420 Healthcare printers, see the separate "Guide to Disinfecting and Cleaning Zebra Healthcare Printers".