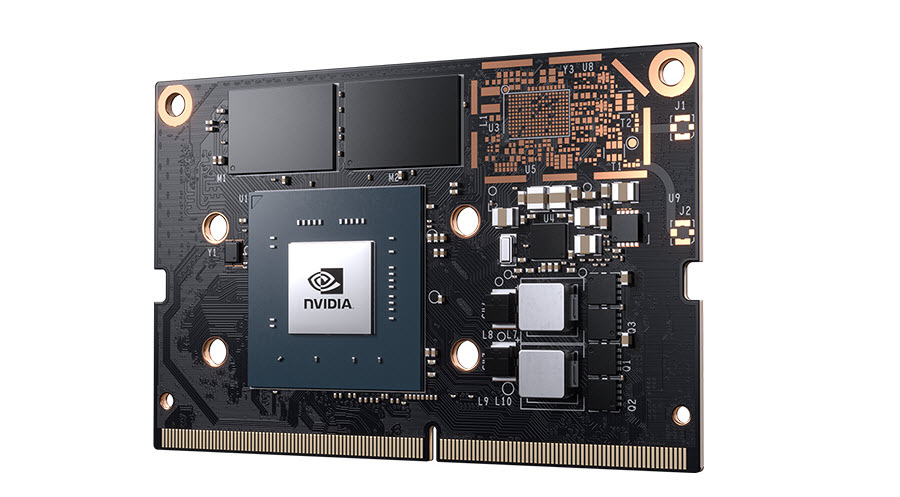 A New Dimension in AI
At just 70x45mm, the Jetson Nano module is the smallest Jetson device. This production-ready System on Module (SOM) delivers big when it comes to deploying AI to devices at the edge across multiple industries—from smart cities to robotics.
Big Compute Performance
Jetson Nano delivers 472GFLOPs for running modern AI algorithms fast. It runs multiple neural networks in parallel and processes several high-resolution sensors simultaneously, making it ideal for applications like entry-level Network Video Recorders (NVRs), home robots, and intelligent gateways with full analytics capabilities.
Small Power Demands
Jetson Nano frees you to innovate at the edge. Experience powerful and efficient AI, computer vision, and high-performance computing at just 5 to 10 watts.
Expand for More
The developer kit comes with extensive I/Os, ranging from GPIO to CSI. This makes it simple for developers to connect a diverse set of new sensors to enable a variety of AI applications.
NVIDIA JetPack
Jetson Nano is also supported by NVIDIA JetPack, which includes a board support package (BSP), Linux OS, NVIDIA CUDA, cuDNN, and TensorRT software libraries for deep learning, computer vision, GPU computing, multimedia processing and much more. The software is even available using an easy-to-flash SD card image, making it fast and easy to get started.
The same JetPack SDK is used across the entire NVIDIA Jetson family of products and is fully compatible with NVIDIA's world-leading AI platform for training and deploying AI software. This proven software stack reduces complexity and overall effort for developers.