MegaRAID SAS 9361-8i
High Performance 12Gb/s PCI Express SATA+SAS RAID Controller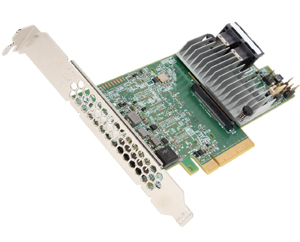 The MegaRAID SAS 9361-8i 12Gbps SAS and SATA RAID controller card is designed to deliver unmatched RAID performance and RAID data protection for the most demanding next-generation server and storage platforms.
The 9361-8i controller card supports critical, high-bandwidth applications with PCI-e 3.0 connectivity, and includes eight internal 12Gbps SATA and SAS ports, which lets you easily connect up to 128 SATA or SAS drives. It strikes a perfect balance between protection and performance for critical applications with RAID levels 0, 1, 5, 6, 10, 50, and 60. Also, it comes with support for Avago Advanced Software options for enhanced performance and data protection. Employing advanced drive diagnostic technology, it can help diagnose if the drive is indeed failed or can be restored, giving you extra convenience. Plus, with a low profile form factor, this controller card is easy to install.
Key Advantages
12Gbps solutions accelerate performance for next-generation datacenters, web and cloud
Deliver enterprise-class data protection and security
Preserve investment in 6Gbps and 3Gbps drives
Support for Advanced Software options
Connect up to 128 3Gbps, 6Gbps, or 12Gbps SATA and SAS devices
Add more protection and peace of mind with optional CacheVault flash cache protection module.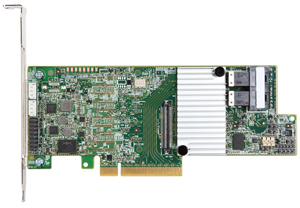 High Performance
The MegaRAID SAS 9361-8i offers two 1.2GHz PowerPC processor cores and a 72-bit DDRIII interface that drives 1GB cache memory. Powered by the LSI SAS 3108 dual-core ROC, it includes the latest PCI Express 3.0 and 12Gbps SAS technology. Offering up to double the data transfer rate of 6Gbps SAS solutions, 12Gbps SAS allows the SAS infrastructure to deliver bandwidth that can fully utilize that of PCI Express 3.0 with a single controller card.
Enterprise Data Protection
Standard support for the most popular RAID levels and accessories, including RAID 5, RAID 6, and CacheVault Flash cache protection module (not included), further strengthens the data protection capabilities of the MegaRAID SAS 9361-8i.
A new enterprise feature employed by the 12Gbps MegaRAID SAS controllers is advanced drive diagnostic technology. In the event of a physical drive failure, the drive is placed in shield state and the MegaRAID controller starts drive diagnostics to determine if the drive is indeed failed or can be restored. This saves customers time, money and lost compute time associated with transient drive failures and unnecessary drive returns.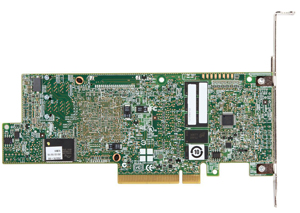 Support for Advanced Software Options
The family of 12Gbps MegaRAID controllers are designed to support Avago advanced software options that provide system integrators and VARs with enhanced performance and data protection capabilities. These software options help enable end users to address key business challenges while helping to deliver a higher return on their IT investments. MegaRAID CacheCade Pro 2.0 software (optional) and MegaRAID Fast Path software (included) boost transactional I/O performance of solid state disk configurations, while SafeStore software enables enhanced data protection and security when used with encryption capable devices.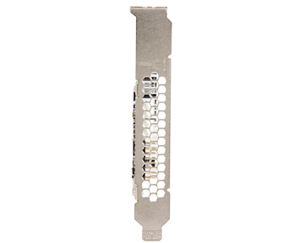 Easy Installation
The MegaRAID SAS 9361-8i fits into rack-mounted servers with a low-profile form factor and side-mounted SAS connectors.