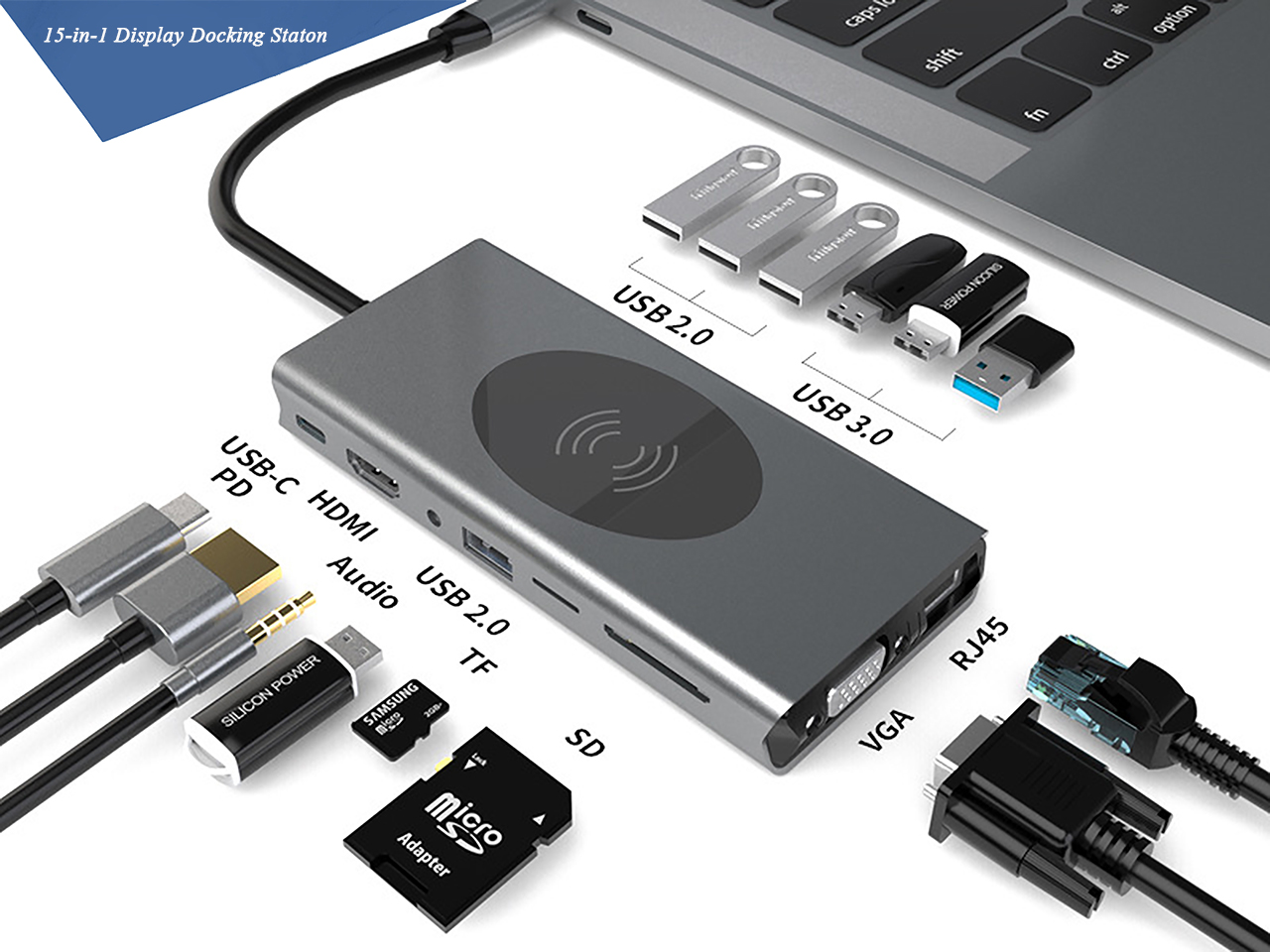 15-in-1 Wireless Charging Monitor USB C Hub HDMI Adapter, USB C Dock for USB C or Thunderbolt Laptops
The display hub supports a single HDMI display up to 4K. It also has almost all the ports you need for work or home life. Wirelessly charge your devices anytime, anywhere, and with 3*USB2.0 and 3*USB3.0 ports, you can transfer files simultaneously via USB 3.1 Gen 1 ports in seconds, with data transfer speeds up to 5Gbps, and connect a keyboard and 2.4GHz wireless devices such as mice. The SD TF card reader allows you to take photos from your DSLR and edit them on your laptop. With the 3.5mm audio jack, you can enjoy Hi-Fi music like before. RJ45 Ethernet brings you an unparalleled online surfing experience, and the power port lets you connect your fast-charging PD power adapter while using other ports.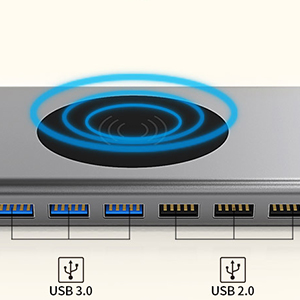 Wireless charging station
5W/7.5W/10W wireless charger, intelligently adapt to charging power
Built-in fast charging chip, support 7.5W iPhone fast charging, Android supports 5W/10W power charging
Compatible with all Qi standard devices
Samsung Galaxy S9, S9 Plus, Note8, S8, S8 Plus, Samsung S7, S7 Edge, Note 5, S6 Edge Plus iPhone X, iPhone 8, iPhone 11, iPhone 12, iPhone 13, Bluetooth Headphones, etc.
Make sure your phone model has wireless charging
Windows or MAC OS Mirror Displays
Supports HDMI monitors up to 4K1080P@60Hz. Power your favorite 4K games or streaming entertainment with dual monitors in mirror mode.

SD and the TF card (can be used at the same time)
The built-in SD and Micro SD slot allows for easy access to files from universal SD and micro SD memory cards with a super speed of up to 5gpbs.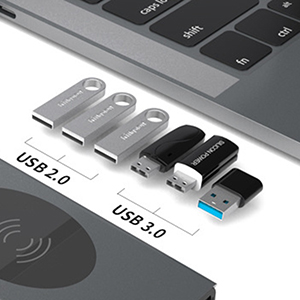 Expansion Capacity for USB devices
3 USB 3.0 Ports with 5Gbps data transfer rate output, backwards compatible with USB2.0 and USB1.1.
3 USB 2.0 Ports with 480Mbps data transfer rate output, backwards compatible with USB1.1.
Note:When connecting an external hard drive or multiple devices to this hub, connect your laptop's power adapter to the USB-C Power Delivery port.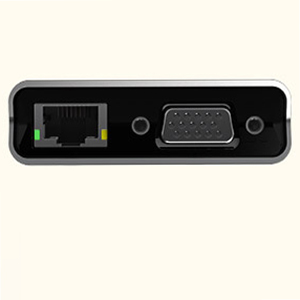 RJ45 1000M Ethernet Port
Supports 1000Mbps Gigabit RJ45 Ethernet port, backward compatible with 100Mbps/10Mbps RJ45 LAN.
VGA 1080P office projection is more convenient, high-definition projection
Safety-Control System
Using the Leading Display chip achieves screen display at the same time. Its Chip provides a slew of safety features including: internal overload protection, over-volt protection, short circuit protection, voltage regulation, over-current protection and temperature protection under 45.