HP 1910 Switch Series
HP 1910 switches are advanced, smart-managed fixed-configuration Gigabit and Fast Ethernet switches designed for small businesses in an easy-to-administer solution. The series has eight Gigabit models and five Fast Ethernet models.
The gigabit models are: 8-, 16-, 24-, and 48-port 10/100/1000 non-PoE models; and two 8-port and two 24-port 10/100/1000 PoE models. Gigabit models have additional true Gigabit SFP ports for fiber connectivity.
The Fast Ethernet models are: 8-. 24- and 48- 10/100 non-PoE models and 8-, 24- 10/100 PoE+ models.
The Fast Ethernet models come with additional two combo uplink ports. All HP 1910 models support rack mounting or desktop operation.
Customizable features include basic Layer 2 features like VLANs and link aggregation as well as advanced features such as Layer 3 static routing, IPv6, ACLs and Spanning Tree Protocols. HP 1910 switches come with a lifetime warranty covering the unit, fans, and power supplies.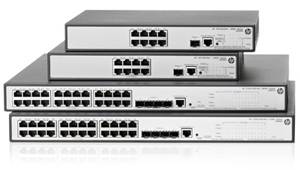 Customized operation using intuitive Web interface
Layer 3 static routing with 32 routes for network segmentation and expansion
Access control lists for granular security control
Spanning Tree: STP, RSTP, and MSTP
Lifetime warranty
FEATURES
Management
Simple Web Management – Allows for easy management of the switch- even by nontechnical users - through an intuitive Web GUI; http and secure http (https) are supported
Single IP Management – Enables management of up to four HP 1910 devices using a single Web interface; simplifies management of multiple devices
Secure Web GUI – Provides a secure, easy-to-use graphical interface for configuring the module via HTTPS
SNMPv1, v2c, and v3 – Facilitates management of the switch, as the device can be discovered and monitored from an SNMP management station
Complete Session Logging – Provides detailed information for problem identification and resolution
Dual Flash Images – Provides independent primary and secondary operating system files for backup while upgrading
Port Mirroring – Enables traffic on a port to be simultaneously sent to a network analyzer for monitoring
Management Security – Restricts access to critical configuration commands; offers multiple privilege levels with password protection; ACLs provide telnet and SNMP access; local and remote syslog capabilities allow logging of all access
Network Time Protocol (NTP) – Synchronizes timekeeping among distributed time servers and clients; keeps timekeeping consistent among all clock-dependent devices within the network so that the devices can provide diverse applications based on the consistent time
IEEE 802.1AB Link Layer Discovery Protocol (LLDP) – Advertises and receives management information from adjacent devices on a network, facilitating easy mapping by network management applications
Limited CLI – Enables users to quickly deploy and troubleshoot devices in the network
RMON – Provides advanced monitoring and reporting capabilities for statistics, history, alarms, and events
Default DHCP Client Mode – Allows the switch to be directly connected to a network, enabling plug-and-play operation; in absence of DHCP server on the network, the switch will fall back to a unique static address determined by the MAC address of the switch
Quality of Service (QoS)
Broadcast Control – Allows limitation of broadcast traffic rate to cut down on unwanted network broadcast traffic
Rate Limiting – Sets per-port ingress enforced maximums and per-port, per-queue minimums
Traffic Prioritization – Provides time-sensitive packets (like VoIP and video) with priority over other traffic based on DSCP or IEEE 802.1p classification; packets are mapped to four hardware queues for more effective throughput
Connectivity
IPv6 –

IPv6 Host – Enables switches to be managed and deployed at the IPv6 network's edge
IPv6 Routing – Supports IPv6 static routes
MLD Snooping – Forwards IPv6 multicast traffic to the appropriate interface, preventing traffic flooding
IPv6 ACL/QoS – Supports ACL and QoS for IPv6 network traffic

Auto-MDI/MDIX – Adjusts automatically for straight-through or crossover cables on all 10/100/1000 ports
IEEE 802.3X Flow Control – Provides a flow throttling mechanism propagated through the network to prevent packet loss at a congested node
IEEE 802.3af Power over Ethernet (PoE) Ready – Provides up to 15.4W per port to power standards-compliant IP phones, wireless LAN access points, Web cameras, and more (all PoE models)
IEEE 802.3at Power over Ethernet (PoE+) – Provides up to 30W per port which allows support of the latest PoE-plus-capable devices such as IP phones, wireless access points, and security cameras, as well as any IEEE 802.3af-compliant end device; eliminates the cost of additional electrical cabling and circuits that would otherwise be necessary in IP phone and WLAN deployments. (Note: applies to all PoE models, except the two 24G-PoE models which support a pre-standard implementation of PoE+)
Packet Storm Protection – Protects against broadcast, multicast, or unicast storms with user-defined thresholds
Cable Diagnostics – Detects cable issues remotely, using a browser-based tool
Security
Advanced Access Control Lists (ACLs) – Enables network traffic filtering and enhances network control using MAC- and IP-based ACLs; time-based ACLs allow for greater flexibility with managing network access
Secure Sockets Layer (SSL) – Encrypts all HTTP traffic, allowing secure access to the browser-based management GUI in the switch
IEEE 802.1X and RADIUS Network Logins – Controls port-based access for authentication and accountability
Automatic VLAN Assignment – Assigns users automatically to the appropriate VLAN based on their identity, location and time of day
STP BPDU Port Protection – Blocks Bridge Protocol Data Units (BPDUs) on ports that do not require BPDUs, preventing forged BPDU attacks
STP Root Guard – Protects the root bridge from malicious attacks or configuration mistakes
Automatic Denial-of-Service Protection – Monitors for malicious attacks and protects the network by blocking the attacks
Management Password – Provides security so that only authorized access to the Web browser interface is allowed
Performance
Half- & Full-Duplex Auto-Negotiating Capability on Every Port – Doubles the throughput of every port
Selectable Queue Configurations – Allows for increased performance by selecting the number of queues and associated memory buffering that best meet the requirements of the network applications
IGMP Snooping – Improves network performance through multicast filtering, instead of flooding traffic to all ports
Fiber Uplink – Provides greater distance connectivity using Gigabit fiber uplinks
Layer 2 Switching
VLAN Support and Tagging – Supports IEEE 802.1Q (4,094 VLAN IDs) and 256 VLANs simultaneously
Spanning Tree Protocol (STP) – Supports standard IEEE 802.1D STP, IEEE 802.1w Rapid Spanning Tree Protocol (RSTP) for faster convergence, and IEEE 802.1s Multiple Spanning Tree Protocol (MSTP)
BPDU Filtering – Drops BPDU packets when STP is enabled globally but disabled on a specific port
Jumbo Frame Support – Supports up to 10 kilobyte frame size to improve the performance of large data transfers
Layer 3 Services
Address Resolution Protocol (ARP) – Determines the MAC address of another IP host in the same subnet; supports static ARPs; gratuitous ARP allows detection of duplicate IP addresses; proxy ARP allows normal ARP operation between subnets or when subnets are separated by a Layer 2 network
DHCP Relay – Simplifies management of DHCP addresses in networks with multiple subnets
Layer 3 Routing
NEW Static IPv4/IPv6 Routing – Provides basic routing (supporting up to 32 static routes and 8 virtual VLAN interfaces); allows manual configuration of routing
Resiliency and high availability
Available Redundant Power Supply – Provides additional PoE of up to 740W for high-power applications like HP Gigabit Ethernet IntelliJack switches; the HP RPS1600 Redundant Power System (JG136A), sold separately, is only for use with the 1910-24G-PoE (365W) Switch model
Link Aggregation – Groups together multiple ports (up to a maximum of two ports) automatically using Link Aggregation Control Protocol (LACP), or manually, to form an ultra-high-bandwidth connection to the network backbone; helps prevent traffic bottlenecks
Convergence
LLDP-MED (Media Endpoint Discovery) – Defines a standard extension of LLDP that stores values for parameters such as QoS and VLAN to automatically configure network devices such as IP phones
PoE Allocations – Supports multiple methods (automatic, IEEE 802.3af class, LLDP-MED, or user-specified) to allocate PoE power for more efficient energy savings
Auto Voice VLAN – Recognizes IP phones and automatically assigns voice traffic to dedicated VLAN for IP phones
Additional Information
Green Initiative Support – Provides support for RoHS and WEEE regulations
Green IT and Power – Improves energy efficiency through the use of the latest advances in silicon development; shuts off unused ports and utilizes variable-speed fans, reducing energy costs
Warranty
Lifetime Warranty 2.0 supplements the original lifetime warranty by adding support services, specifically 24/7 phone support for up to three years as part of the purchase price of the product. It will be available for most HP FlexCampus, FlexBranch, and Small Business products.
Lifetime Warranty 2.0
Original Lifetime Warranty
24/7 Phone Support
Product Category
Warranty duration
Advance replacement delivery
Software/OS releases
Business Hours Phone Support
FlexBranch
Lifetime
Next - business day
As long as owned
As long as owned
3 years
FlexBranch
Lifetime
Next - business day
As long as owned
As long as owned
3 years
Small Business
Lifetime
Next - business day
As long as owned
As long as owned
3 years