The APU Advantage
Allows you to configure small-form-factor or mini PCs
Enables next-generation visual experiences for stunning HD imagery
Ideal for all your high performance processing needs such as gaming and editing videos or photos.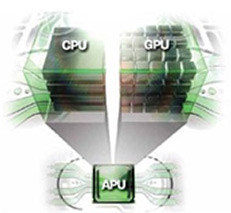 Create exactly what you want using a top-of-the-line AMD processor or the innovative AMD Accelerated Processor Unit (APU). AMD's Accelerated Processing Units (APU) combine a multi-core CPU and discrete-level GPU on a single power-efficient chip enabling vivid HD entertainment, blazing-fast Internet browsing and accelerated media applications.