Whether you use your PC for an hour or an entire day, comfort and productivity are paramount. Fortunately, the new Sculpt™ line of Microsoft® mice and keyboards revolutionizes both. Microsoft has long been a leader in ergonomic product design, and our Sculpt products reflect the most advanced features to date. Plus, they look great too.

Microsoft Wireless Sculpt Ergonomic Desktop
Advanced ergonomic design
Sculpt Ergonomic Desktop is built on advanced ergonomic principles, with a split keyboard layout that keeps wrists and forearms in a relaxed position, and a cushioned palm rest to provide wrist support. The domed keyboard shape works to reduce and correct wrist pronation that can cause pain and limited mobility.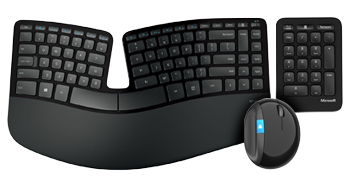 Microsoft Wireless Sculpt Ergonomic Keyboard
Unique
design for
comfort and
functionality
With its modern, ergonomic design, Sculpt Ergonomic Keyboard sets the standard for support and comfort. It keeps your hands and arms in a relaxed position as you work, helping you feel refreshed after a day at your desk without soreness or injury.
Microsoft Sculpt Ergonomic Mouse
Streamlined curves maximize comfort
The advanced design of Sculpt Ergonomic Mouse maximizes wrist comfort while making navigation effortless. Shaped to encourage a more natural hand, wrist, and forearm posture, Sculpt Ergonomic Mouse helps prevent the pain of repetitive stress injuries.
Microsoft Sculpt Comfort Mouse
The ultimate Windows mouse
The blue, customizable Windows touch tab on Sculpt Comfort Mouse revolutionizes the relationship between hardware and software, providing quick and easy access to the Start Menu, Cortana® (availability may vary), OneNote®, Task View or virtual desktops.