Commercial-Grade
Promote extended use with a high-performance design
LED backlighting delivers both environmental and economic benefits*
Temperature sensors and fans protect the panel from damage
High definition, high brightness and contrast ratio deliver superior visual quality
Internal 10W speakers and built-in handles enable a simplified installation
Adaptable
Unrivaled flexibility enables seamless integration of accessories
Expanded connectivity with built-in expansion slot for maximum versatility
Protective-glass and touch-panel ready design provide opportunities for module security and interactivity
Landscape and portrait orientations allow for flexible content placement to maximize audience awareness
Connected
Extensive control and diagnostic communication provide the highest level of remote management
Comprehensive input panel connects to latest peripherals
RS-232 and Ethernet connectivity allow individual and group-addressable control, including email diagnostics
DDC/CI standard allows for PC control of the display
Custom input detect for content protection
Maximum Adaptability with the NEC Option Slot
Future-proof your display with the NEC option slot. This slot provides connectivity for Open Pluggable Specification (OPS)-compliant devices, creating a seamless integration across a variety of accessories.
OPS is the first industry-wide standardization of option slot accessories geared to simplify installations, use and maintenance of digital signage.
No external connections required – DVI video, stereo audio, RS-232 control and power are all passed internally from the display to the OPS device
Simple integration and maintenance results in easier and less expensive installations and operation
Quick-Service Restaurant Applications
Everything you need to complete your order. NEC V Series displays are an integral part of restauranteurs' digital solutions. Displaying caloric information is easy and dynamic, and in-store advertising can be easily adapted to match the needs of the business.
Automatic input detect allows built-in system redundancy to reassure that your menu will always be displayed
Sealed panel design provides protection against dust particles, grease and steam
High-definition panels with up to 500cd/m2 brightness and 4,000:1 contrast ratio enable superior images sure to capture customer attention
Retail Applications

Maximize messaging and connect on a new level with in-store customers. Whether its promoting the latest sale, pointing shoppers in the right direction or communicating the latest price information, the NEC V Series effectively delivers your message without breaking the bank.
Landscape and portrait orientations enable design flexibility for seamless in-store installation
High brightness and contrast ratio deliver stunning imagery
Built-in text ticker can display valuable information across a user-defined portion of the screen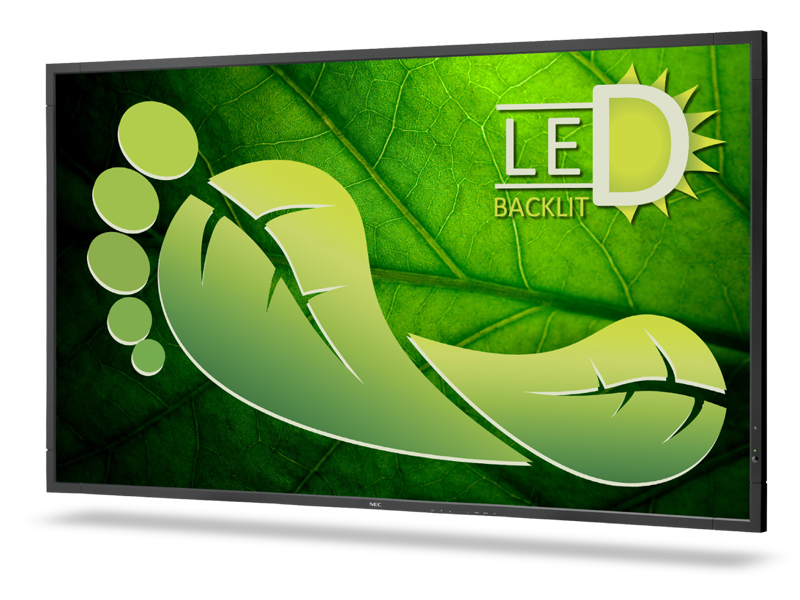 Maximum Efficiency with LED Backlighting*
For those who demand value and performance, the new Intel® SSD, featuring 64-layer Intel® 3D NAND technology, offers a cost-effective and efficient replacement for traditional hard disk drives (HDD).
* Available on select V Series models
Specifications for V423/ V463/ V552/ V652
Model
V423
V463
V552
V652
Quick Specs
LCD Module
Panel Technology
S-IPS
A-MVA
A-MVA
PVA
Viewable Image Size
42 inch
46 inch
55 inch
65 inch
Native Resolution
1920x1080
Brightness (Typical/Max)
320 cd/m² / 450 cd/m²
350 cd/m² / 500 cd/m²
320 cd/m² / 450 cd/m²
Contrast Ratio (Typical)
1,300:1
4,000:1
Viewing Angle
178° Vert., 178° Hor. (89U/89D/89L/89R) @ CR>10
Aspect Ratio
16:9
Active Screen Area (WxH)
36.6 x 20.6 in. / 930.2 x 523.3 mm
40.1x 22.5in. / 1018.1 x 572.7 mm
47.6 x 26.8 in. / 1209.6 x 680.4 mm
56.2 x 31.6 in. / 1428.5 x 803.5 mm
Orientaion
Landscape/Portrait
Displayable colors
More Than 16.7 Million
Connectivity
PC/Mac® Signal Compatibility
Yes
Input Terminals
Digital
DisplayPort, HDMI, DVI-D/td>
Analog
VGA 15-Pin D-Sub (Shared S-Video, Video, Component), BNC Composite
VGA 15-Pin D-Sub, 5 BNC (RGBHV, DVD/HD, S-Video or Video), BNC Composite
Audio
Stereo Mini-Jack, HDMI Audio, DisplayPort Audio
External Control
RS-232C, Ethernet (RJ45), IR Remote, DDC/CI
Output Terminals
Digital
DVI-D
Analog
NA
Audio
Stereo Mini-Jack, External Speaker Jack (2)
External Control
RS-232C
Digital Tuner
V423-AVT
V463-AVT
V552-AVT
V652-AVT
Speakers
Integrated (10W x 2)
Power Consumption
On (Typical)
88 W
76 W
100 W
185 W
ECO Mode Standby
< 0.5 W
< 2 W
Physical Specifications
Bezel Width (L/R, T/B)
0.7 in./0.7 in., 0.7 in./0.7 in. ; 18.3 mm/18.3 mm, 18.3 mm/18.3 mm
2.1 in./2.1 in., 2 in./2.1 in. ; 53.5 mm/53.5 mm, 50.5 mm/50.5 mm
Net Dimensions (without stand: WxHxD)
38.3 x 22.3 x 2.7 in. / 972.5 x 565.4 x 68.3 mm
41.7 x 24.1 x 2.6 in. / 1058.2 x 612.8 x 65.1 mm
49.2 x 28.4 x 2.5 in. / 1249.7 x 720.5 x 63 mm
60.6 x 35.8 x 3.5 in. / 1540.4 x 909.2 x 88.3 mm
Net Weight (without stand)
37lbs / 16.8kg
41.7lbs / 18.9kg
58lbs / 26.3kg
114.4lbs / 52kg
VESA Hole Configuration
300 mm x 300 mm (4-Hole)
400 mm x 400 mm (4-Hole)
Environmental Conditions
Operating Temperature
41-104°F / 5-40°C
Operating Humidity
20 - 80%
Operating Altitude
9,843 ft / 3,000 m
Limited Warranty
3 Years Parts and Labor, Including Backlight*
Additional Features
Advanced Thermal Capabilities; Advanced Cooling System; TileMatrix (10x10); TileComp; Separate Group/Monitor ID Function; Ethernet Control and Communication; RS-232 Control and Communication; Carbon Footprint Meter; Plug and Play (DDC/CI, DDC2B); Scheduler (w/ Real-Time Clock); Screen Saver Function; POP; Side-by-Side; Kensington Lock; Handles (for V552/V652); Touch and Protective Screen-Ready; Variable Picture Modes; Advanced Video Settings (Noise Reduction, Adaptive Contrast); Input Labeling; Backlight Adjust; Aspect Ratio Control; Built-in Speakers; OPS-Compliant Slot
Ships With
Power Cord; 1.8m DVI-D Cable; Wireless Remote Control; Batteries; Main Switch Cover; CD-ROM (User Manual); Clamp; Screws
Optional Accessories
Single Board Computers
External Single Board Computer (TNETPC-AF-WH); All NEC OPS Computers**
Other
Speakers (SP-RM2 for V423/SP-RM1 for V463, V552 & V652); Stand (ST-322 for V423 & V463/ST-4620 for V552/ST-651 for V652); Internal HD-SDI Card (SB-01HC); Internal 3G-SDI Card (SB-04HC); Digital IP Tuner (SB-03TM); Wall Mount Kit (WMK-3257); Display Wall Calibrator Kit (KT-LFD-CC)
* Warranty restrictions apply. Contact your representative for details.
** Please contact representative for details.
All prices reflect the final price after savings/rebate(s). Offers expire 12/31/2017 at 11:59 P.M. PT.