As your business advances, so should your devices.
Take your business to the next level with modern devices designed to work for you.
Protect what you've built.
Only Windows 10 Pro devices provide business-level security to protect what you've built. They safeguard data, user identities and devices with built-in defenses such as encryption, secure boot up and file-level information loss protection. Windows 10 Pro defends against the modern security threats that attack businesses of all sizes.
Work the way you want.
You can count on all-day, everyday performance1 from devices designed for business. Work from anywhere, including remote access to your PC. And you can get more done with business-grade tools, including full integration with Office 365.2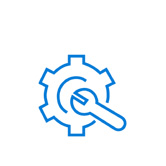 No IT department? No worries.
Windows 10 Pro provides as much or as little IT management as you need. You can put your new device to work right out of the box or tailor for your IT setup. Plus, Windows 10 Pro devices are compatible with the printers, scanners and other peripherals you already
own—and the applications3 you already use.
TOP 5
Reasons to buy windows 10 Pro devices for your small business
1
Worry less.
Built-in security protects information on your device(s), hard drives and USB flash drives.
2
Keep data safe.
Quickly and easily delete business information remotely from lost or stolen devices.
3
Work remotely.
Connect to your desktop virtually anytime, anywhere.
4
Get updates fast (or not!).
Add the latest Windows 10 features once they're available or wait until they've been market-tested. Your Choice.
5
Have more options.
Choose from a variety of business-grade devices in a range of prices, design and styles that fit the way you work.
All prices reflect the final price after savings/rebate(s).