Whole Home Tri-band Mesh Wi-Fi 6 System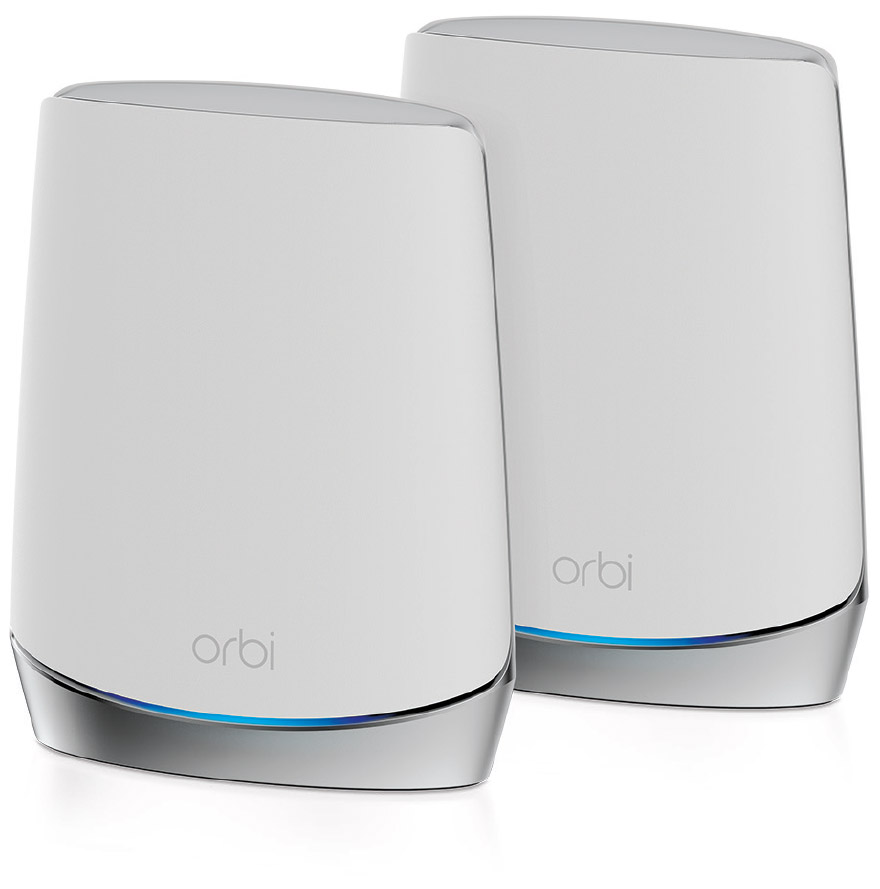 Overview
Break free from limitations with strong, reliable, and lightning fast Wi-Fi in every room of your home. From the top floor down to the basement, Orbi Tri-band Mesh Wi-Fi 6 Systems bring you higher performance & simultaneous Wi-Fi streaming, gaming & browsing on even more devices. Includes 1-year of advanced cyber threat protection with NETGEAR Armor™. Robust smart home Wi-Fi.
Features
---

Cutting Edge Performance
Get the ultimate experience with 8 Streams of Wi-Fi 6 and speeds up to 4.2Gbps, Enjoy 4K/8K UHD streaming, lag-free gaming & smooth streaming.

More Capacity, More Battery Life
Don't be held back by limited capacity. Enjoy more devices simultaneously with 4X the capacity than before & improved efficiency for longer battery life.

Cybersecurity with NETGEAR ArmorTM
Protect your connected home devices from Internet threats with best-in-class anti-virus, anti-malware & data protection.
Gigabit Speeds Where You Need Them
Don't let your home be a maze of dead zones. Get consistent speeds everywhere with tri-band dedicated wireless backhaul & 8 Gigabit Ethernet ports.
Manage Your Kids' Screen Time
NETGEAR Smart Parental ControlsTM let you easily manage your kids' time online across their connected devices.

It's Easy
Enjoying your Wi-Fi has never been easier. Use the Orbi app and NETGEAR Armor to create your secure whole home Wi-Fi in minutes.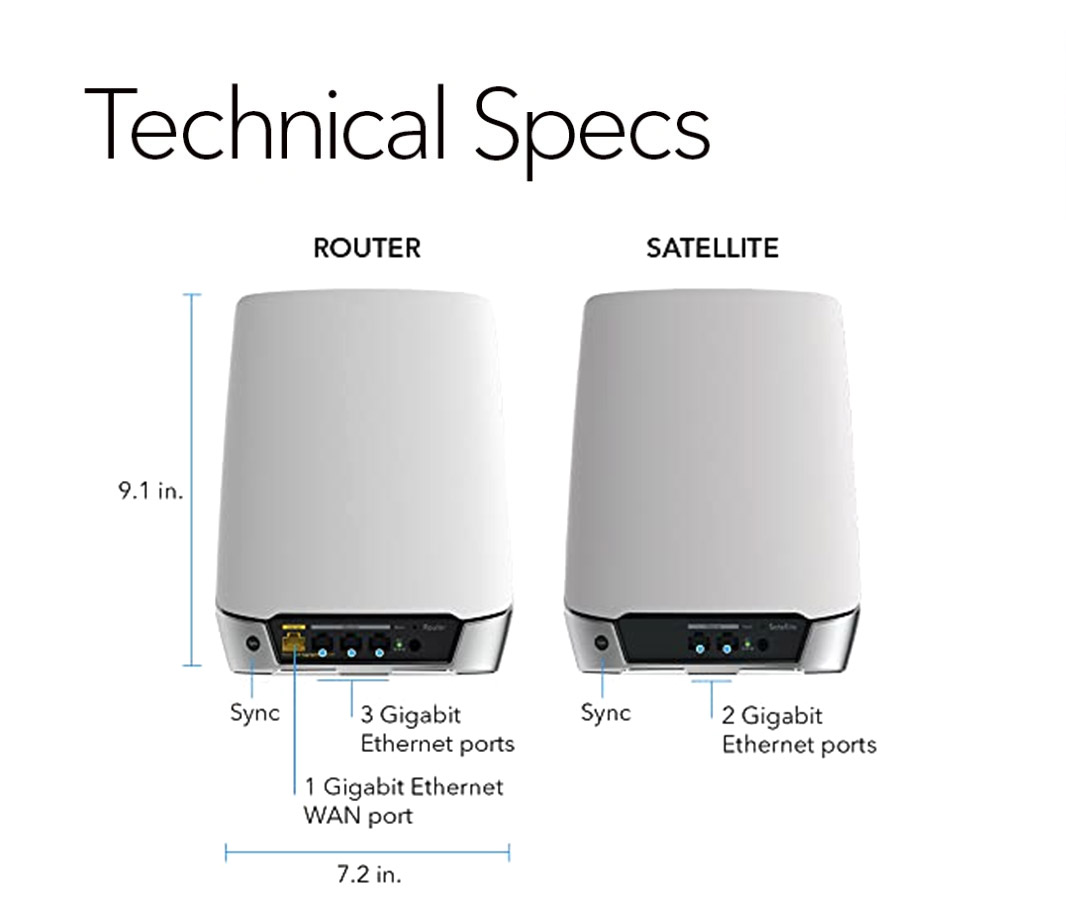 WI-FI SPEED
4.2G bps, AX4200 Wi-Fi 6
WI-FI COVERAGE
Up to 5,000 sq. ft., 40 Devices
INTERNET PLANS
Supports any internet service up to 2Gbps
WI-FI CONNECTIVITY
Wi-Fi 6, 802.11 ax, backwards compatible with 802.11 a/n/ac
WIRED CONNECTIVITY
Router: 3 Gigabit Ethernet LAN ports, 1 Gigabit Ethernet WAN port
Satellite: 2 Gigabit Ethernet LAN ports
PROCESSOR, MEMORY
Quad-core 1.4GHz processor, 1GB RAM
SECURITY AND PARENTAL CONTROLS NETGEAR
Armor all-in-one internet security, NETGEAR Smart Parental Controls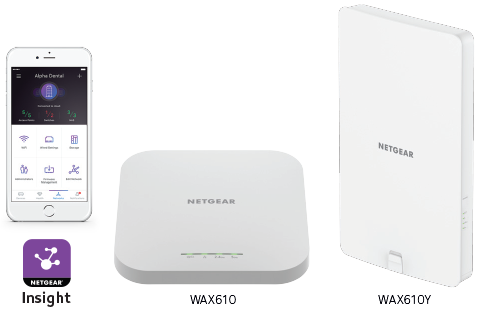 Wi-Fi 6 Dual-Band AX1800 speed, coupled with MU-MIMO technology, supports up to 250 client devices.
Connect up to a 2.5G Ethernet switch for maximum speed.
Simplifed deployment with PoE+, or power using the optional PAV12V power adapter (sold separately).
Includes 1 year FREE Insight subscription for remote management from anywhere, and no additional hardware or cloud key required. Setup, configure, and manage with the Insight app.
Easy to securely install on the wall or a suspended ceiling with included hardware.
Includes WPA3, network and client isolation, and rogue AP detection.
Including load balancing, band steering, and assisted roaming.
WI-FI SPEED
1.8Gbps, AX1800
WI-FI COVERAGE
Up to 2,500 sq. ft., 200 client devices
WI-FI CONNECTIVITY
Wi-Fi 6, 802.11ax, backwards compatible with 802.11 a/g/n/ac
WIRED CONNECTIVITY
(1) 2.5 Gigabit Ethernet LAN port with PoE+
NETWORK SECURITY
Up to 8 SSIDs, Separate VLAN control, WPA3 security, backwards compatible with WPA2/WPA1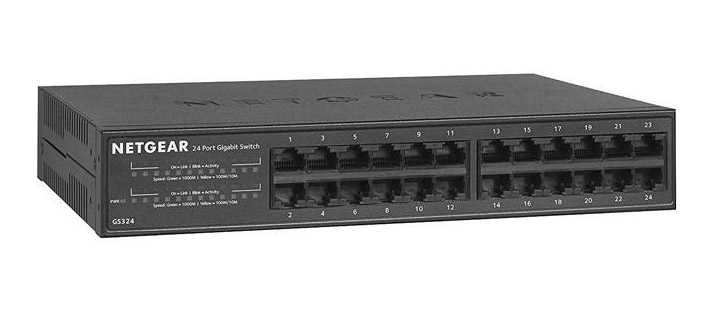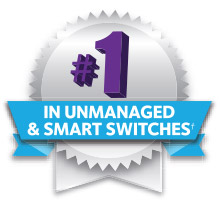 Take Gigabit to the Desktop and Expand Wired Connectivity
NETGEAR 300 Series Gigabit Ethernet Unmanaged Switches provide easy, reliable, and affordable network connectivity for small and medium offices. With these unmanaged plug-and-play switches, you can expand your network connections to multiple devices instantly. The GS324P with Power-over-Ethernet (PoE) provides power and data from a single Ethernet cable to devices such as IP cameras, VoIP/Internet-based phones, wireless access points, etc.
---
Highlights
Auto-MDI/MDIX eliminates the need for crossover cables.
LED indicators for ease of use.
Energy-efficient technology for power savings.
Auto-negotiation for automatic connection at the highest common speed between switch and an end device.
Non-blocking switching architecture for maximum throughput at wire speed.
Plug-and-play; no setup required.
Durable and rugged metal case.
Flexible rack mount/desktop mounting options.
Ideal for small and medium offices.
Standards-based technology ensures interoperability with any standards-based devices in the existing network.
Power up to 30W per device.
Desktop and rackmountable.
802.3at Power Over Ethernet (PoE) for IP cameras, VoIP/Internet-based phones, wireless access points.
NETGEAR's unique PoE power autobalance and allocation technology automatically balances the PoE power based on the device needs independent of PoE class detected.