A Tripp Lite UPS SYSTEM: Your Best Bet
Against Power Problems!



Provide
Battery Backup




Regulate
Voltage




Shut Down
Safely




Block
Surges




Filter
Line Noise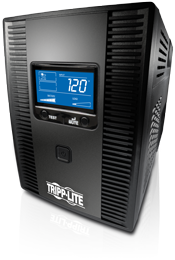 What You Need to Know
What Level of Protection
is Needed?
Standby Protection: Standard battery backup, ideal for home and office computers and peripherals.
Line-Interactive Protection: Automatic voltage regulation corrects abnormal voltages without using battery power. Ideal for high-performance PCs, workstations and A/V equipment.
On-Line Protection: Highest level of protection available! Ideal for mission-critical network/server equipment.
Find Your Model with the UPS Finder!

UPS Finder
How Do You Determine
the Size/Capacity Needed?
Total the wattage of all equipment you plan to plug in.
Select a UPS system with a watt capacity as high or higher than the total equipment wattage.
How Much Backup Runtime
is Needed?
The runtime of a UPS tells you how long the UPS can keep equipment powered during an outage before its battery runs out. Additional equipment decreases runtime; a larger battery increases it.
Protection for Home & Office Computers
Standby: Tripp Lite Desktop UPS Systems

300VA – 1400VA
Correct blackouts and brownouts by switching to battery power

Model
VA/W
½ Load Runtime
Outlets
Comm. Ports
Add'l Protection
Form Factor
INTERNET550U
550/300
5.6 min.
8
1 USB
tel/DSL
Low-profile
INTERNET750U
750/450
9.4 min.
12
1 USB
tel/DSL
Low-profile
ECO650LCD
650/325
5.3 min.
8
1 USB
tel/DSL
Low-profile
ECO850LCD
850/425
13.4 min.
12
1 USB
tel/DSL
Low-profile
Protection for High-Performance PCs & A/V Equipment
Line-Interactive: Tripp Lite Digital & SmartPro® UPS Systems

300VA – 5kVA
Automatic voltage regulation corrects brownouts and overvoltages without using battery power

Model
VA/W
½ Load Runtime
Outlets
Comm. Ports
Add'l Protection
Form Factor

Digital UPS Systems—Ideal for Workstations

SMC1000T
1000/650
14.4 min.
8
1 USB / 1 DB9
tel/DSL/Ethernet, Pure Sine Wave
Tower
SMC1500T
1500/900
17.4 min.
8
1 USB / 1 DB9
tel/DSL/Ethernet, Pure Sine Wave
Tower
SMART1300LCDT
1300/720
10 min.
8
1 USB
tel/DSL/Ethernet + Coax
Tower
SMART1500LCDT
1500/900
10 min.
10
1 USB
tel/DSL/Ethernet + Coax
Tower
OMNI1500LCDT
1500/810
7.5 min.
10
1 USB
tel/DSL/Ethernet + Coax
Tower

SmartPro Rackmount UPS Systems—Ideal for Small Servers

SMART1000RM2U
1000/800
15 min.
6
1 USB / 1 DB9
Pure Sine Wave
2U Rack/Tower
SMART1500RM2U
1500/1350
13 min.
8
1 USB / 1 DB9
Pure Sine Wave
2U Rack/Tower
SMART2200RM2U
2200/1920
12 min.
8
1 USB / 1 DB9
Pure Sine Wave
2U Rack/Tower

SmartPro Rackmount UPS Systems with Expandable Runtime—Ideal for Networking Equipment

SMART1000RMXL2U
1000/900
18+ min.
8
1 USB / 1 DB9
Pure Sine Wave
2U Rack/Tower
SMART1500RMXL2UA
1500/1350
14+ min.
8
1 USB / 1 DB9
Pure Sine Wave
2U Rack/Tower
SMART2200RMXL2U
2200/1920
12+ min.
8
1 USB / 1 DB9
Pure Sine Wave
2U Rack/Tower
SMART3000RM2U
3000/2250
10+ min.
9
1 USB / 1 DB9
Pure Sine Wave
2U Rack/Tower
SMART3000RMXL2U
3000/2880
10+ min.
9
1 USB / 1 DB9
Pure Sine Wave
2U Rack/Tower
Protect Critical Networking Equipment
On-line: Tripp Lite SmartOnline® UPS Systems

750VA – 80kVA
True on-line operation with pure sine wave output and zero transfer time to battery

Model
VA/W
½ Load Runtime
Outlets
Comm. Ports
Add'l Protection
Form Factor

SmartOnline Rackmount UPS Systems

SU1000RTXL2UA
1000/800
14+ min.
6
1 USB / 1 DB9
tel/DSL/Ethernet
2U Rack/Tower
SU1500RTXL2UA
1500/1200
14+ min.
6
1 USB / 1 DB9
tel/DSL/Ethernet
2U Rack/Tower
SU2200RTXL2UA
2200/1600
14+ min.
7
1 USB / 1 DB9
tel/DSL/Ethernet
2U Rack/Tower
SU3000RTXL2U
3000/2500
15+ min.
7
1 USB / 1 DB9
—
2U Rack/Tower

SmartOnline Rackmount UPS Systems with LCD

SU1000RTXLCD2U
1000/900
14+ min.
6
1 USB / 1 DB9
tel/DSL/Ethernet
2U Rack/Tower
SU1500RTXLCD2U
1500/1350
14+ min.
6
1 USB / 1 DB9
tel/DSL/Ethernet
2U Rack/Tower
SU2200RTXLCD2U
2200/1800
12+ min.
7
1 USB / 1 DB9
tel/DSL/Ethernet
2U Rack/Tower
SU3000RTXLCD2U
3000/2700
11.3+ min.
9
1 USB / 1 DB9
—
2U Rack/Tower
Discover All Tripp Lite Solutions