>

RAID Enclosure / Subsystems
RAID Enclosure / Subsystems - Showing 1 - 24 of 102 Products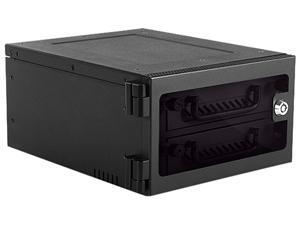 Guide to RAID Storage
Introduction
So what is an external RAID enclosure? It is a device that allows you to set up a RAID array using internal hard drives or solid state drives. Some home and small-office users may have internal RAID arrays for desktops, but larger organizations that require high levels of performance and scalability will find more utility from external RAID enclosures.
Benefits of External RAID Enclosures
A RAID enclosure is similar to an external hard drive enclosure, except it is larger to accommodate multiple hard drives and designed for RAID configurations. Compared to software RAID solutions, which are typically managed by the operating system, external RAID enclosures have several advantages.
Hot-Swap Support
Many USB and eSATA RAID enclosures support a feature known as hot swapping, which allows users to remove and replace hard drives with no need to power down the device. External RAID enclosures also typically have easily accessible drive bays. This allows for quicker drive switching, which can save professionals time.
No Extra Load on CPU
Software RAID arrays require CPU cycles in order to operate, which lower overall system performance. In contrast, hardware-based RAID configurations such as external enclosures and RAID controller cards have their own built-in processing units. As a result, they do not detract from overall system performance.

Drive Cloning
In addition to having RAID capabilities, many enclosures also support drive cloning. This allows users to duplicate all the contents of a drive, including hidden and in-use files. It is more in-depth than copying and pasting the contents, as the resulting drive is an exact clone.
SAS Support
One downside of a software-managed RAID array is that few desktop motherboards support enterprise-grade drives such as Serial Attached SCSI (SAS) hard drives. With a hardware RAID solution such as an external RAID enclosure, you can add support for SAS enterprise-grade hard drives and solid state drives.