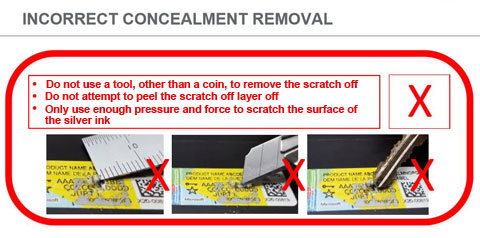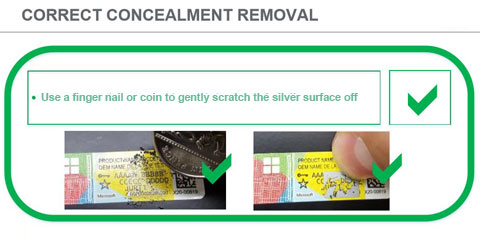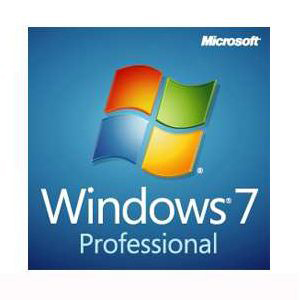 Extended Support End Date - Jan 14, 2020
Microsoft Windows 7 Professional
Enjoy a fast, simple and secure computing experience with Microsoft Windows 7 Professional Operating System Software. It allows you to run many Windows XP productivity programs in Windows XP Mode, recover data easily with automatic backups to your home or business network, and connect to company networks effortlessly and more securely. It not only simplifies everyday tasks but helps safeguard your hard work and important information. With all the exciting entertainment features of Windows Home Premium, this versatile operating system software is a great choice for home and for business.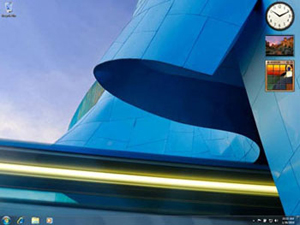 Everything You Need for Work and Home
Simplifies Everyday Tasks
Improved desktop navigation features like Snap, Peek and Shake, make it easier to manage all of your open windows.
Creating a home network has never been easier. You can even share files and printers with all the PCs with Windows 7 on the network.
Find virtually anything on your PC - from documents to songs to email - just by typing a word or two with Windows Search.
Works the Way You Want
Designed to make your PC sleep and resume quicker.
Takes full advantage of the power and multi-tasking capabilities of the latest 64-bit PCs.
Makes New Things Possible
Watch, pause, rewind and record TV with Windows Media Center.
Includes integrated video and Dolby audio codecs.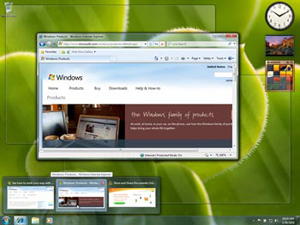 Makes Everyday Tasks Easier and Faster
Simple to Use
Preview - Manage lots of open programs, documents, and browser windows easily with thumbnail and full-screen previews of open windows.
Pin - Open files and get around your PC faster with the improved taskbar. You can easily pin programs you use often to the taskbar and launch them in just one click.
Jump Lists - Open files you use regularly in just two clicks with Jump Lists on the improved taskbar.
Snap - Windows 7 has simple new ways to manage open windows. For example, with Snap you can arrange two windows side-by-side just by dragging them to opposite sides of your screen.
Peek and Shake - Windows 7 lets you peek behind open windows to get a quick look at your desktop.
Windows Search - Instantly locate and open virtually any file on your PC, from documents to emails to songs, right from the Start menu, with Windows Search.
Easy to Connect
Wireless Setup: With Windows 7, setting up wireless connections is easier with consistent, one-click connections to available networks, whether those networks are based on Wi-Fi, mobile broadband, dial-up, or corporate VPN.
HomeGroup: Connect Windows 7 PCs on a home network in just four clicks and easily get to the photos, music, and files on each one - even share printers - with HomeGroup.
Easy to Browse the Web
Internet Explorer 8: Visual search helps you quickly find the information you want by adding visual cues and previews to search results from top search providers including Live Search, Wikipedia, Yahoo, Amazon, and others.
Web Slices: Use Web slices to conveniently keep up with changes on frequently updated websites, like eBay auctions or traffic sites, directly from the IE8 toolbar.
Easy to Communicate and Share
Windows Live Photo Gallery - makes share your photos to your favorite photo site easy.
Windows Live Mail - makes managing multiple email accounts easy.
Windows Live Family Safety - Keep your child safe by managing what sites they can visit and who they can send/receive emails and im communications from.
Note: Windows Live components need to be downloaded separately.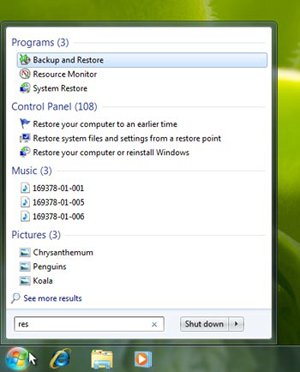 Works the Way You Want
Resume from sleep: Windows 7 help PCs sleep and resume from sleep more quickly by improving the way Windows 7 manages drivers, programs, and power.
Faster and more reliable Windows 7 reduced the amount of memory your PC needs for open windows and to execute commands to help it be more responsive to commands.
Makes New Things Possible
Media on Your Terms
Windows Media Center: Turn your PC into a TV with Windows Media Center. Watch shows for free when and where you want with Internet TV.
DirectX 11: DirectX 11 technology delivers breathtaking game graphics so real, it's unreal.
New Ways to Engage
Windows Touch: Windows Touch makes PCs with touch screens easier and more intuitive to use.
Windows Media Player: More and more consumer electronics, from TVs to digital photo frames, can be connected to home networks. With Play To in Windows 7, you'll be able to easily send music, photos, videos from your PC to a networked device throughout your home. You can enjoy the photos, music, and videos on your home PC when you're away from home with remote media streaming.
Location Aware Printing: Windows 7 will automatically pick the right printer for you when you move from home to work networks.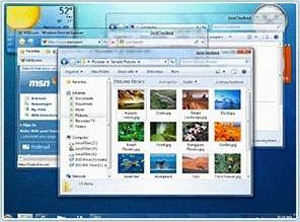 Work Anywhere Easier
Get connected in three clicks wherever there's a wireless network connection.
Keep documents on your PC and on network servers in sync automatically.
Your PC will automatically use the printer you prefer for whatever network you're on.
Simplify making presentations special settings that keep your PC from sleeping and turn off messages, notifications, and screen savers.
Instantly locate virtually any file, email, or document on your PC just by typing a word or two.
Get around your PC faster with the improved taskbar.
Open programs you use regularly in one click and files you use regularly in just two.
Manage lots of open programs, documents, and browser windows easily with thumbnail and full-screen previews of open windows.
Manage multiple email accounts, including Hotmail, Gmail, AOL, and Yahoo! Mail Plus, all in one place with one simple program.
Get to the files, photos, and music on any PC with Windows 7 in the house from any other.
Print to any printer in the house from any PC with Windows 7 in the house.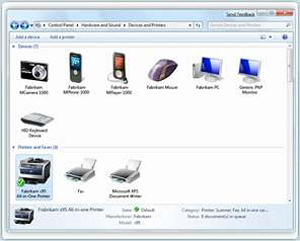 Safeguard Your Hard Work
Advanced Backup and Restore makes it easier to keep your work safely backed up to external or network drives and accessible if you need it.
File encryption helps keep proprietary and confidential information on a PC secure if it is lost or stolen.
Preserve your investment in programs designed for Windows XP with Windows XP Mode.
Windows Internet Explorer 8 helps keep your PC safer from malware and you safer from fraudulent websites designed to fool you into divulging private information.
Easily add your PC to a secured, managed, network with domain join capabilities.
Group policy controls help administrators more easily and effectively manage the security and configuration of multiple PCs.