Graphics cards today are responsible for much more than sending simple text output to a monitor. Their duties now include heavy-duty 2D and 3D rendering as well as video processing. The output devices they support include not only CRT monitors, but TVs, video recorders, LCDs and HDTV sets as well. To do this, graphics cards are often equipped with a combination of I/O ports/interfaces.
D-Sub/VGA


This 15-pin VGA output port finds widespread usage and is responsible for connection to CRT monitors and LCD monitors that support analog input. Digital signals must go through RAMDAC conversion before being sent through the D-Sub port as it is capable of only analog input.
DVI


LCDs operate on digital signals, but some older graphics cards output only analog signals through the analog D-Sub port. This causes compatibility problems. To sidestep this problem, many LCDs are equipped with integrated ADC (Analog to Digital Converter).
This means, according to what has been said in the D-Sub section, that a digital signal is converted to analog and then reconverted from analog to digital again. It is a taxing process that does not produce the best final results. To solve this issue, many graphics processors feature integrated TMDS transmitters for direct digital output through the DVI port to ensure a pure, lossless digital signal all the way to the LCD screen. Many video cards are also being built with external TMDS transmitters onboard for the same purpose.
DVI ports complying with the DVI1.0 standard are the DVI-I, DVI-D and DVI-A types. Among them, the DVI-I port is capable of supporting both digital and analog output. The DVI-D, on the other hand supports pure digital output, while the DVI-A port supports pure analog output.
The DVI port most often seen on graphics cards is the DVI-I port, which, direct connection to LCD DVI port aside, will support a DVI to D-Sub converter in order to provide analog output. The DVI-D port is rather rare, but can still be found on a few video cards. DVI-A ports are almost non-existent on video cards.
HDMI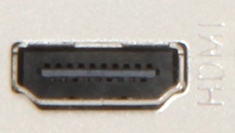 High-Definition Multimedia Interface (HDMI) is a compact audio/video interface for transmitting uncompressed digital data. It is a digital alternative to consumer analog standards, such as composite video, S-Video, component video, or VGA. HDMI connects digital audio/video sources such as personal computers (PCs), to compatible digital audio devices, computer monitors, video projectors, tablet computers, and digital televisions.
DisplayPort/ Mini-DisplayPort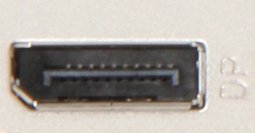 DisplayPort is a digital display interface standard produced by the Video Electronics Standards Association (VESA). The specification defines a royalty-free digital interconnect for audio and video. The interface is primarily used to connect a video source (Graphics Card) to a display device such as a computer monitor or television set. DisplayPort is designed to replace Digital Visual Interface (DVI) and Video Graphics Array (VGA). DisplayPort can also provide the same functionality as HDMI.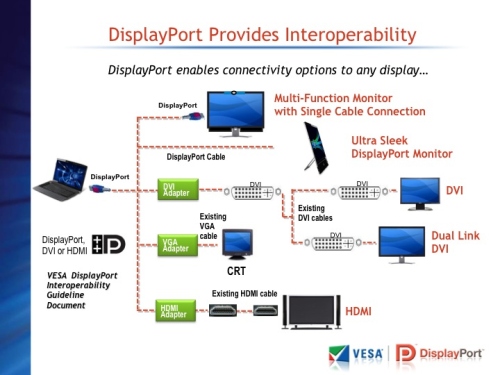 S-Video output port

Current graphics processors are equipped with integrated video encoders to provide them with direct video output capabilities. In the past users were required to purchase add-on video encoders in order to realize video output.
On the video output front, nothing is more common than the S-Video (Separate video) port. During output, it separates the luminance (Y) and chrominance (C) signals in order to avoid possible interference between the two to enhance signal quality.
Composite Video output port

The composite video port is built into home electronic devices including television sets and video recorders. The yellow RCA type connector is responsible for analog video signals, and the luminance (Y) and chrominance (C) signals are combined in a single channel. Older graphics cards often featured the composite video port for connection to AV devices.
The composite video port is gradually being phased out in favor of the S-Video port. With the help of a converter cable, an S-Video port can also be used to support composite video output.
Component ports

The component video signal is split and compressed into separate luminance ("Y") and (two) color values including red minus luminance (R-Y) and blue minus luminance (B-Y). The value for green is not transmitted. For color values that are neither red nor blue, the display device automatically "fills in the required color". A variant of this format is YPbPr. Component ports are being aggressively adopted by a growing number of video cards with the primary intention of HDTV output. They are typically seen bundled on modular adapters as the video card I/O bracket has limited space for three additional ports.
Video Input/VIVO port
In the past, certain graphics card products provided purpose-built video input ports such as S-Video and composite video to cater to users with video input requirements. Contemporary graphics cards, however, must provide a complement of video output ports on small I/O panels of limited space. To avoid congestion, the mainstream practice is to integrate video input and output capabilities into a single port.
The ViVo port, as it's known, is typically found on high-end products and takes on the form of a 9-pin S-Video port, used in conjunction with a ViVo adapter which can convert the ViVo port into several input and output ports, such as S-Video in, S-Video out, Composite video in, and Composite video out.
CATV port

TV via the PC can be achieved by installing either a TV card or a video card with built-in TV tuner. Both these cards feature the CATV port which is the same as that found on the TV set. You can connect the antenna or cable to the CATV port to allow your PC to display TV programs or record with the appropriate software.
FM port

The FM port can generally be found on video cards featuring the CATV-in port and a TV tuner capable of receiving both TV and FM signals. These cards are typically bundled with a radio antenna for connection to this port.
Multi-purpose port

Certain video card manufacturers use a single port and multi-purpose adapter combination for various input-output functions. The VIVO port is the best example of this type of port. On some cards we can also see very complex multi-purpose ports, which can combine the audio, D-Sub, and DVI ports into one.
3D Stereo port

At the current time, stereo 3D ports are mainly found on video cards for workstation applications. They are used to connect 3D stereo graphics devices and will, via a G-sync card, support the Genlock and Framelock functions, which are very useful for professional usages.
DMS port

The DMS port can be found on ATI Radeon CrossFire edition cards, which work as the master card in a CrossFire array. The DMS port is used to receive the video data processed by the slave card and then combines it with the master card's output resulting in a fully rendered image. In addition, the DMS port can be converted to DVI via conversion cable. Please note that the DMS port on the Radeon X800 series is different from that found on the Radeon X1800/X1900 series.
PCI-Express x16 & x1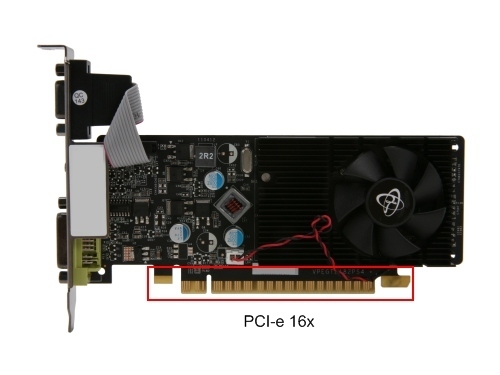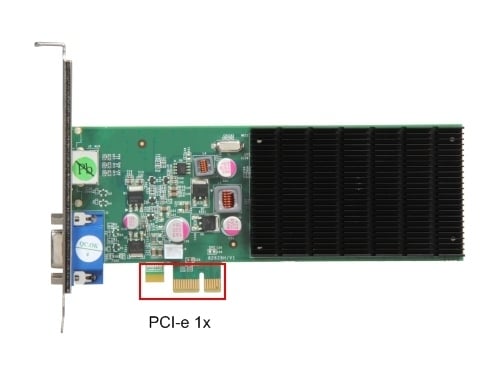 PCI Express (Peripheral Component Interconnect Express), officially abbreviated as PCIe, is a computer expansion card standard (primarily used for Graphics Cards) designed to replace the older PCI, and AGP bus standards. PCIe has numerous improvements over the aforementioned bus standards, including higher maximum system bus throughput, lower I/O pin count and smaller physical footprint, better performance-scaling for bus devices, a more detailed error detection and reporting mechanism, and native hot plug functionality.

x1 or x16 refers to the amount of lanes a PCIe card has. A PCIe card will physically fit (and work correctly) in any slot that is at least as large as it is (e.g., an ×1 sized card will work in any sized slot) however the contrary x16 will not work or fit in a x1 slot.

AGP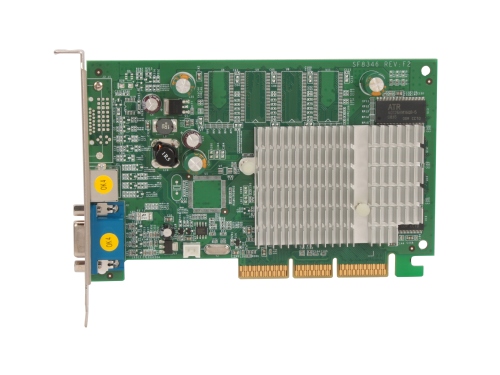 The Accelerated Graphics Port (often shortened to AGP) is a high-speed point-to-point channel for attaching a graphics card to a computer's motherboard, primarily to assist in the acceleration of 3D computer graphics. Since 2004, AGP has been progressively phased out in favor of PCI Express. As of mid-2009, PCIe cards dominate the market, but new AGP cards and motherboards are still available for purchase.

PCI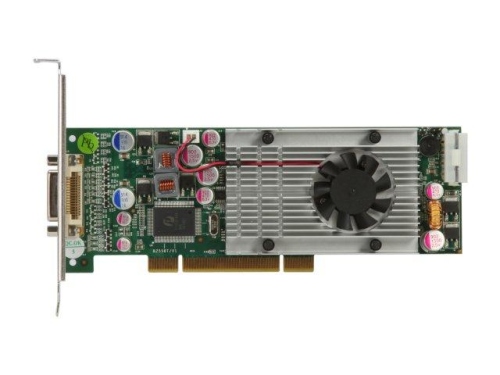 Peripheral Component Interconnect, part of the PCI Local Bus standard and often shortened to PCI, is computer bus for attaching hardware devices like a Graphics Card in a computer. Despite the availability of faster interfaces such as PCI Express, conventional PCI remains a very common interface.