>

Switches & Hubs
Featured Products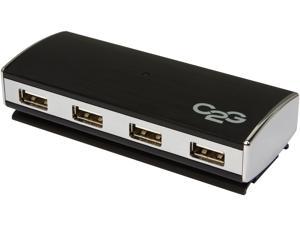 Free Shipping
4 x 4-pin Type A Female USB 2.0 - USB Downstream, 1 x Mini USB - Type B Female USB 2.0 - USB Upstream
USB 2.0/1.1
What are Ethernet Switches and Hubs?
Introduction
An Ethernet switch and hub are two very important parts of a network that can determine how many computers the network can support and how it routes data. Before purchasing a switch or a hub, it is crucial to understand how they differ from each other. The following information will detail how hubs and switches route network traffic, as well as common types of switches.
Hubs
Ethernet hubs can be used to create a network and expand the number of connections a network can support, but hubs are basic units that repeat incoming data to all ports and cannot route network traffic. So when one computer sends data to another through a hub, that data is sent to all connected computers. The computers then read the address information of incoming data to know whether or not it is intended for them.
Network switches can also create and expand networks but do so more intelligently than hubs. Whereas a hub is a repeater that sends data received to all connected computers, a switch inspects the data for address information and routes it to the intended computer. A network switch does not create as much unnecessary traffic and can support more simultaneous data transfers between computers.
For large organizations, an Ethernet switch is slightly more complex than the average desktop network switch. Enterprise-grade networks use modular switches that are installed into network switch chassis. One chassis can hold many switch modules, and each module can have several Ethernet ports. Modular network switches have several benefits, including scalability, configurability, and easy expansion.
Power over Ethernet (PoE) Switches
Some switches, known as PoE switches, are able to deliver both data and power over Ethernet cables. It is similar to how a USB hubcan be used to power devices connected to it. A PoE network setup can reduce the need for power cables and is easy to expand. For example, adding wireless functionality to a PoE network only requires a PoE compatible wireless access point (WAP) to be connected to a PoE switch via network cable.
An added benefit of PoE is that it can allow you to install network equipment at lower cost. For instance, if you need to install a wireless access point at a location with no electrical outlets, you would normally need to have a certified electrician install power outlets in addition to network cables. With a PoE system, you will just need to run network cables to the location. Other than being able to supply power through network cables, a PoE switch functions like any standard Ethernet switch.