The Fujitsu Fi-7600 duplex 600x600 dpi document scanner is a highly efficient office tool designed to scan documents rapidly and in high resolution. The scanner features built-in software to enhance ease of high-capacity scanning and smart technology that detects page layout and size to facilitate any scanning task you may have.
Rapid Scanning
With this document scanner, you can scan 8.5x11in. (21.5x27.9cm) documents rapidly at a 100 ppm rate in color or black and white. The practical LCD screens located on both sides of this 600 dpi reproduction-class scanner adapts to all office space. Switch between modes easily when scanning different types and thickness of documents.
Production-Class ADF Document Scanner
Scan documents in bulk and save time thanks to the 300-page automatic document feeder. Smart Paper Picking Control smoothes paper to increase scanned document quality and aspect. The Fujitsu duplex scanner function allows you to scan both sides of a document with ease.
Smart Built-In Technology
Choose which document correction or adequate color scheme you need with the built-in PaperStream IP Twain and ISIS technology and scan in high quality without damaging documents. Organize your scanning and save changes to the internal memory thanks to the PaperStream Capture software. Paper Protect function ""hears"" the paper and alerts you when it detects anomalies in documents.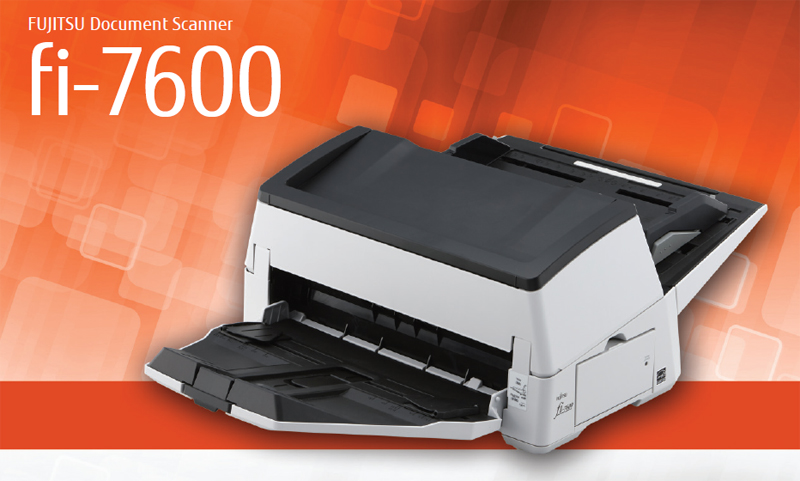 Flexible, heavy-duty production scanner for professional use
The Fujitsu fi-7600 is a production-class ADF duplex scanner with 600dpi optical resolution. Designed for busy offices, it allows you to scan A4 landscape documents at 100ppm/200ipm (200/300 dpi). Its large ADF is able to load up to 300 sheets at a time, enabling improved efficiency when scanning a large volume of documents. Two independent control panels, one on each side, allow the fi-7600 to fit any workspace.
This versatile scanner can handle a variety of documents, such as thin paper, plastic cards, books, magazines, envelopes, and long paper documents. Paper Protection technology helps reduce the risk of paper jam and document damage. Also bundled are user-friendly programs including PaperStream IP (TWAIN/ISIS) and PaperStream Capture, so you can quickly and intuitively manage and sort scanned images, achieve better OCR results, and more.
Fast scanning — up to 100 ppm in color or monochrome, landscape
Paper chute capacity up to 300 sheets
Capable of handling various thickness and size
Paper Protect function protects against paper jams by detecting anomalies in sound (iSOP: Intelligent Sonic Paper Protection) and document length
LCD panel for easy operation
Independent Side Guides easily align mixed size documents
Comes with PaperStream IP (TWAIN/ISIS) and PaperStream Capture
Improved Feeding for Large Volumes of Mixed Batches
Mechanism for stable paper feeding and ejecting prevents document damage and paper mis-feeds

Scan Various Types of Business Documents with a Single Scanner
The straight paper path design provides reliable scanning regardless of the condition and type of paper. The Paper Picking Control function observes each document's movement, and controls the pressure on the papers, making smooth, continuous feeding possible.

By simply changing the feed mode to Manual/Single mode, you can easily scan thick documents such as drawings folded in half, multi-layered receipts, and envelopes with the same straight paper path operation.
Protect Important Information by Preventing Missing Edges and Document Damage
Skew Reducer significantly improves the feeding performance and prevents a scanned image from missing an edge.

Paper Protection function minimizes the risk of document damage and protects your important documents by detecting anomalies in sound and document length.
Design That Meets the User's Needs
The fi-7600 improves operational efficiency with thoughtful features.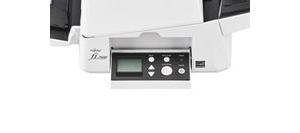 Fully Utilize Allocated Space with Its Flexible Design
The fi-7600 is equipped with operation panels on both the right and left sides of the scanner so that it can be easily accessed in any office or workspace environment. The LCD operation panel clearly shows the scanner status for quick verification.
Save Time Before and After Scanning
When setting documents, you can easily align the edges of the documents with independent Side Guides even if the size of each document varies.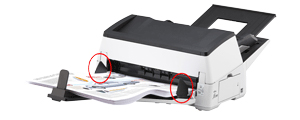 Stacker Side Guides align scanned documents and stack them evenly to reduce time and effort required by post-scan.
Software to Improve Efficiency in Your Business Workflow
Advanced Image Processing
The PaperStream IP Twain and ISIS eliminate the need for fine setting adjustments during image processing. It automatically converts scans into exceptionally clean images, accelerating OCR even when scanning wrinkled or soiled documents, or documents with a background pattern. With an intuitive interface, PaperStream Capture effectively and efficiently allows you to feed information into your organization's workflow through various capture features during batch scanning.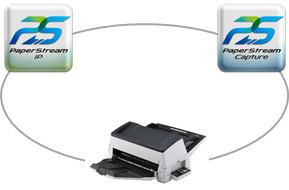 Barcode Recognition, Automatic Sorting, and Indexing
PaperStream Capture uses efficiency features to effectively feed information into your organization's workflow during batch scanning. Use barcodes or patch codes to sort scanned images into pre-configured folders to be saved or indexed for later use. PaperStream Capture simplifies and automates scanner operation for improved productivity.