Cisco Meraki Go Indoor WiFi Access Point
Get Your Business Going
The Cisco Meraki Go WiFi AP is tailor made for small and home businesses in single-site locations. With Meraki Go, shops, restaurants and cafes can segment their guest and corporate traffic for added security. Meraki Go users can easily limit usage of certain applications to prioritize your business-critical applications, and set up blocked websites to secure your network. This way, small offices with limited bandwidth can prioritize business traffic, and make sure video streaming doesn't get in the way of work. Furthermore, the Meraki Go AP can be managed by an easy-to-use app, so you can access and control your network from pretty much anywhere.
The Meraki Go indoor AP features a 10/100/1000 BASE-T Ethernet port (RJ45), operates on 2.4 GHz and 5 GHz radio, and supports 2 x 2 MIMO with two spatial streams. Each Indoor and Outdoor Access Point requires an active Go subscription, which provides security updates and in-app support.
Built-In Benefits
The Meraki Go solution provides all these features and more, built for the small business owners. Easy to use and powerful enough to run your business.
Web Blocking
Block websites that should not be on your network, both for increased security and protection.
Usage Limits
Limit data-heavy applications on your network to prioritize the ones that truly matter.
Network Notifications
Receive emails if your network ever goes offline.
Multiple WiFi Networks
Set a network up for your staff and one for your guests to increase security.
High Usage Device Category
Notice right away if there are any high usage devices hogging up your network.
Check In from Anywhere
Manage your network from the Meraki Go app, anywhere in the world.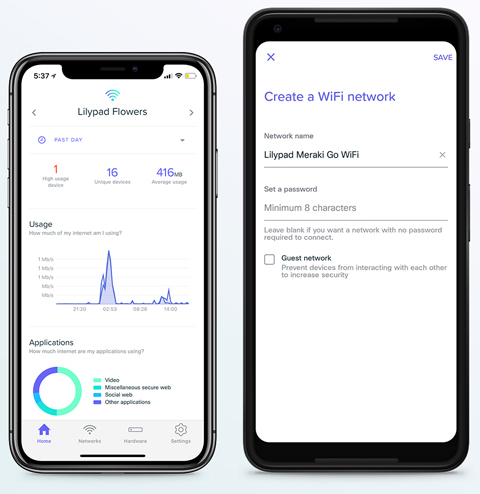 The Meraki Go App
The Meraki Go App, available for Android and iOS, controls every aspect of your network. After a quick, guided setup, your network will be up and running in minutes. Check the app to see which devices are using all of your bandwidth, and with Usage Limits, set limits on exactly how much video streaming is allowed.
The Meraki Go Subscription
Each Indoor and Outdoor Access Point requires an active Go subscription, which provides security updates, feature improvements, and in-app support.
With Meraki Go, the ability to contact a support engineer is included in every subscription. Have access to a real person, because Meraki Go values your network as much as you value your network.
Small Office
An example small office environment with 12 employees uses two Meraki Go Indoor Access Points. One to face the desks, and another providing WiFi to the conference room. The access point in the front of the office is hardwired to the router, and provides mesh to the access point near the back.