The Core of Configuration
The Core family of cases have always been centered around providing the core features and performance of Fractal Design's case lineage at an aggressive price point. Core has undergone an evolution thanks in part to the valuable feedback from our customers.

Despite its extremely small outer dimensions, the Core 1100 mATX case provides everything you need. The stylish, Scandinavian exterior design is matched by the fully painted interior, complete with the signature white details of Fractal Design. The case is optimized for airflow with a straight cooling path, and comes equipped with a pre-installed 120mm fan. The front panel is equipped with dust filters. An innovative vertical hard drive bracket can fit either two 3.5" drives, three 2.5" drives, or one drive of each size. Both the 3.5" drive slots come with silicone vibration dampening grommets.
KEY FEATURES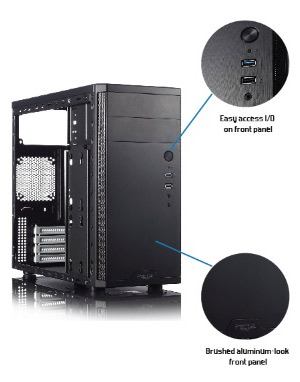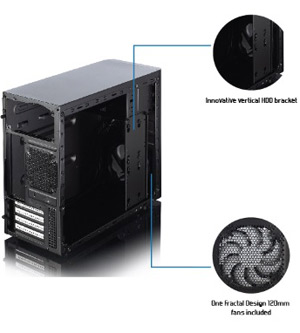 An extremely compact micro-ATX case, designed for exceptional airflow and cooling.
Brushed aluminum-look front panel with a sleek, three-dimensional textured finish.
One Fractal Design 120mm fans included.
Easy access I/O on front panel, with audio and both USB 3.0 and USB 2.0 ports.
Front panel dust filters and closed top and bottom panels help maintaining a dust free interior.
Innovative vertical HDD bracket, which can hold two 3.5" drives or three 2.5" drives, or one drive of each size.
Vibration-dampened mounting for both 3.5" drive slots.
Fully painted interior, with Fractal Design signature white details.
GALLERY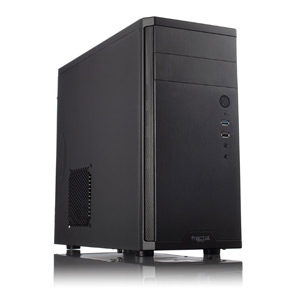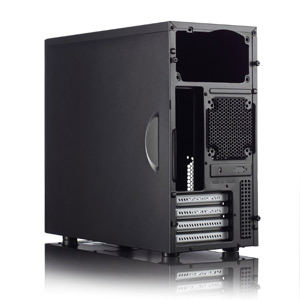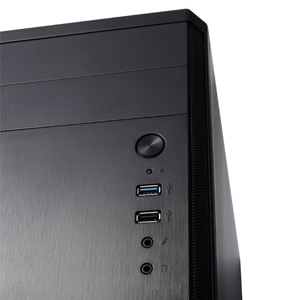 FAMILY COMPARISON
CORE 1100
CORE 1300
CORE 2300
CORE 3300
Case Dimensions
(W x H x D)
6.8 x 14 x 16.1 in.
(175 x 358 x 410mm)
7.6 x 15.1 x 18.1 in.
(195 x 384 x 460mm)
7.6 x 17.5 x 18.1 in.
(195 x 445 x 460mm)
9.1 x 18.3 x 20.8 in.
(233 x 466 x 529mm)
Weight
8.3 lbs (3.8kg)
10.1 lbs (4.6kg)
11.4 lbs (5.2kg)
17.1 lbs (7.8kg)
Form Factor
M-ATX
M-ATX
ATX
Wide body ATX
MB Compatibility
Mini ITX / M-ATX
Mini ITX / M-ATX
Mini ITX / M-ATX / ATX
Mini ITX / M-ATX / ATX / E-ATX
5.25" Bays
2
2
2
2
3.5" Bays
(Compatible with SSD)
2
2
3
3
Additional SSD Mounts
3
3
4
5
Expansion Slots
4
4
7
7
Max PSU Length
with Bottom Fan
185mm
205mm
140mm
Max PSU Length
without Bottom Fan
185mm
205mm
Max Graphics Card
Length with HDD Cage
170mm
200mm
200mm
430mm
Max Graphics Card Length
without HDD Cage
350mm
380mm
380mm
Max CPU Cooler
Height
148mm
162mm
162mm
185mm
Watercooling
Compatibility in Top
Slim 240mm
Slim 240mm
Slim 240mm / Slim 280mm
Watercooling
Compatibility in Front
Slim 240mm
240mm / 280mm
240mm / 280mm
Watercooling
Compatibility in Rear
120mm
120mm
120mm / 140mm
Fan Controller
Number of Fans in
Front Included
1 x 120mm
1 x 120mm
1 x 120mm
1 x 140mm
Numbers of Fans in
Rear Included
1 x 120mm
1 x 120mm
1 x 140mm
Number of Fans in
Top Included
Total Number of Fan
Positions in Front
1 x 120mm
2 x 120mm / 1 x 140mm
2 x 120mm / 2 x 140mm
2 x 120mm / 2 x 140mm
Total Number of Fan
Positions in Rear
1 x 92mm
1 x 120mm
1 x 120mm
1 x 140mm
Total Number of Fan
Positions in Top
2 x 120mm / 2 x 140mm
2 x 120mm / 2 x 140mm
2 x 120mm / 2 x 140mm
Total Number of Fan
Positions in Bottom
1 x 120mm / 1 x 140mm
1 x 120mm / 1 x 140mm
1 x 120mm / 1 x 140mm
Total Number of Fans
on Side Panel
1 x 120mm
1 x 140mm
1 x 120mm / 1 x 140mm
USB 2.0
1
1
1
USB 3.0
1
1
1
2
Audio I/O
Yes
Yes
Yes
Yes